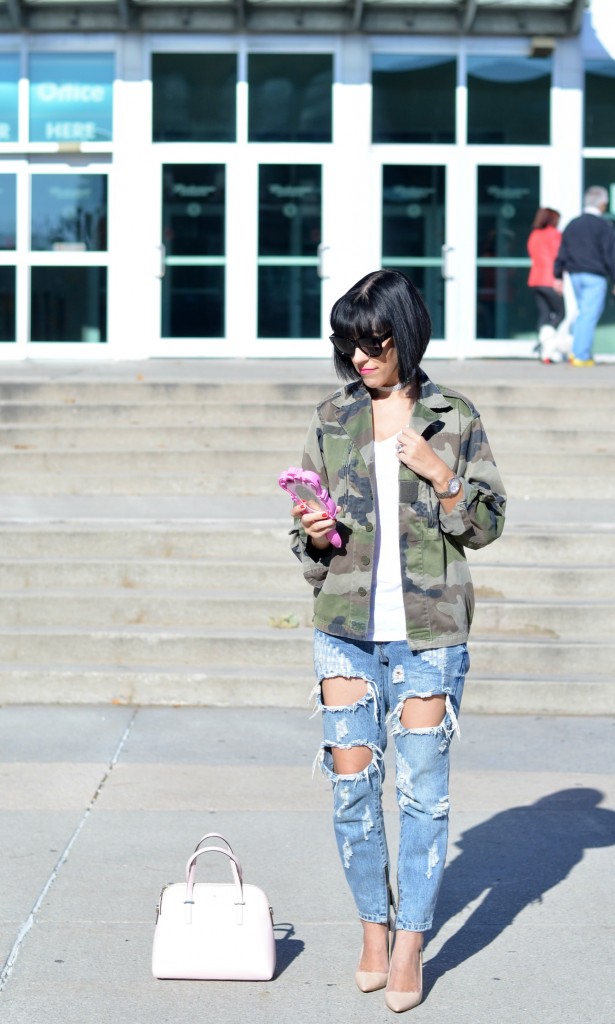 military jacket is a must-have this season
A military jacket is no longer a trend. This versatile jacket is now a staple in most female's wardrobe. If you haven't venture into the world of army green, there's no time like the present. Proven itself both on the runways, street style bloggers and models alike. An up-dated version of the traditional moto bomber or worn-in denim jacket. Depending on what pieces you style it with, it can even replace your classic black blazer. It's a jacket you'll reach for day after day.
The great thing about an army jacket is the power it has to transform any look. It can instantly turn a somewhat mannish and masculine outfit into a chic and sophisticated look. All you have to do is add a few dainty accessories or a girly handbag. It can be mixed and matched with all your basic and separates that you have hanging in your closet. This unique piece of outerwear is extremely versatile as you can incorporate it with any garment you currently own. Anything from grunge to glamour, tomboy to punk, professional to weekend wear, the possibilities are endless.
Derek actually picked this army jacket up in Venice. It's an authentic Italian military jacket, but quickly made its way into my wardrobe. I can see myself tossing it over a flowy dress, even distressed denim shorts come the summer months. Right now I'll be styling it with my boyfriend and torn jeans and basic tee. It's the perfect layering piece for fall and can easily take me from day to night. This jacket is one of my favourite pieces. With a little vision and creativity, I'll be able to create hundreds of looks with this jacket.