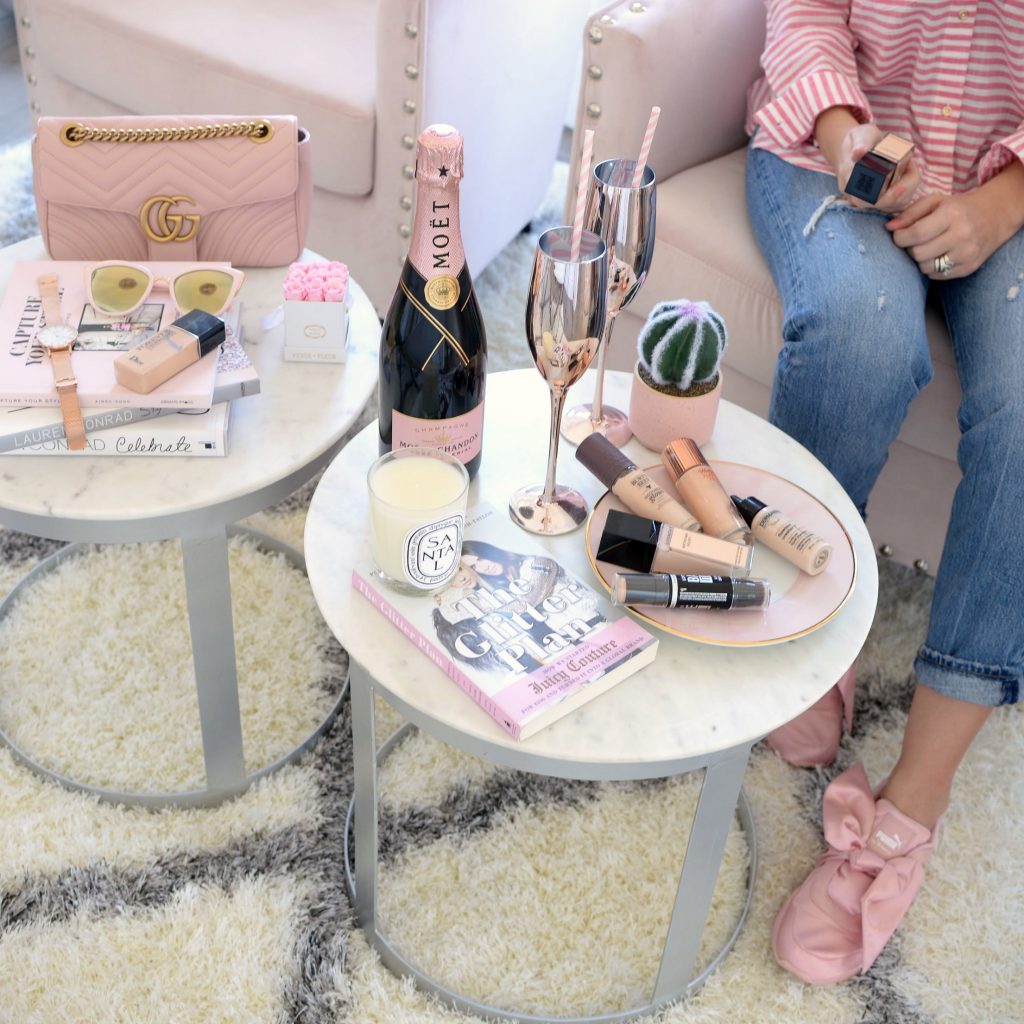 Must-Have Foundations
After months of dry, harsh winds, we're all ready to embrace that no-makeup, makeup trend. Nothing gets me more excited than a new season, especially, spring. It's an excuse to buy new clothes, accessories and of course, makeup. A general rule of thumb for spring, is switch up your foundation. While a hydrating, full-coverage formula may work in the cold, winter months, a lighter, thinner coverage is usually desired during the warmer months. Spring is the perfect time to experiment with new foundations, as we tend to buy a new one anyways, thanks to extra sun exposure and our current shade section being too light.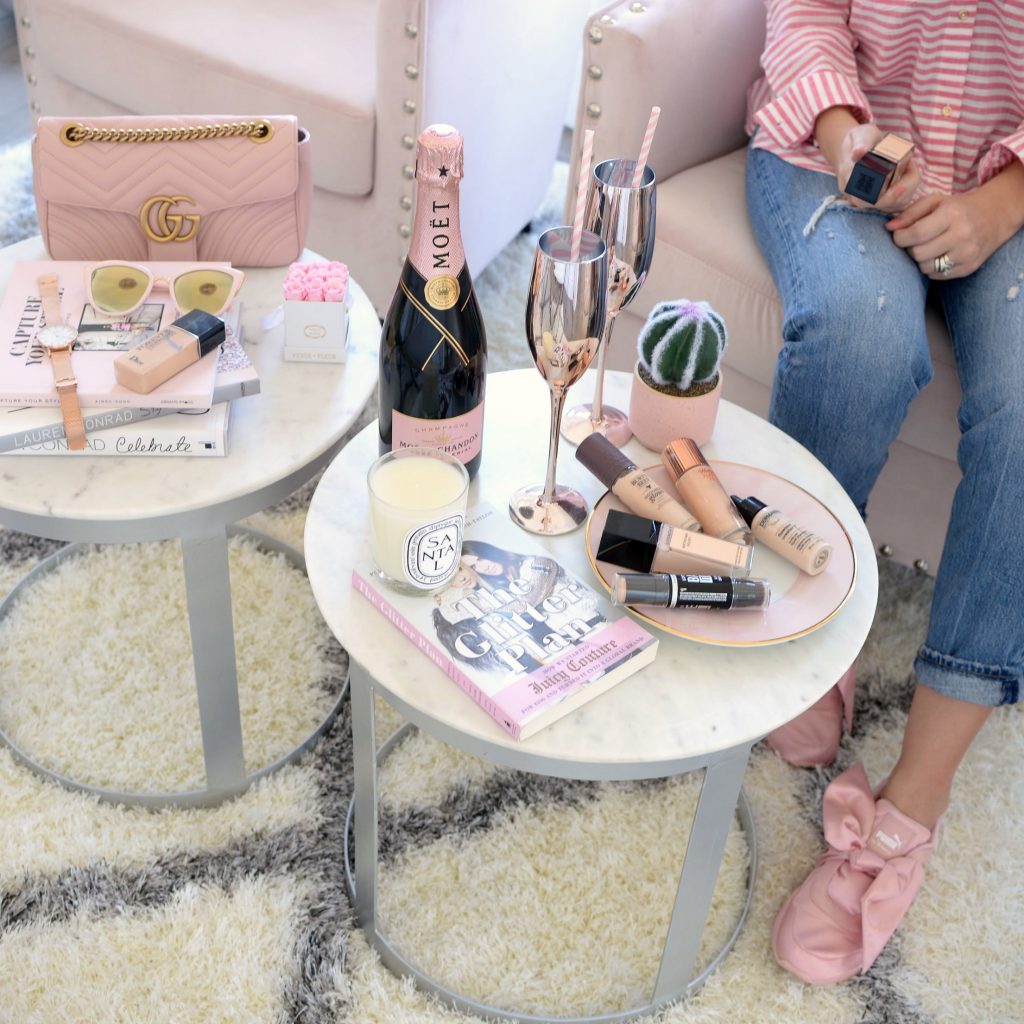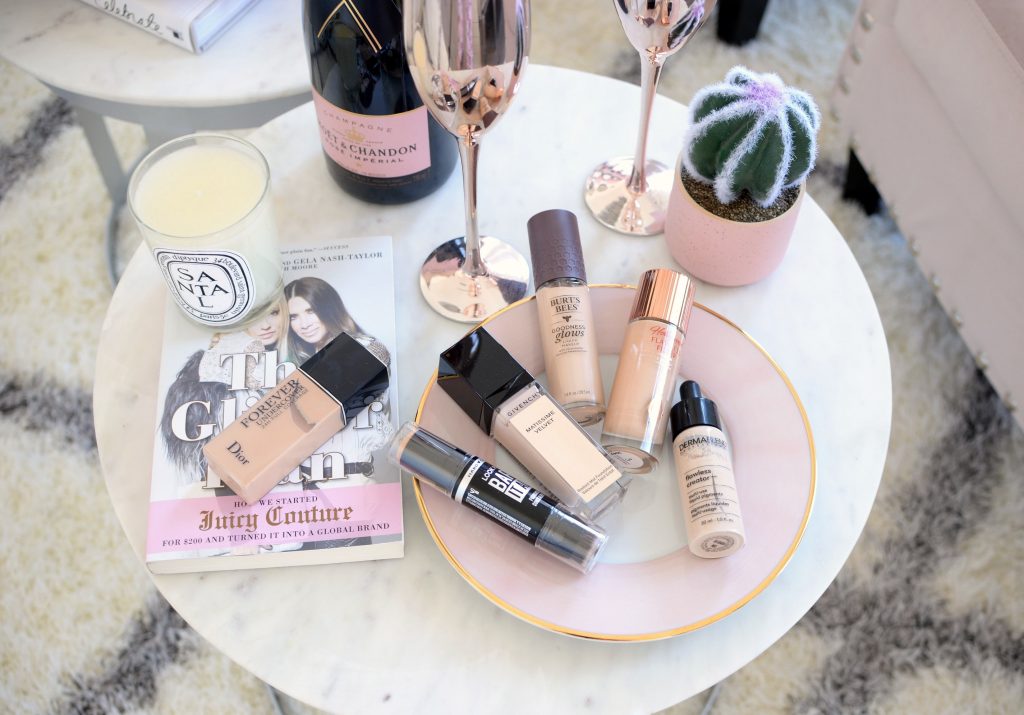 For someone who has dry skin all year round, I'm always reaching for a dewy foundation. In the spring and summer months, even if you don't have dehydrated skin, chances are you're looking for fresh and healthy complexion. The new Burt's Bee Goodness Glow Liquid Makeup is a lightweight, full-coverage, mineral foundation that helps leave skin soft, smooth and radiant. It's sourced with meadowfoam seed oil to provide added moisturization, without it looking or feeling oily or greasy. It's packed-full of skin-loving benefits that deliver long-lasting hydration. Its silky-smooth texture applies beautifully and soaks into the skin seamlessly. It helps conceal all blemishes, even out skin tone and reduce redness with the smallest amount. When paired with a primer, it lasts upwards of 12+ hours without separating or fading.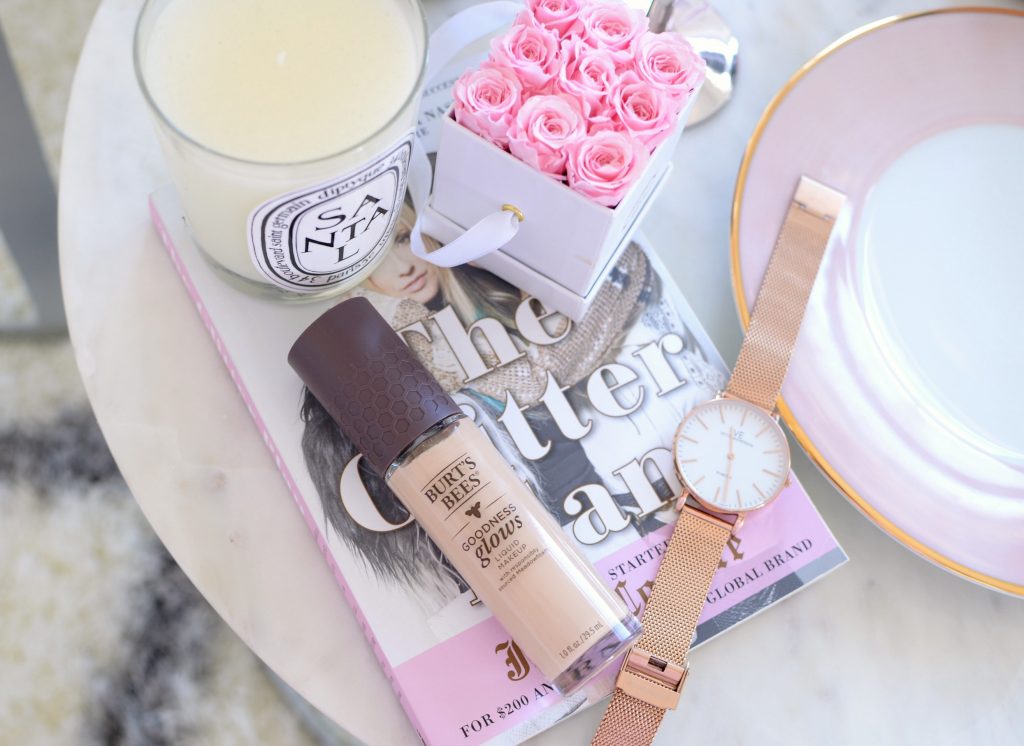 Because glowing skin is always in, Burt's Bee Goodness Glow Liquid Makeup is a must for anyone that wants a youthful and healthy glow this season. It instantly smoothes skin for an extremely natural looking, almost second-skin like finish that's velvety soft. It creates a full-coverage effect with only a few drops and provides a natural finish that never looks heavy or cakey. It immediately hydrates and nourishes the skin for all day comfort. Although it's such a luminous and radiant product, it never seems to settle into fine lines or accentuate enlarged pores. It doesn't breakdown mid-day, nor does it crease or smudge. Just a healthy, glowing and brilliant finish. It retails for $18.99 in 12 natural-looking shades.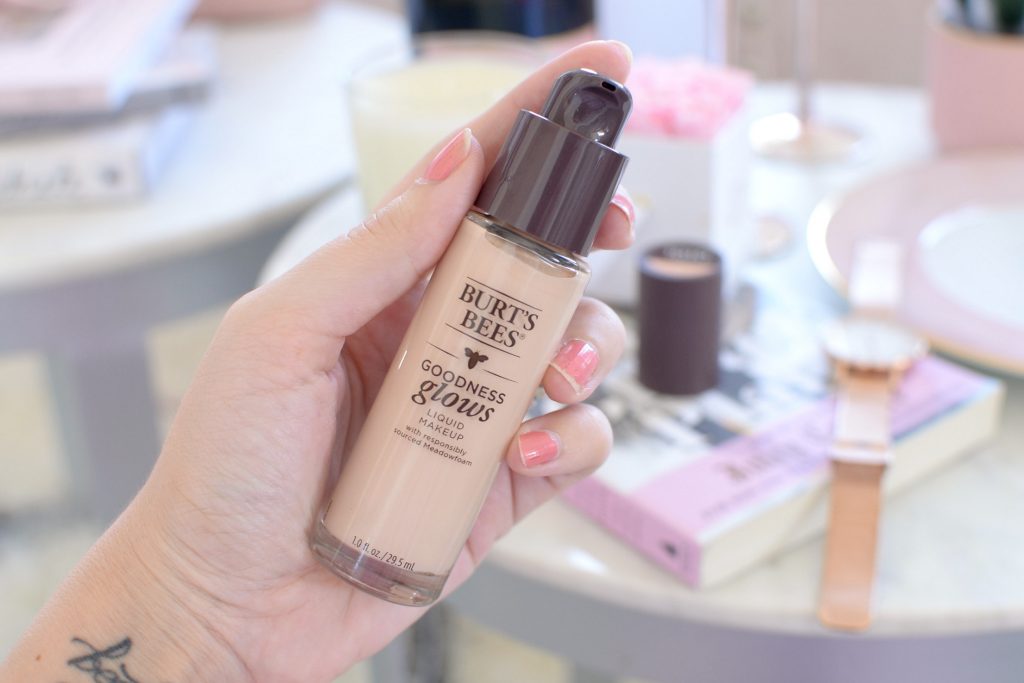 No matter which day of the week, or what month it is, everyone loves a good matte foundation. Unlike traditional matte formulas that tend to be dry, dehydrating and dull, the new Givenchy Matissime Velvet Radiant Mat Fluid Foundation somehow manages to create a perfectly matte finish with a dewy finish. The formula was inspired by velvet, which is a designer's favourite fabric thanks to its ability to absorb and reflect light, making it incredibly beautiful to work with. This foundation somehow creates a matte finish, that's still amazingly radiant. Its lightweight, airy texture absorbs excess sebum, which not only helps control oil, ensuring your foundation doesn't breakdown mid-day, but it also allows your skin to breathe. Its intensely pigmented formula features a unique coating that extends colour for a long-lasting hold without oxidizing or separating.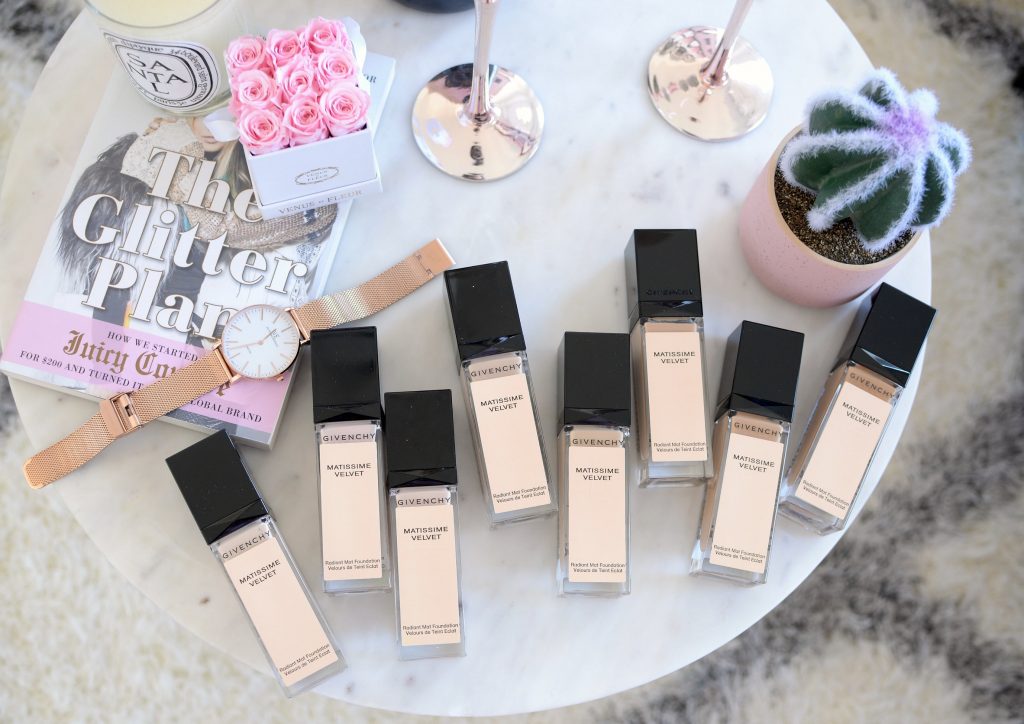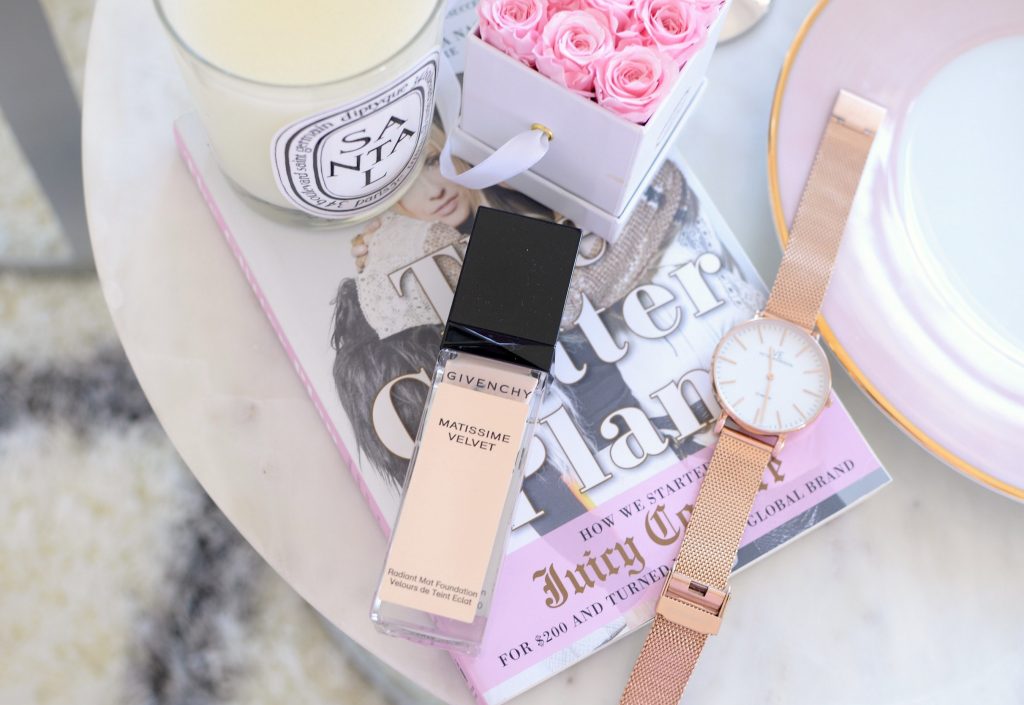 Givenchy Matissime Velvet Radiant Mat Fluid Foundation is perfect for those looking for a long-wearing matte finish, but still want that lit-from-within effect. Not only does it help even out skin tone, conceal minor breakouts and blemishes, it helps to protect and enhance your natural beauty. Its thin, sheer, almost liquid-y formula applies seamlessly, blends beautifully and almost melts into the skin for a completely flawless finish. It helps to reduce the appearance of pores, doesn't settle into fine lines, and doesn't cling to dry areas of textured areas. You can easily build up the coverage from a medium to full without the fear of it looking thick, heavy or caky. You can effortlessly achieve a soft, matte finish with a healthy natural glow. It retails for $65 in 8 shades.
Givenchy Matissime Velvet Radiant Mat Fluid Foundation in 01 Mat Porcelain, 02 Mat Shell, 03 Mat Sand, 04 Mat Beige, 05 Mat Honey, 06 Mat Gold, 07 Mat Ginger and 08 Mat Amber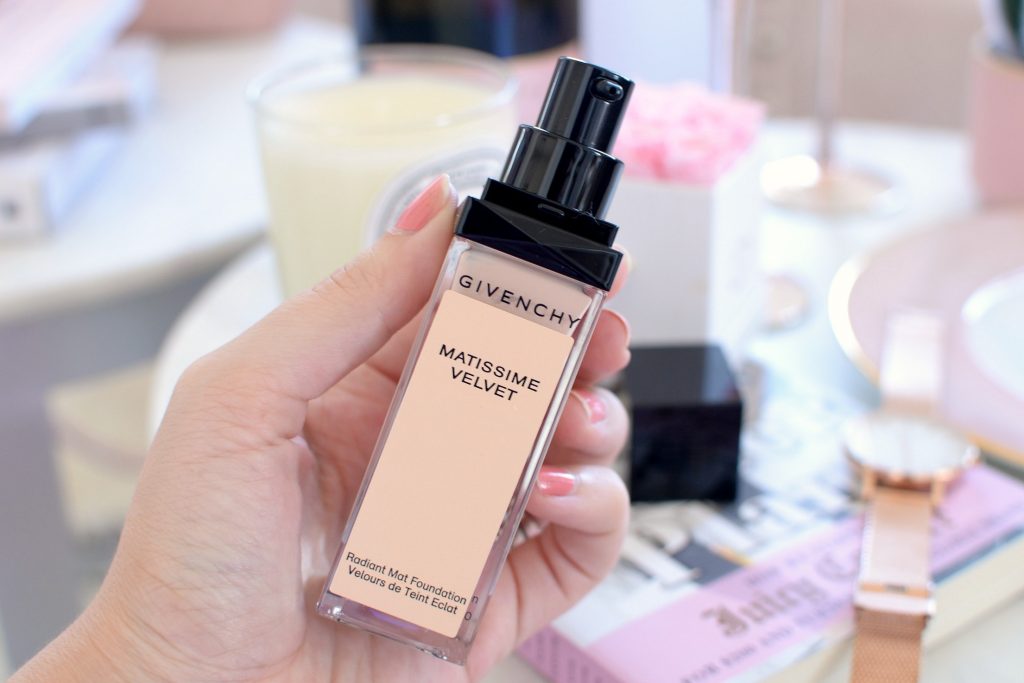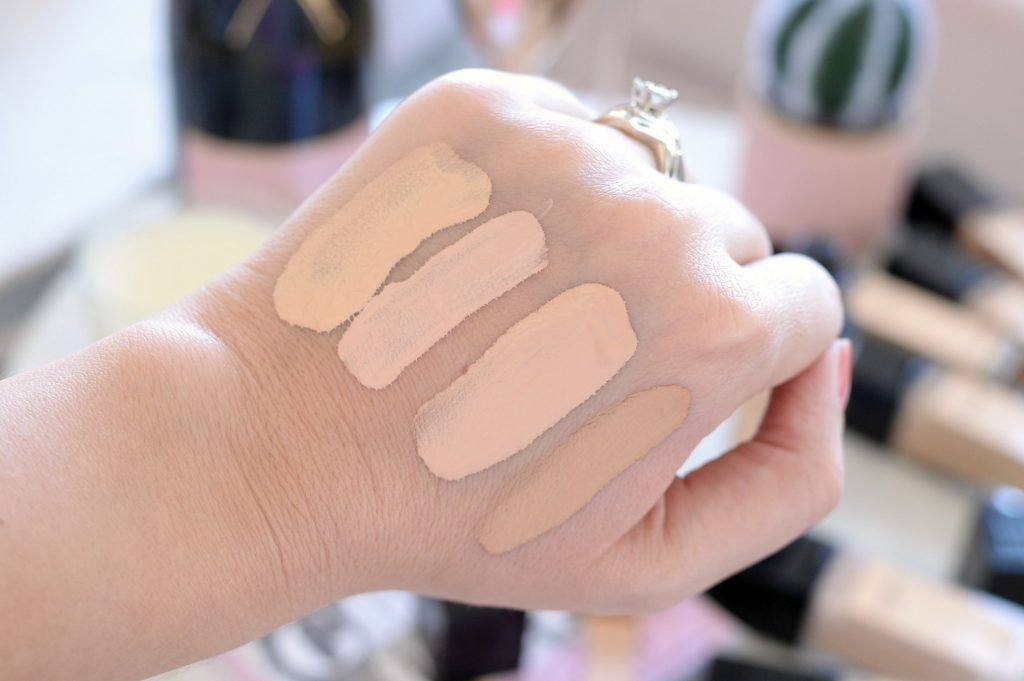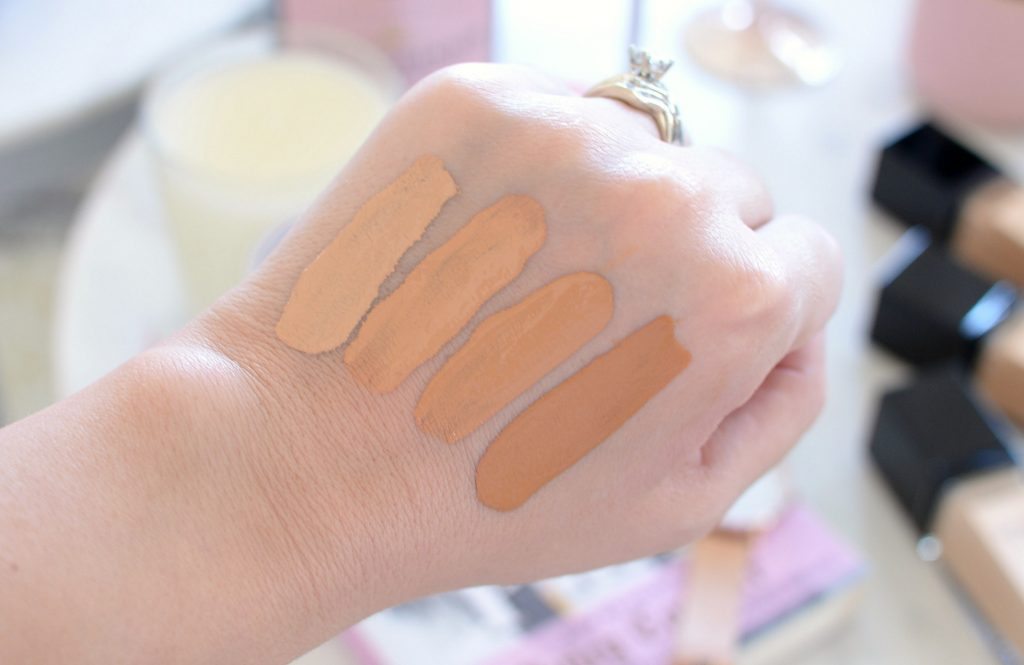 The humidity is coming, I can just feel it. Even though we want lightweight foundations in the warmer months, that doesn't mean we want our sweat to breakdown our foundation after only a few hours. The new Dior Diorskin Forever Undercover Foundation is a water-based foundation that not only feels incredibly weightless once applied to the skin, its full-coverage formula is designed to wear for upwards of 24 hours. Its ultra-smooth texture can be blended in with your fingertips, ensuring you're out of the house within seconds to enjoy the beautiful weather, but can also be used with a foundation brush if you're looking for that full-face, flawless finish.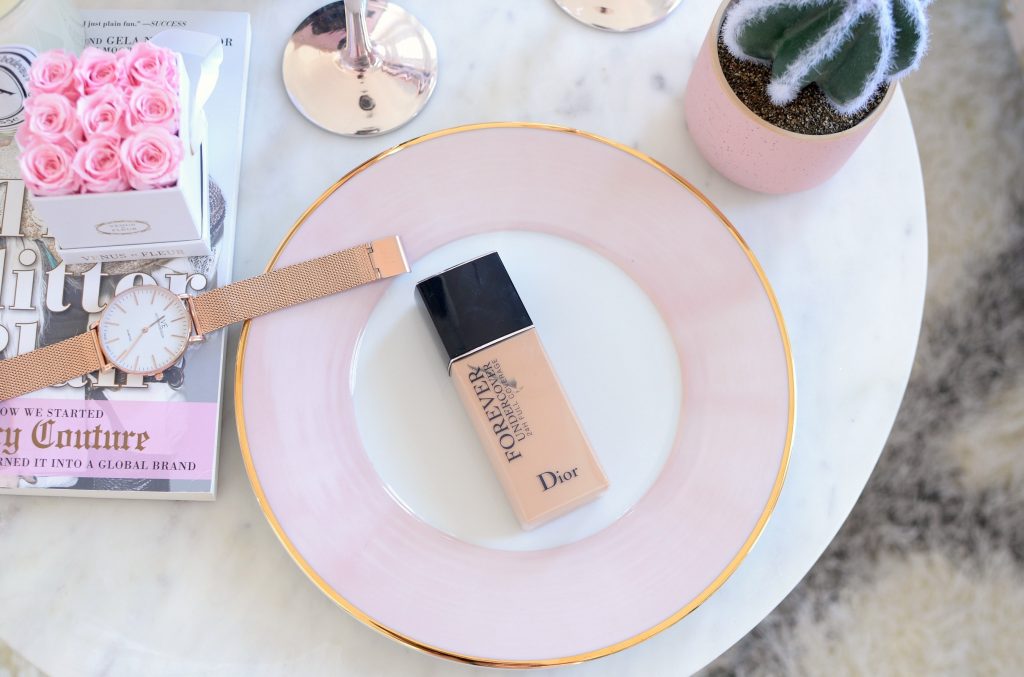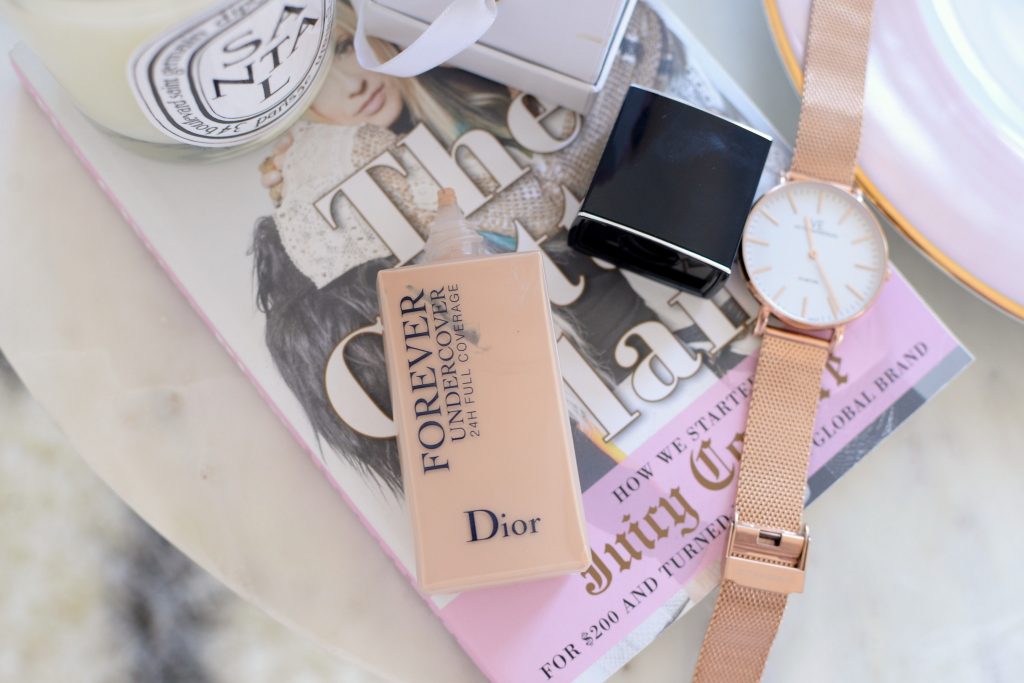 Dior Diorskin Forever Undercover Foundation provides a natural, matte finish that looks just as amazing in the evening as it did in the morning. Its intensely pigmented formula, almost twice the intensity as the OG Forever Fluid Foundation, provides an even fuller coverage, but with less product. Its ultra-fine pigments almost seem to melt into the skin, with the tiniest amount, to achieve a flawless, full-coverage makeup look. It doesn't oxidize on the skin once dry, ensuring the colour looks just as rich and accurate as the moment you applied it. Unlike full-coverage foundation that tends to suck the life out of your skin by mid-day, this one stays comfortable without looking cakey or dry. Your skin, but better, all day long. It retails for $64 in 24 shades.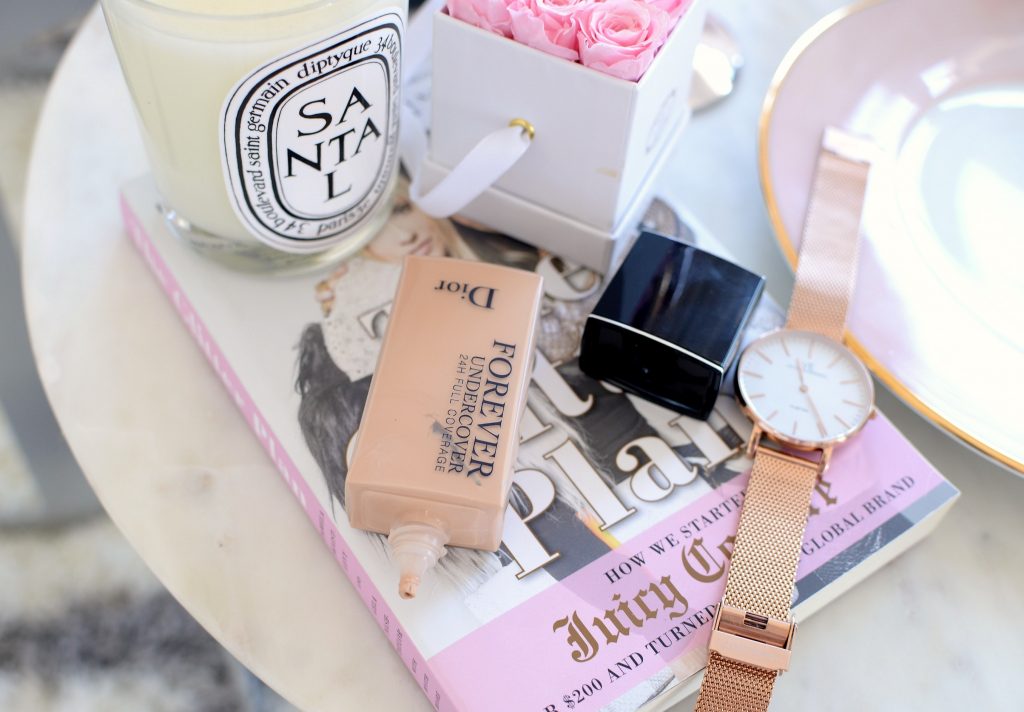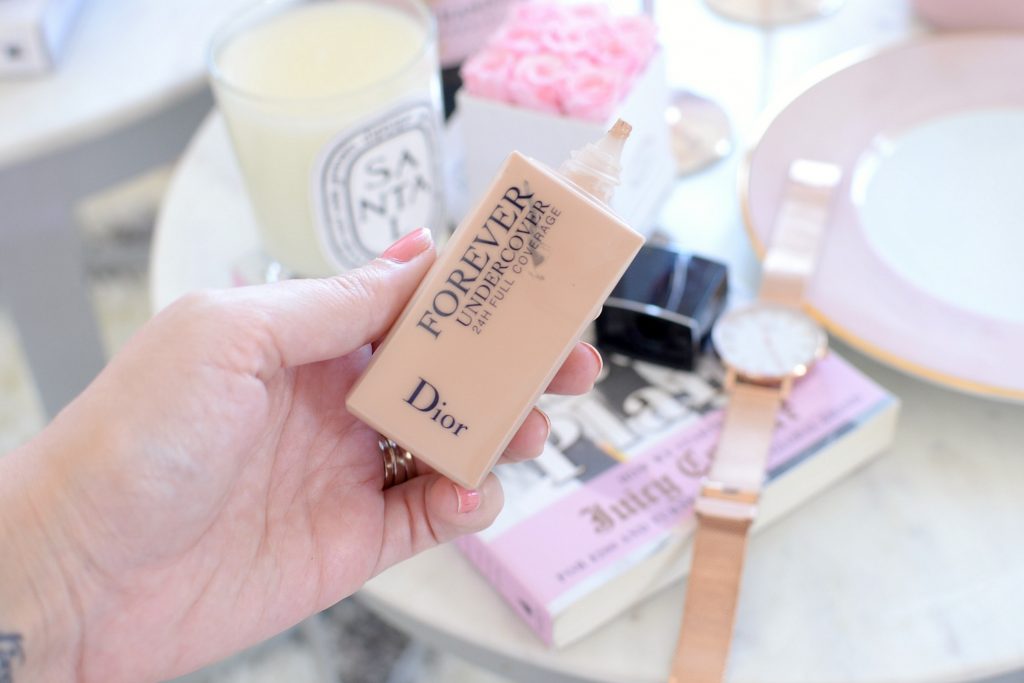 One way to ensure your foundation is lightweight this season, is to mix it in with your serums or moisturizers. The new Dermablend Flawless Creator Foundation Drops are designed to do just this. Its highly pigmented, 33% liquid pigments to be exact, customizable formula is intended to be used alone or mix in with your favourite skincare products. Its lightweight, buildable and blendable coverage provides a seamless, silky-smooth finish with the tiniest amount. Use a single drop for a sheer to light coverage, two to three drops for a medium coverage or apply four drops to achieve a full-coverage, flawless effect. It instantly helps even out skin tone and complexion for an incredibly natural and healthy look. It's comfortable to wear the entire day, and stays put without transferring, fading or smudging for upwards of 16+ hours.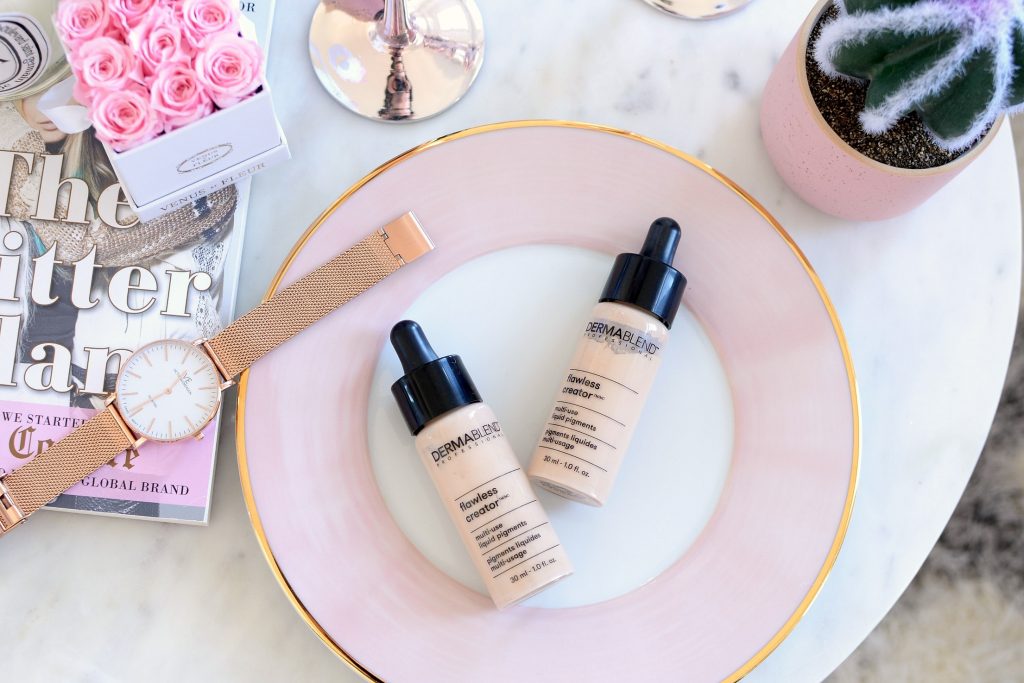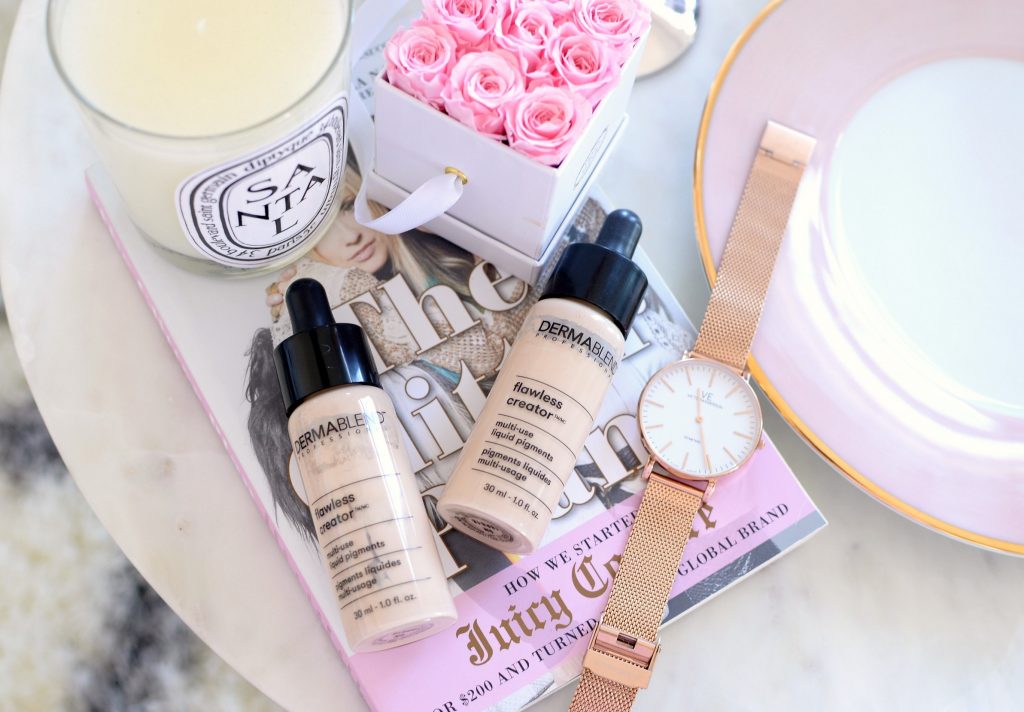 For those looking to have total control over their foundation, or those looking for a single product that can do it all, Dermablend Flawless Creator Multi-Use Liquid Pigments will be your new best friend. On days when you want that "no makeup, makeup look" mix in a drop of your fave serum and blend out with your fingers for a sheer wash of colour. On days when you're wanting a little more coverage, try adding a few drops to your moisturizer. If you're looking for a full-coverage effect without it looking cakey or mask-like, add 4 drops to any of your foundations and blend out with a buffing brush. Finally, you can also apply directly to your face. For this application process, I suggest buffing out with a beauty sponge. Its light and somewhat silicone feel blends out effortlessly and sets to a satin-like finish. It sets quickly, without being tacky or sticky. It retails for $52 in 10 shades.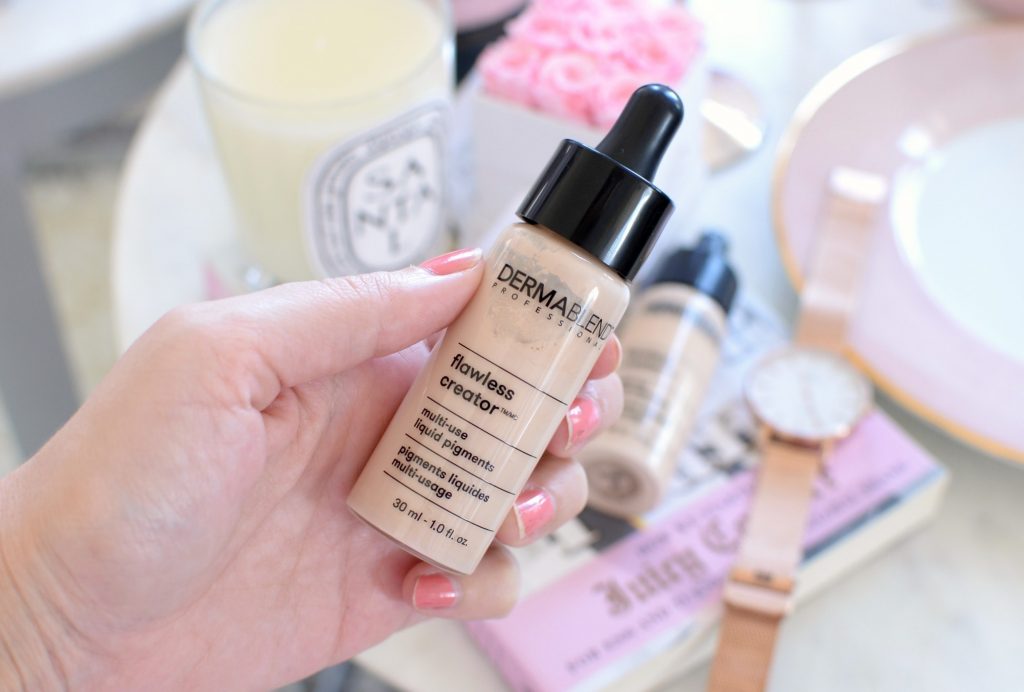 Much like liquid foundation, a stick foundation can be applied using a number of methods, including a brush, sponge or your fingers. Unlike liquid, pressed or even cream foundation, stick foundations tend to be easier to control and provide a quicker application process. The new Hard Candy Look Pro Bare It All Foundation Stick silky-smooth and creamy formula glides onto the skin like butter, providing ultimate coverage in a single swipe. It comes with a handy brush on the opposite end, allowing you to blend and buff into the skin seamlessly. Whether you desire a sheer, medium, or full coverage finish, you'll be able to achieve all three. It can also double as a concealer, so if you're in need of a little extra coverage under your eyes, to hide a blemish or two, or maybe even hyperpigmentation, concentrate the stick on those areas and blend.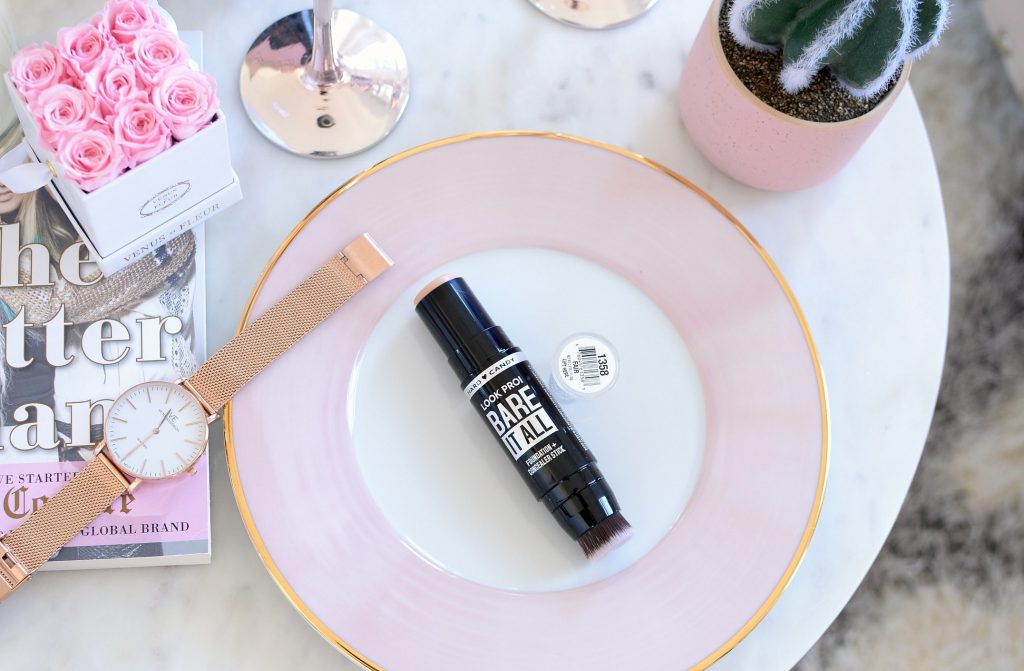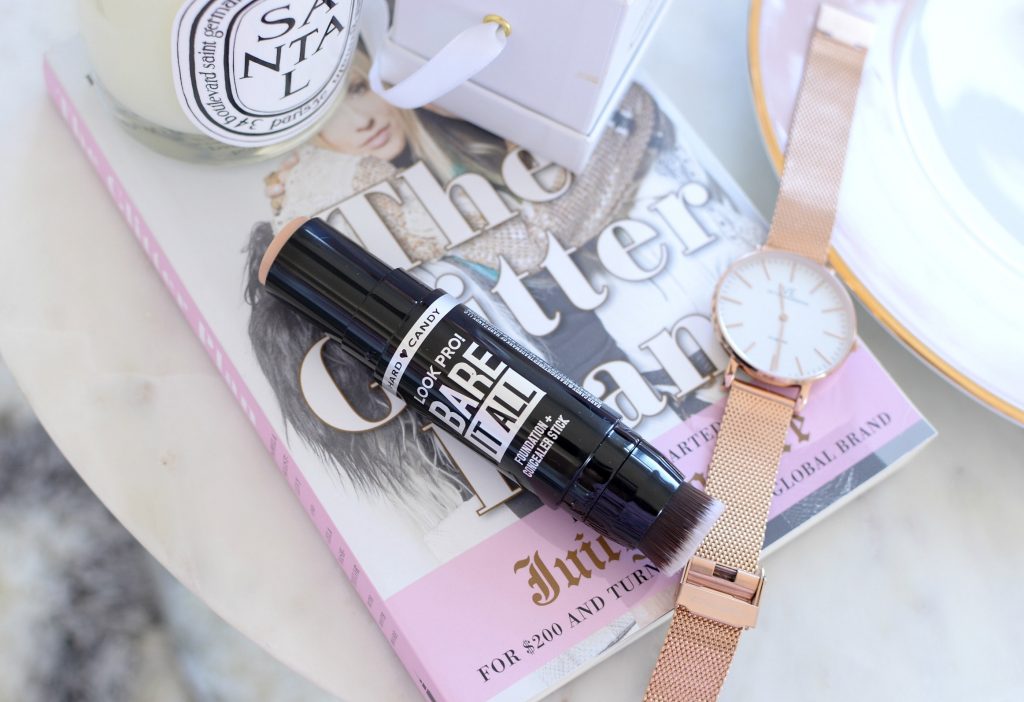 The dual-ended, twist-up design and multi-purpose brush packaging, makes the Hard Candy Look Pro Bare It All Foundation Stick convenient and travel-friendly. Simply apply all-over the face and blend. You can easily control how much product you apply, allowing you to go from a sheer, wearable, everyday makeup look, to a more high-intense, full-coverage effect simply by adding more layers. Its creaseless and budge-proof formula ensures it stays in place all day, and instead of looking like you're wearing a heavy layer of foundation, you'll look as though you have a naturally flawless complexion. It's comfortable to wear, doesn't settle into fine lines, doesn't accentuate enlarged pores and camouflages all imperfections. Perfectly portable, it can be used for touch ups on the go or for spot treatments. It retails for $7.99 in 6 shades.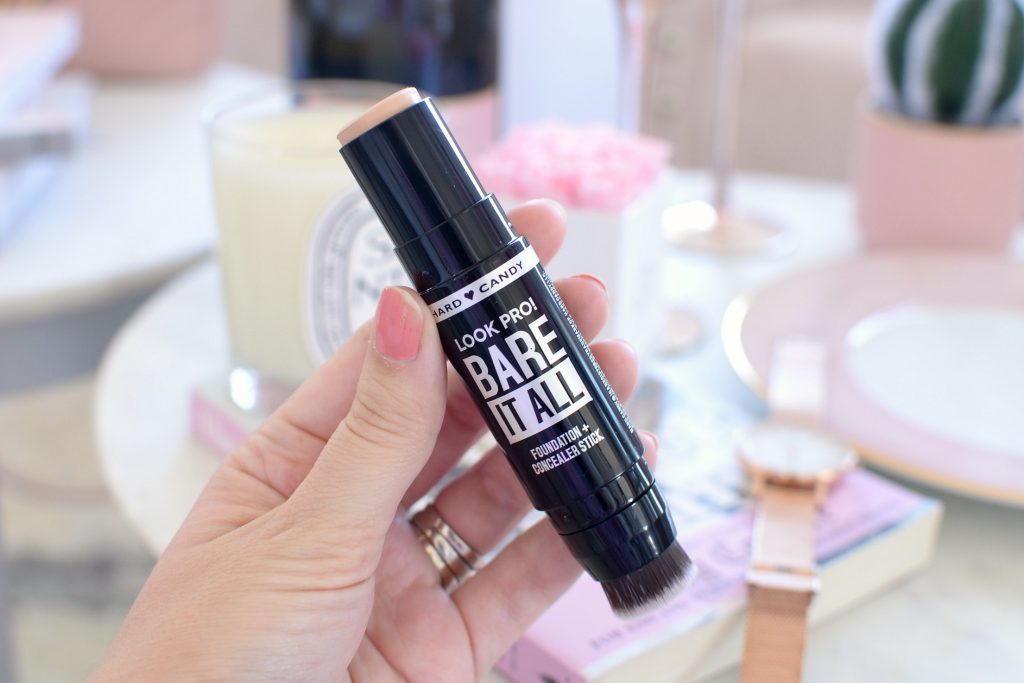 As an added bonus, I want to talk about the new Charlotte Tilbury Hollywood Flawless Filter. Not technicality a foundation, but it's more than your typical primer or tinted moisturizer. This product is designed and created to use under, instead of, or overtop of your foundation. It's indented to provide your skin with that ultimate, high-gloss, high glow and dewy complexion we so desperately want in the warmer months. It helps to even out skin tone, blur imperfections and minimize enlarged pores, all while adding a brightening effect to the skin. Think of it as an anti-aging product that offers multiple uses. One might call it an Instagram filter or celebrity-skin in a bottle.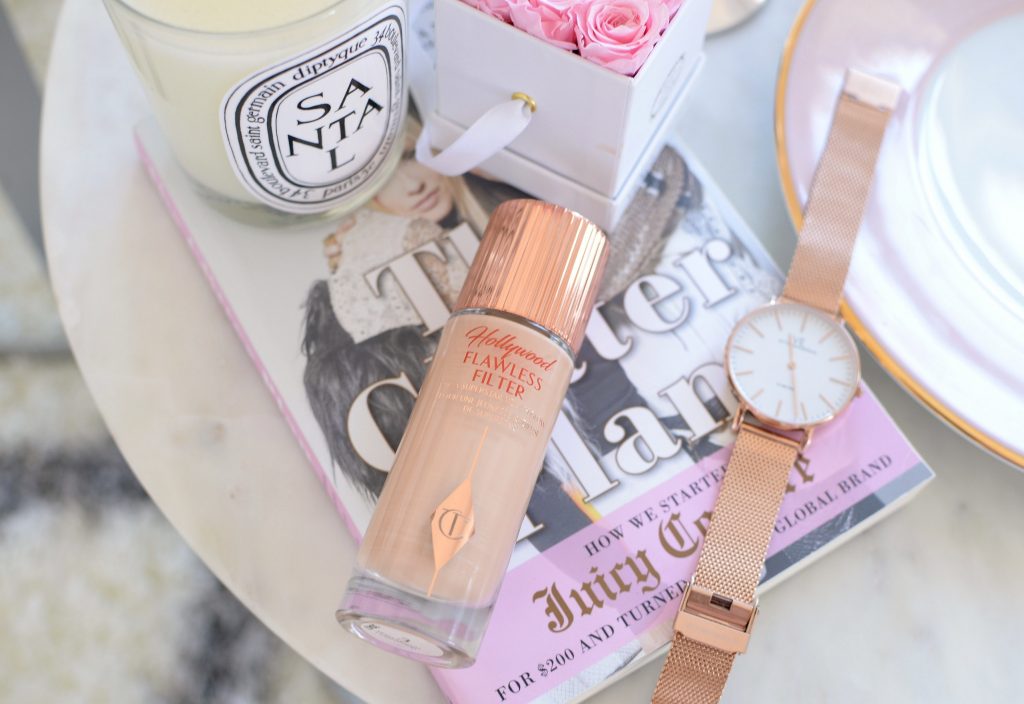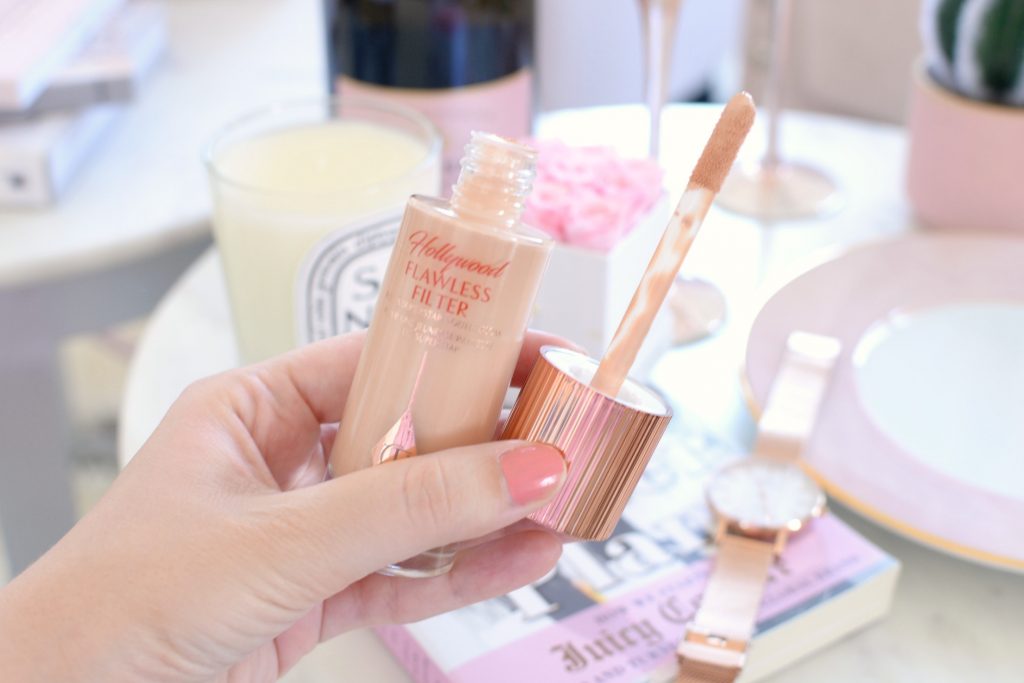 If you're looking for that J-Lo glow in a customisable, complexion booster format, you're going to love the Charlotte Tilbury Hollywood Flawless Filter. This versatile liquid product can be used to help prime the skin prior to foundation, as a sheer to light coverage foundation, or placed overtop of your makeup for a blinding highlight. When used before your foundation, it helps to create a subtle glow while creating a completely smooth finish for your makeup to adhere to. As a foundation, it provides an incredibly natural finish with an amplified, healthy glow. For a radiant glow on your cheekbones, down the bridge of your nose, or above the cupid's bow, place a few drops and blend. You'll achieve a mega-watt, Hollywood glow in seconds. It retails for $50 in 7 shades.