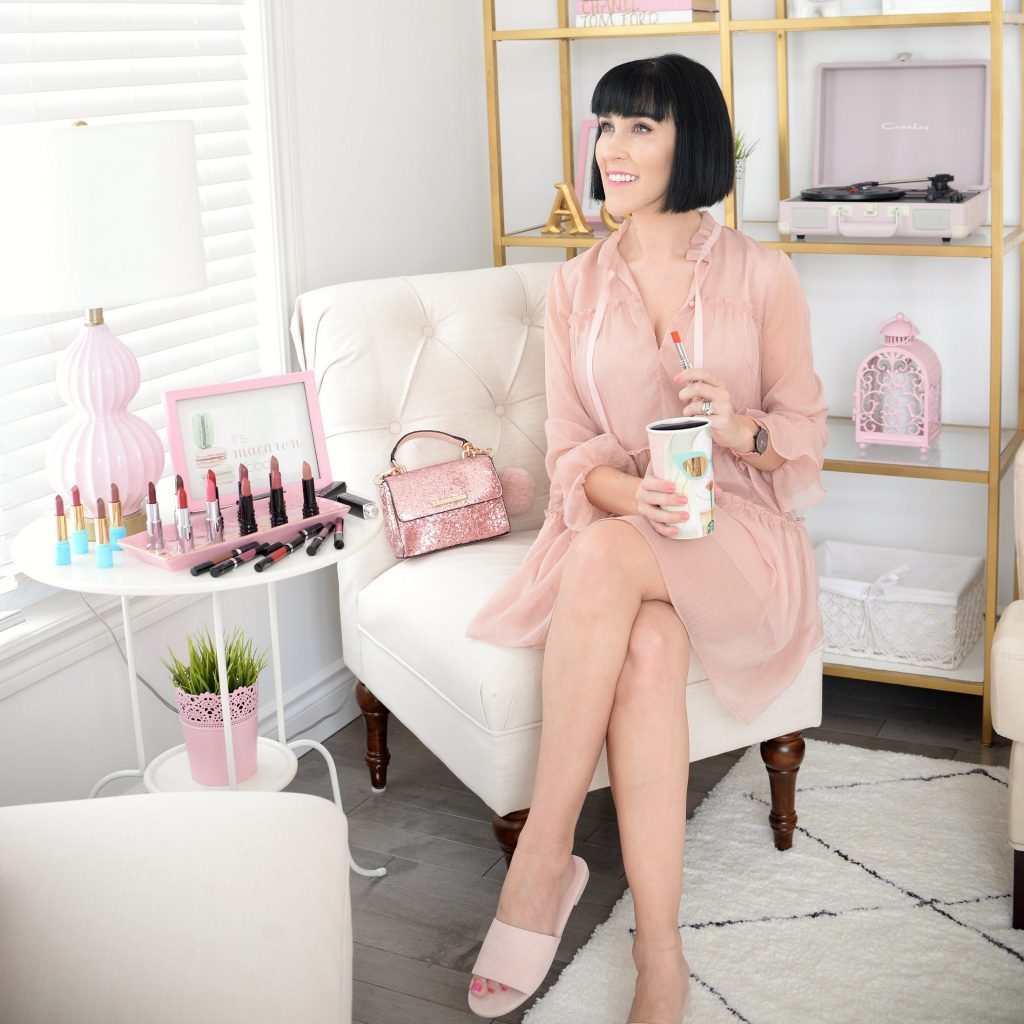 Best Lipsticks For Spring
Sometimes you just need a new lippie to spring into a new season. Spring is the perfect time to experiment with colour, and what better way, than on your lips. Finding that perfect lipstick formula is like finding that perfect pair of jeans, when it's right, it's life changing. Depending on your wants and needs, skin tone and colours, the lipstick aisle can be a little intimating and overwhelming. From sheer glosses, to fully opaque coverage, to metallics, holographic and mattes, how's a girl to know which new lipstick to try? Brands release so many new formulas each month, it's hard to keep track of them all and know which ones to purchase. Today on the blog, I'm sharing my top 5 lipsticks for spring.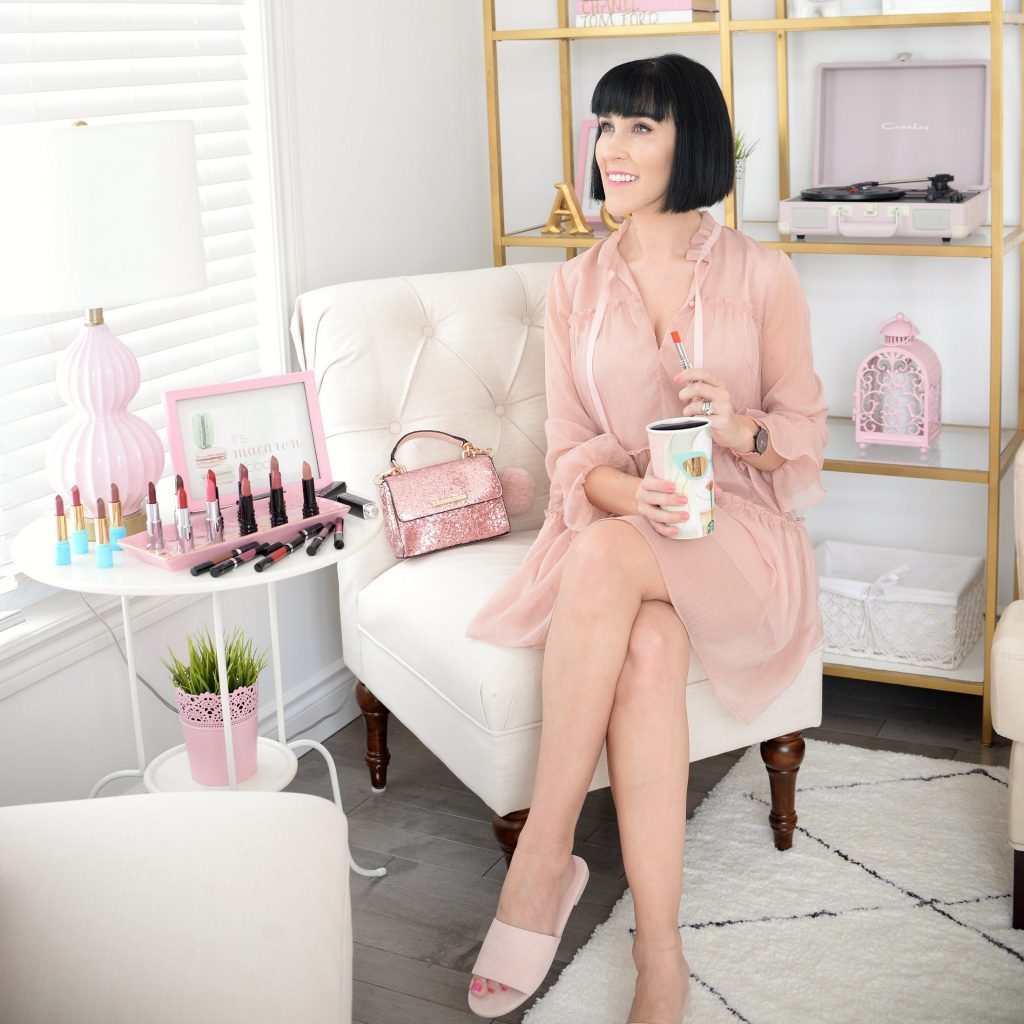 Drench your lips in moisture-rich colour this season with tarte Color Splash Lipstick Rainforest of the Sea Collection. This long-wearing, full-coverage, hydrating lipstick coats your lips in intense pigments that stay put for hours on end. It's formulated with antioxidants, such as algae and marine flower extract, to help keep lips youthful and fresh this spring. It also contains shea butter and olive oil to help retain moisture, ensuring lips stay nourished, soft, smooth and comfortable. Unlike other lipsticks that require a lip liner or primer to ensure colour stays true and doesn't bleed outside the line, this lippie's unique formula doesn't require a base. It conditions the lips, provides a bold wash of colour, and keeps lips looking healthy with a luminous glow.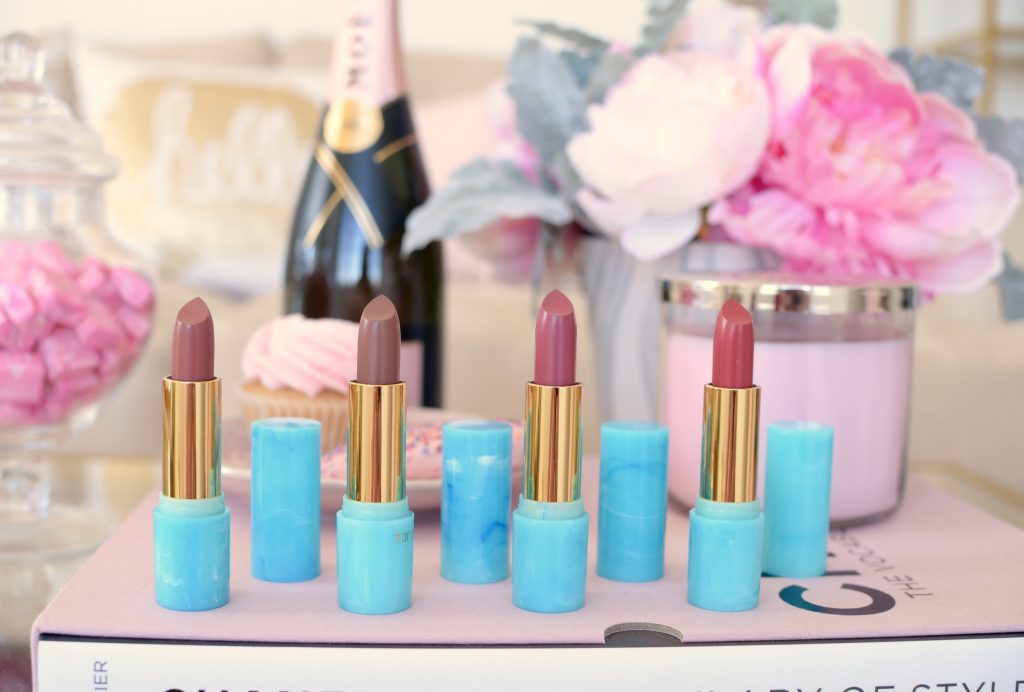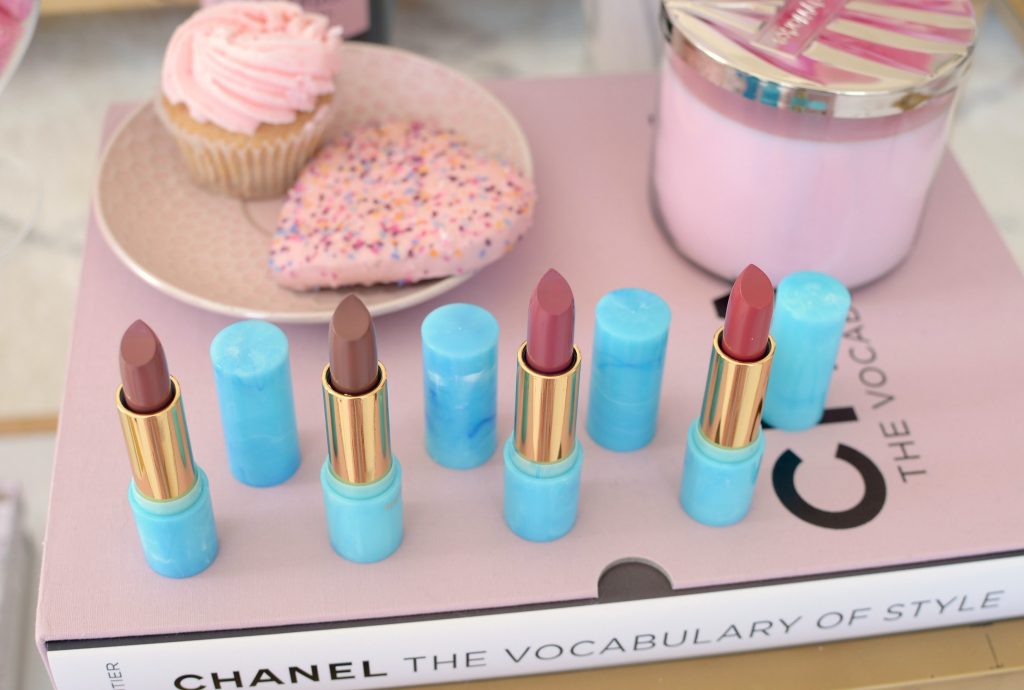 Although the tarte Color Splash Lipstick Rainforest of the Sea Collection doesn't feature those bold pops of colour you'd except in the spring, it does have every shade imaginable when it comes to your basic, everyday and wearable nudes. You pair that with its full-coverage, long-wearing and incredibly hydrating formula, and you have the perfect springtime lippie. Its rich and creamy texture is unlike any other matte lipstick you've tried in the past. For having such a silky-smooth consistency, it's still surprisingly pigmented. One swipe and you'll receive an intense, opaque coverage. A second coat will help intensify and deepen the shade, while still being completely weightless. No matter how many layers you apply, it doesn't pill, slide around or become goopy. It wears beautifully throughout the day, even through eating and drinking, it stays in place for upwards of 6+ hours. It retails for $27 in 36 shades.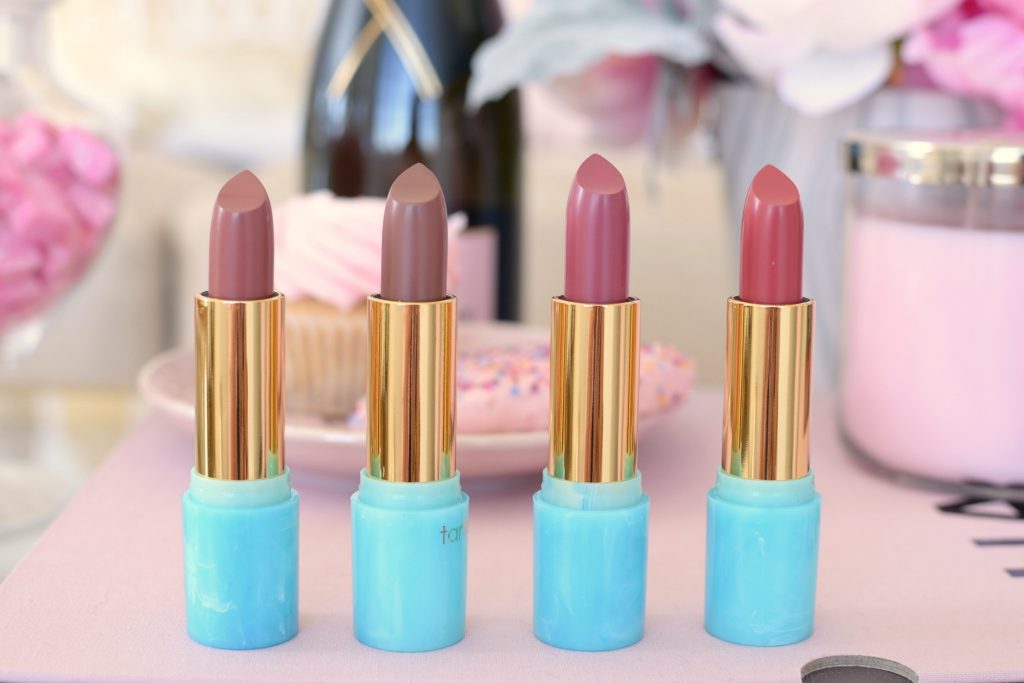 tarte Color Splash Lipstick in 5 O'Clock, Beach Waves, Cruisin and Escape.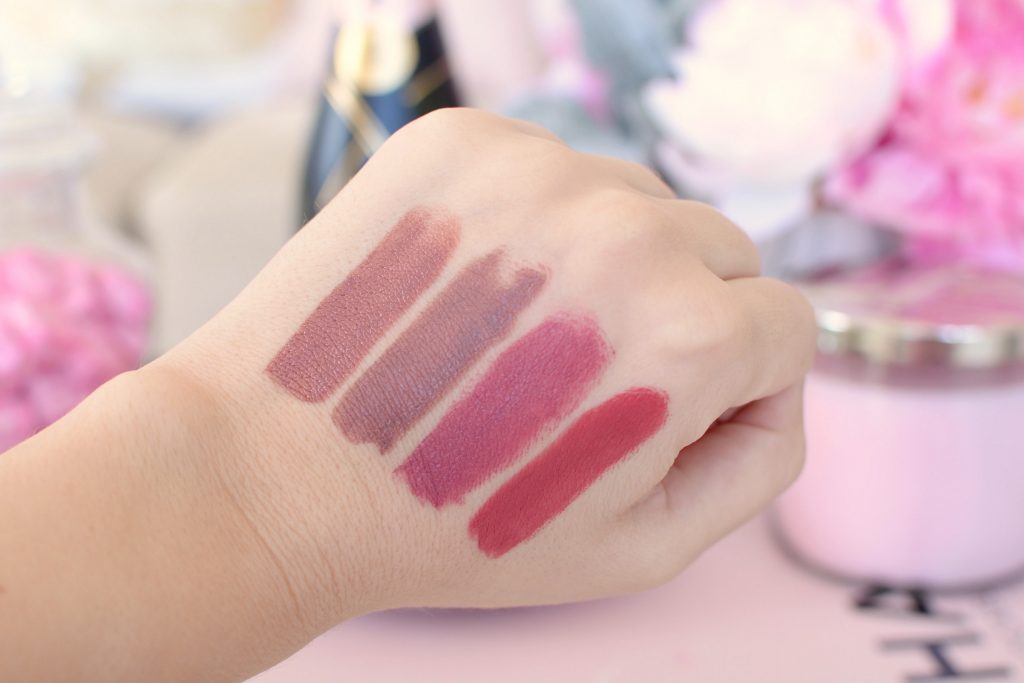 When you want to make a bold statement in the lipstick department, there's nothing quite like a power matte. We're all a fan of the iconic Givenchy Le Rouge Lipsticks, but this season the brand has released Le Rouge Mat capsule collection, featuring 6 perfectly matte shades. With its spectacular, intensely pigmented formula and rich and creamy texture, it's no wonder everyone is going crazy for this lipstick. Not only does it provide a bold pop of colour with shine-free finish, it remains comfortable to wear throughout its impressive 10+ wear time. One swipe around the lips and you're saturated in opaque coverage without the fear of it feathering outside the lines.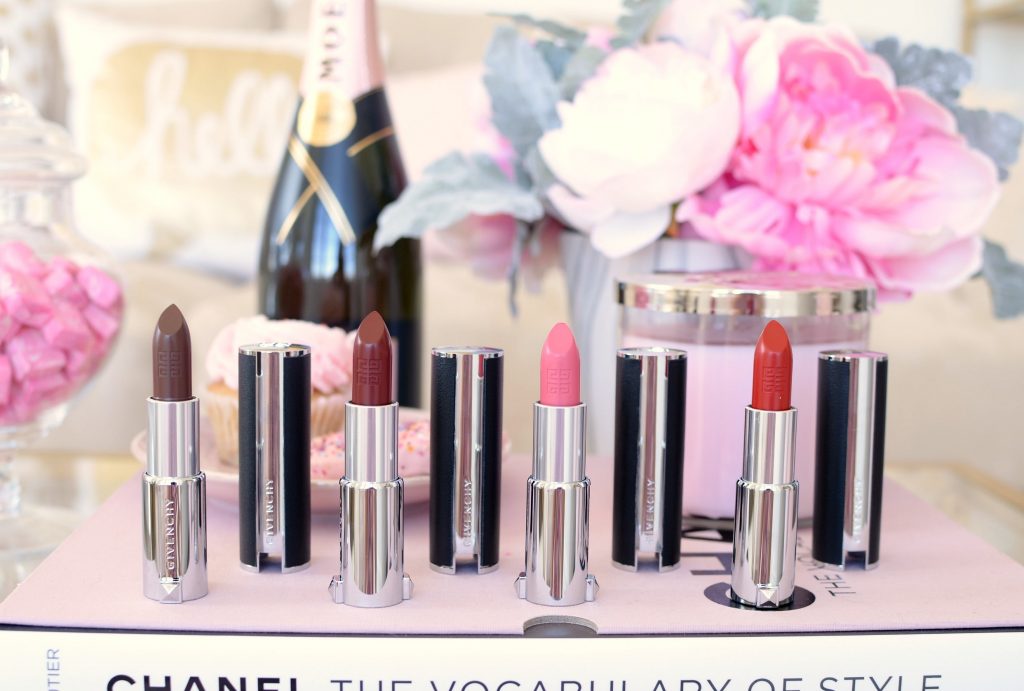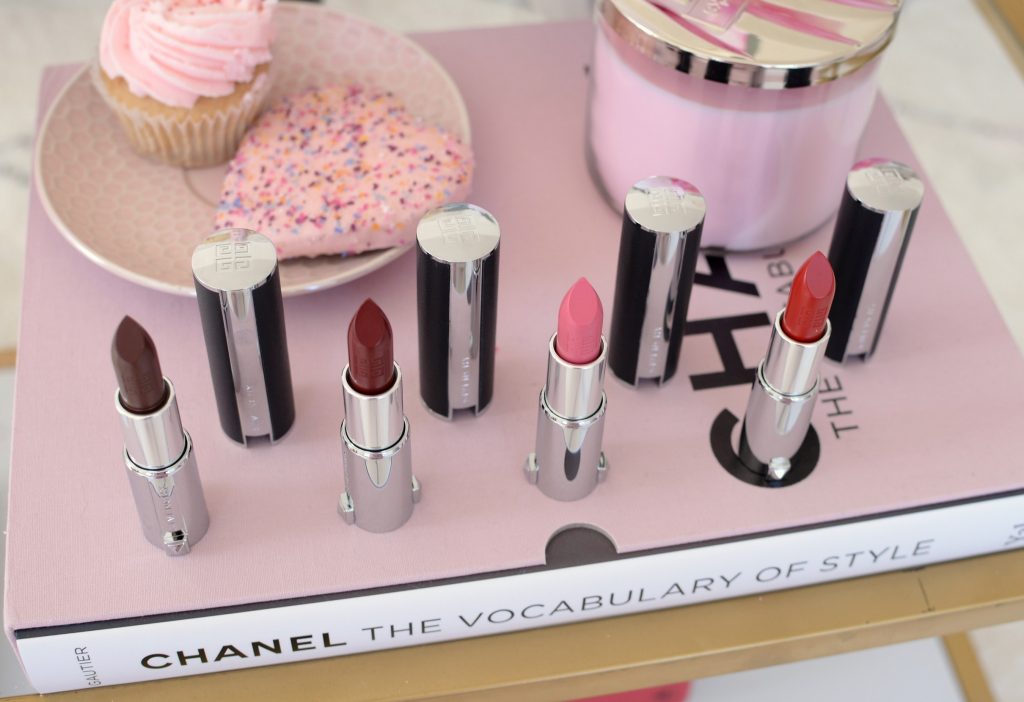 When it comes to luxe packaging, it doesn't get any chicer than the new Givenchy Le Rouge Lipstick. Done in a fabulous black leather casing with studding silver detailing, the embossed 4G logo on both the lid and bullet is just icing on the cake. Its lush, ultra-velvety and silky-smooth consistency almost melts into the lips providing an even and smooth finish with ease. You'll never have the fear of it pulling or tugging on your delicate skin, even though it has a matte finish. Its lightweight and hydrating formula smooths away any fine lines and imperfections yet manages to keep lips moisturized and nourished all day. It creates a completely flawless, yet natural finish on the skin that never looks flat or dull. Grab attention this season with these 6 fashion-forward shades. It retails for $44.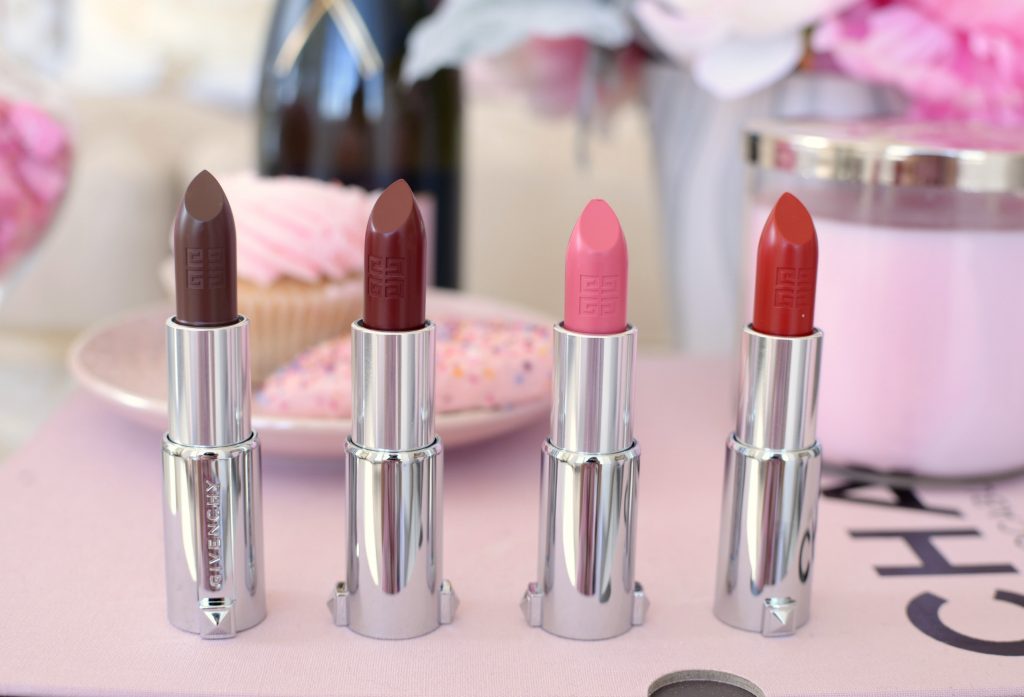 Givenchy Le Rouge Lipstick in Brun Baroque, Pourpre Defile, Rose Graphique and Rouge Stiletto.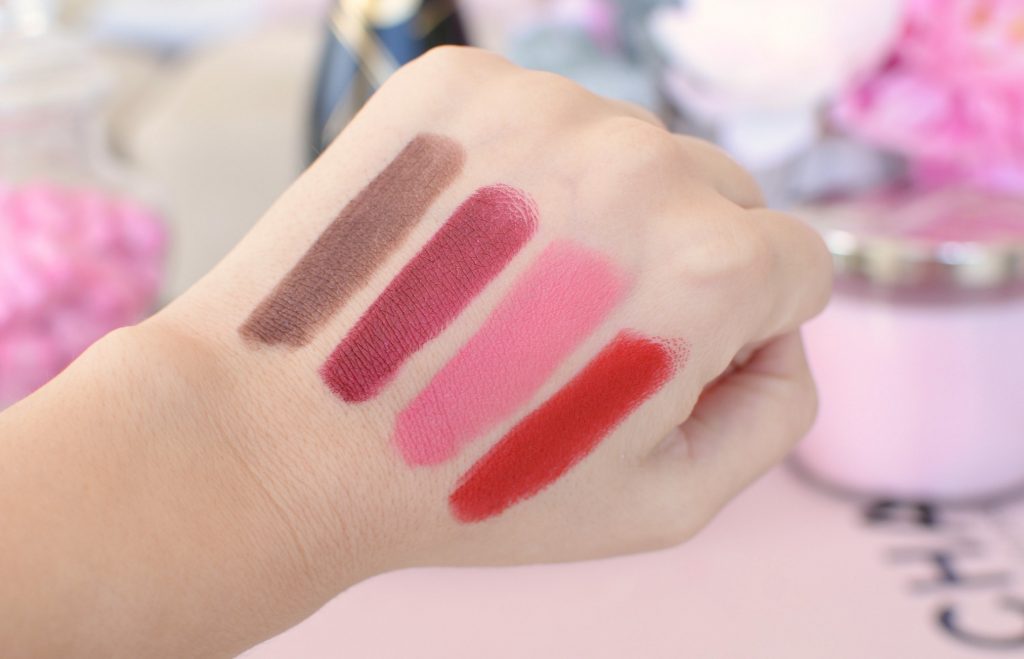 The Dior Addict Lacquer Stick took the market by storm last year thanks to its uniquely formulated hybrid design. It's a cross between a high-shine lacquer and lip-loving lipstick. This season, the brand is playing on the sparkly, reflecting trend with their glittery range. These 4 new shades offer an intense pop of colour with a high shine, shimmery appearance in a single swipe. Even with the brilliant and glistening finish, it still glides onto the lips seamlessly, never pulling or tugging, creating a perfectly smooth and even finish. It's completely weightless, comfortable to wear the entire day and lasts for several hours. Its bold and vibrant hues are perfect for spring, and its fun pops of shimmer adds an unexpected touch to your lips.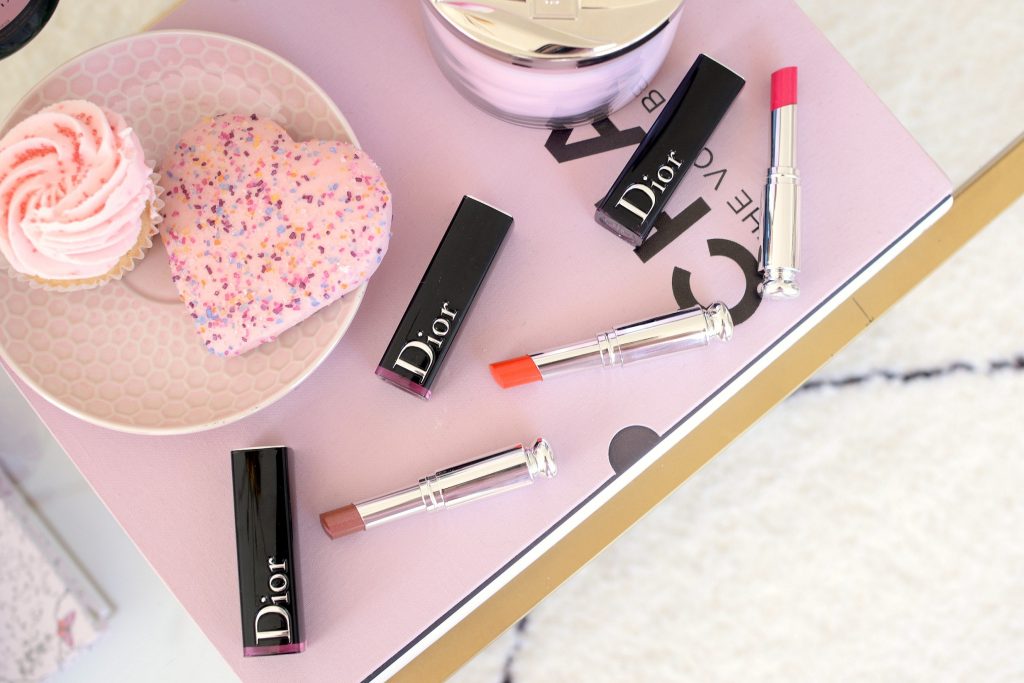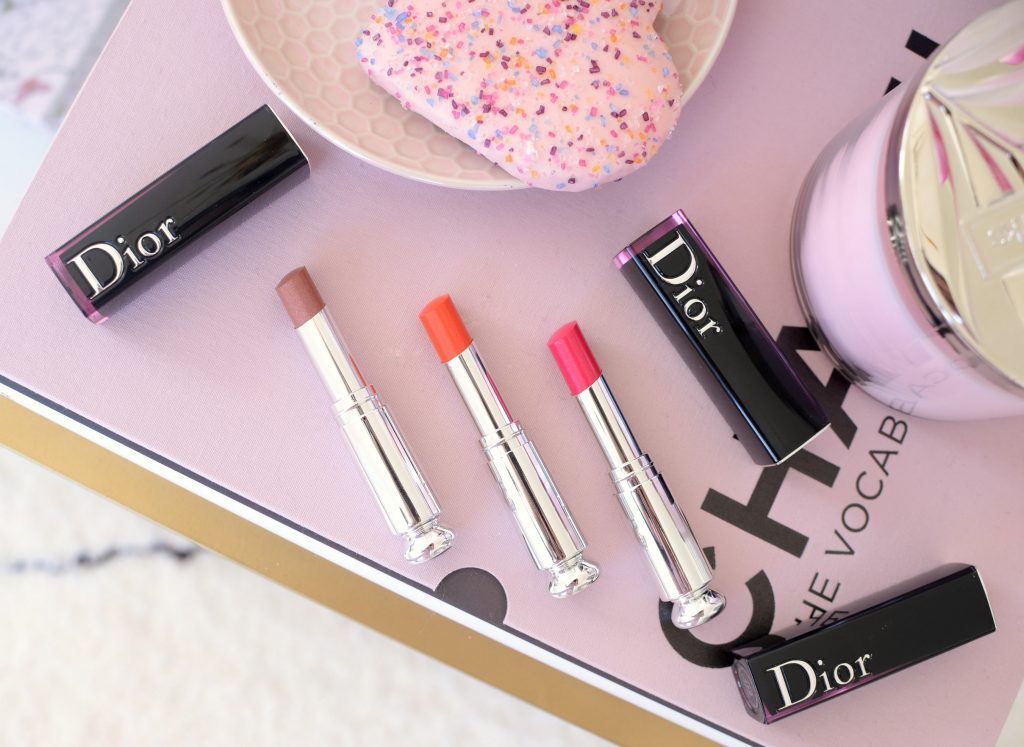 The new Dior Addict Lacquer Stick not only offers excellent pigmentation with a glittery finish, its semi-opaque finish isn't as intense as other shades, making it much more wearable for daytime. Its slender bullet design paired with its small ended tip makes application a breeze. It isn't too shiny, sticky or sheer, yet it isn't too matte, drying or opaque. It provides just enough coverage that you can see the actual colour selection that's found with the tube, yet its lightweight formula is moisturizing and nourishing enough that it feels comfortable all day. It has just enough shine, that's perfect for spring, yet its stain finish ensures it stays in place for upwards of 6+ hours. Think of this as a hydrating lip balm that doesn't compromise colour intensity, shine or glitter. It retails for $43.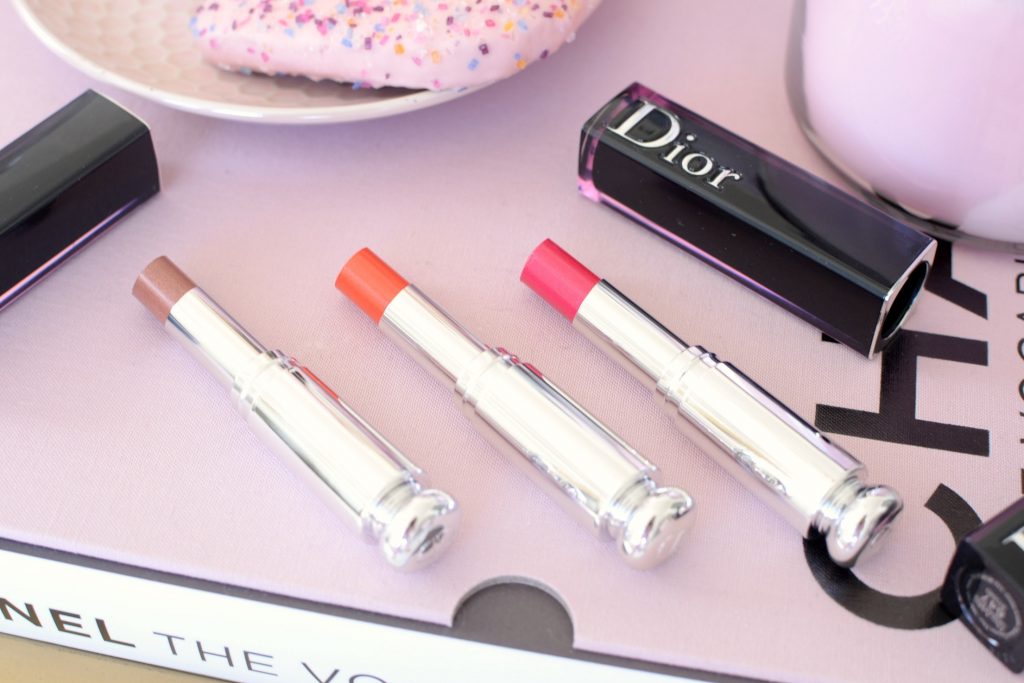 Dior Addict Lacquer Stick in Studio, Rising Star and Walk Of Fame.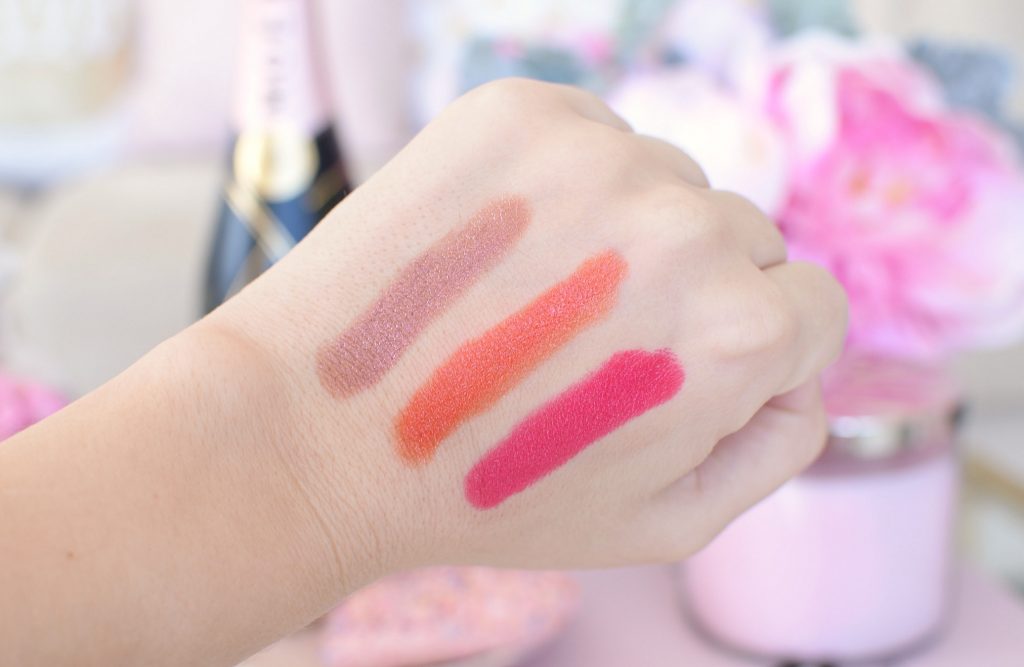 I quickly fell in love with the Kat Von D Studded Kiss Lipsticks back in 2014, thanks to its high performance, bold punches of colour, rich and creamy, ultra comfortable, longwearing formula. This season the brand has reinvented this iconic lippie with the creamiest, cushiony and most unbelievably pigmented formula you've ever seen. The collection now features 40 different shades, in 3 finishes, all containing this new breakthrough formula you're going to love. Its revolutionary bases contain an incredibly soft, velvety and weightless texture that pairs beautifully with its silky-smooth, spherical pigments that offers vivid colour payoff in a single swipe.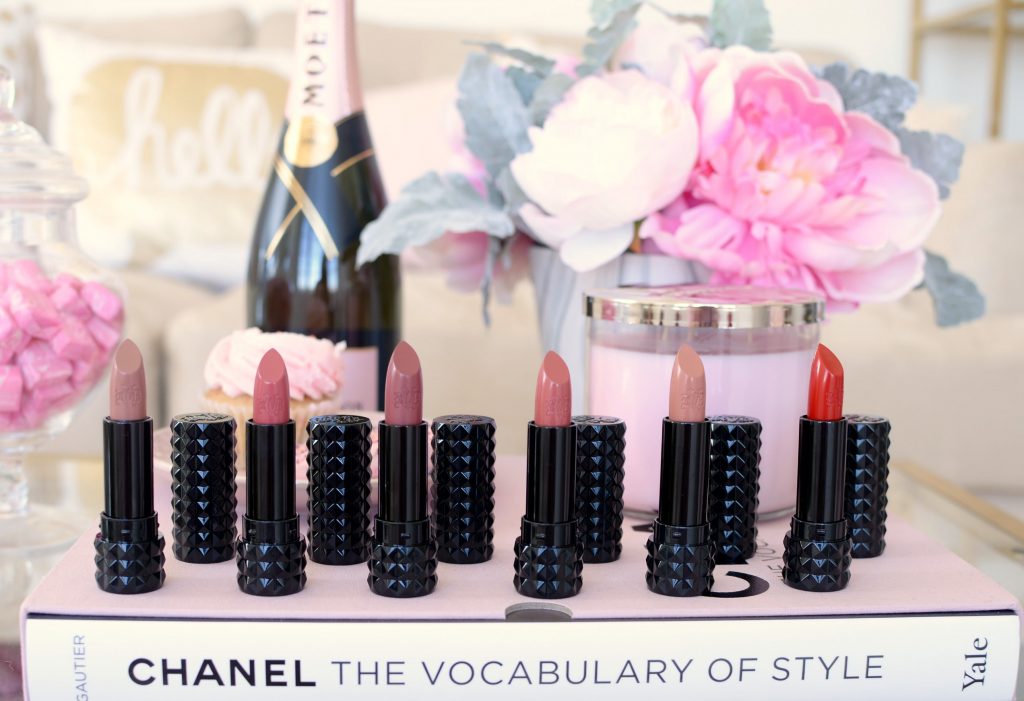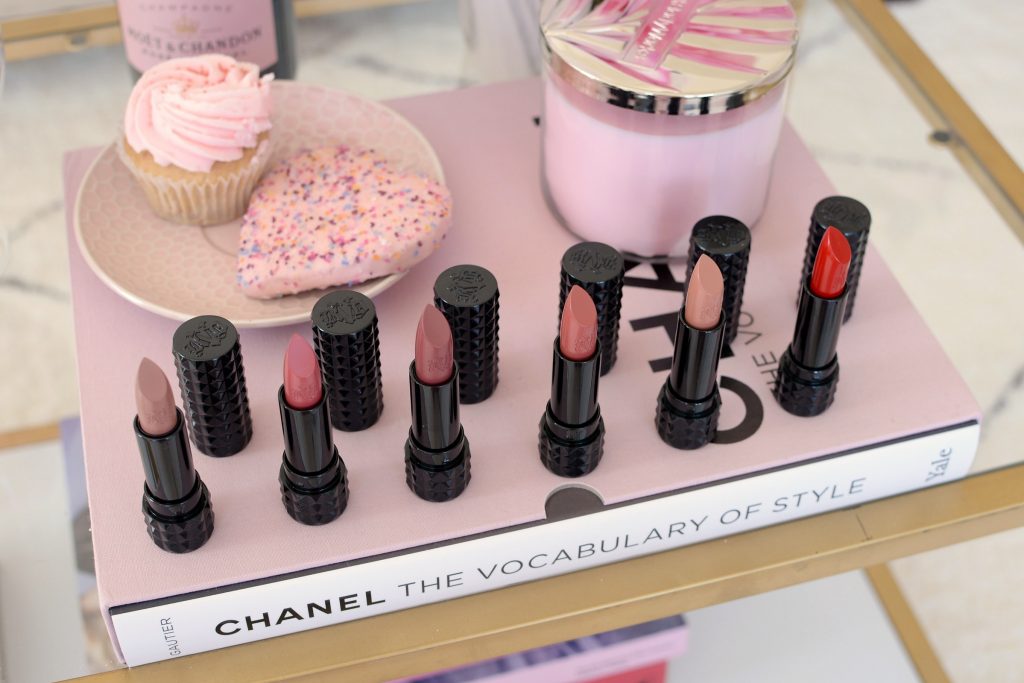 Kat Von D Studded Kiss Lipsticks still come in Kat's signature black studded casing that was inspired by her favourite bracelet. Its lightweight, creamy texture almost glides and melts into the lips. It doesn't cling, pull or tug on the lips and applies with an even, opaque colour in a few easy swipes. It's velvety smooth, extremely comfortable, and has a crème brûlée scent that provides a subtle and sweet experience. This hybrid lipstick not only delivers 10 hours of budge-proof wear, its vibrant colour that's infused with vitamins A, C, and E, helps to keep lips incredibly soft, smooth and moisturized the entire day. A comfortable matte lipstick that's never drying is a total win. It retails for $23 in 40 shades.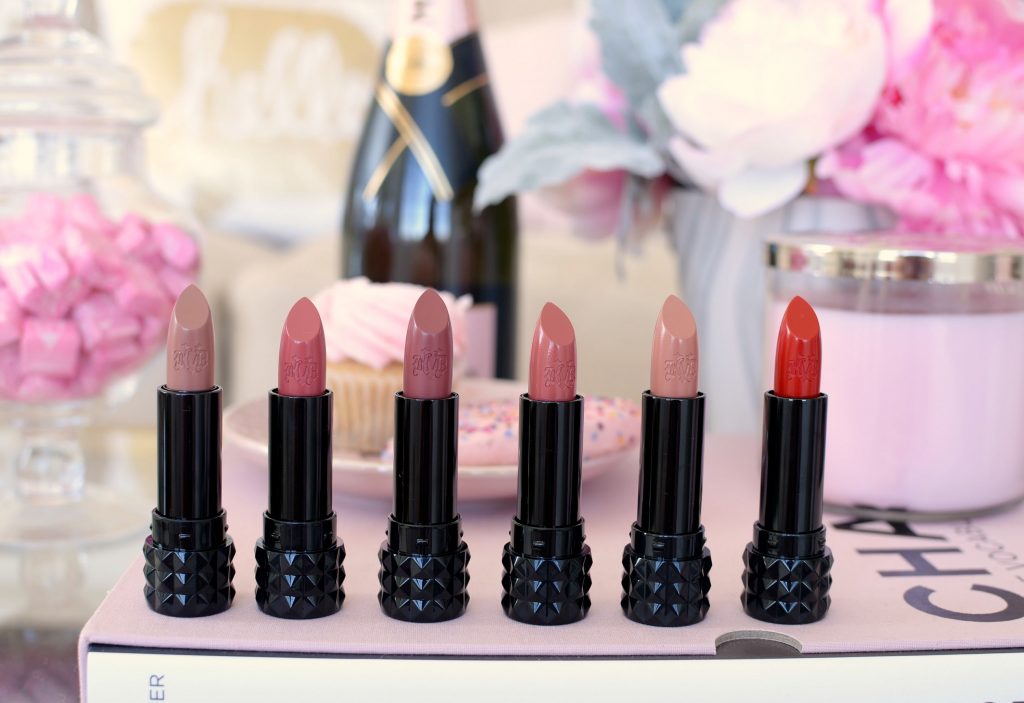 Kat Von D Studded Kiss Lipstick in Bow N Arrow, Double Dare, Lolita, Lolita II, Ophelia and Outlaw.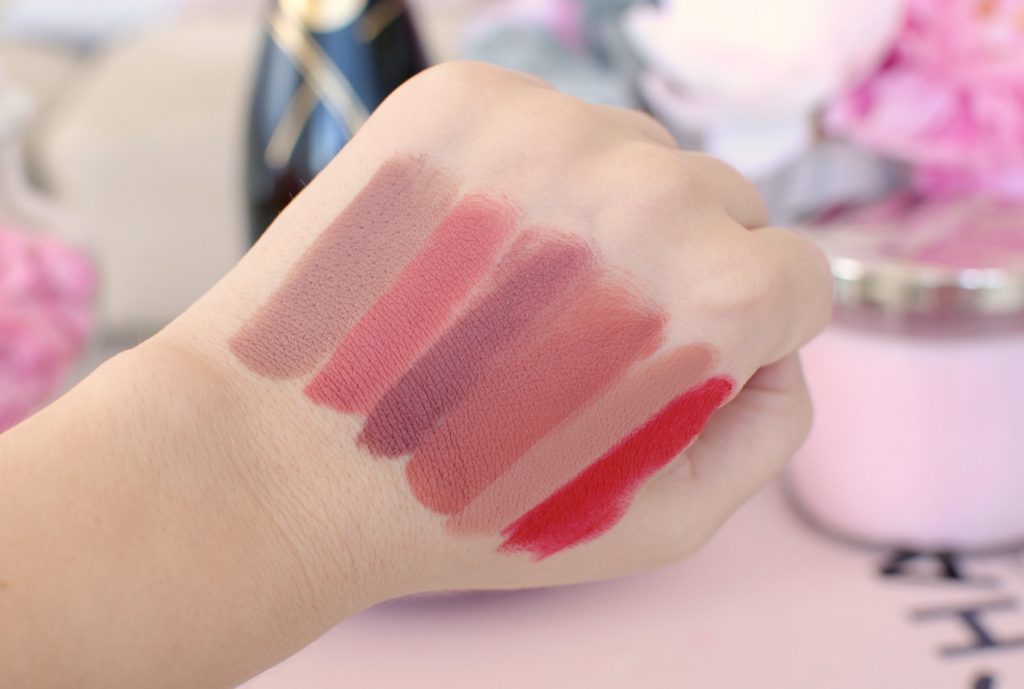 Never choose between a traditional lipstick and a liquid lipstick again. The new Marc Jacobs Le Marc Liquid Lip Crayon is a rich and creamy lip crayon that has the pigmentation of a liquid lipstick with the wearable texture of a balm. Its velvety smooth formula melts into the lips and provides an opaque colour payoff in one swipe. Its lightweight texture is comfortable to wear the entire day and its silky-smooth consistency never feels tight or dry. It features an unique "ghost pearl" innovation that creates a stunning matte finish with a three-dimensional sheen. This ensures that no matter which angle your lipstick is seen at, it's rich in colour and delivers a gorgeous shiny finish.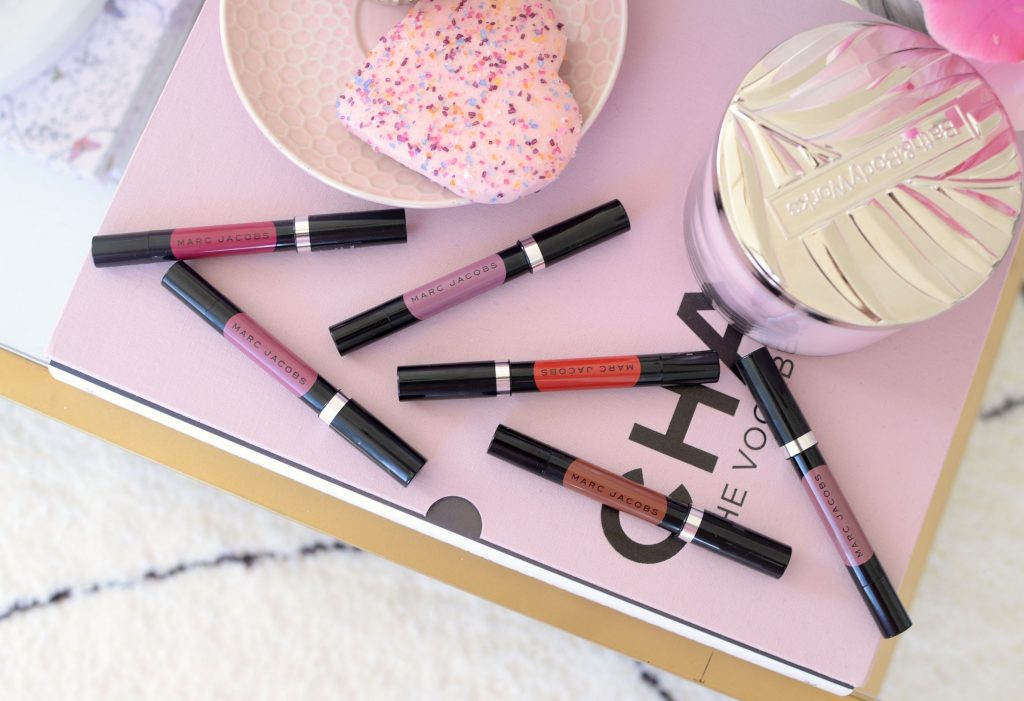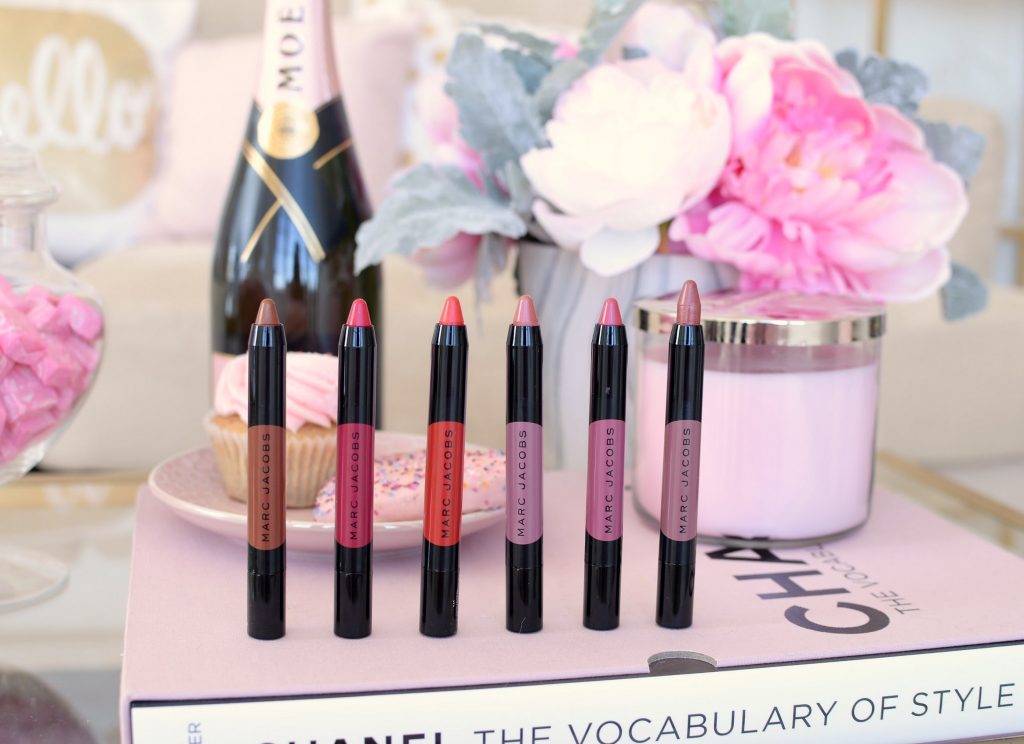 Because of the precise tip, you have total control over the new Marc Jacobs Le Marc Liquid Lip Crayon. Its crayon-type design allows you to shape your lips with the tip and fill them in with the slightly flatter side. A few swipes across the lips and you'll achieve true colour payoff. It's buildable, allowing you to go from semi-opaque to full ion high-pigmentation with ease. Create bolder, brighter, stronger coverage in a few swipes. It's comfortable to wear thanks to its hydrating and moisturizing formula. It applies smoothly and seems to really adhere to your lips, although you may experience slight transfer when eating. Because of its slightly shiny, yet matte appearance it never looks flat or dull. It wears beautifully for upwards of 16+ hours, no touch-ups needed. It retails for $34 in 10 shades.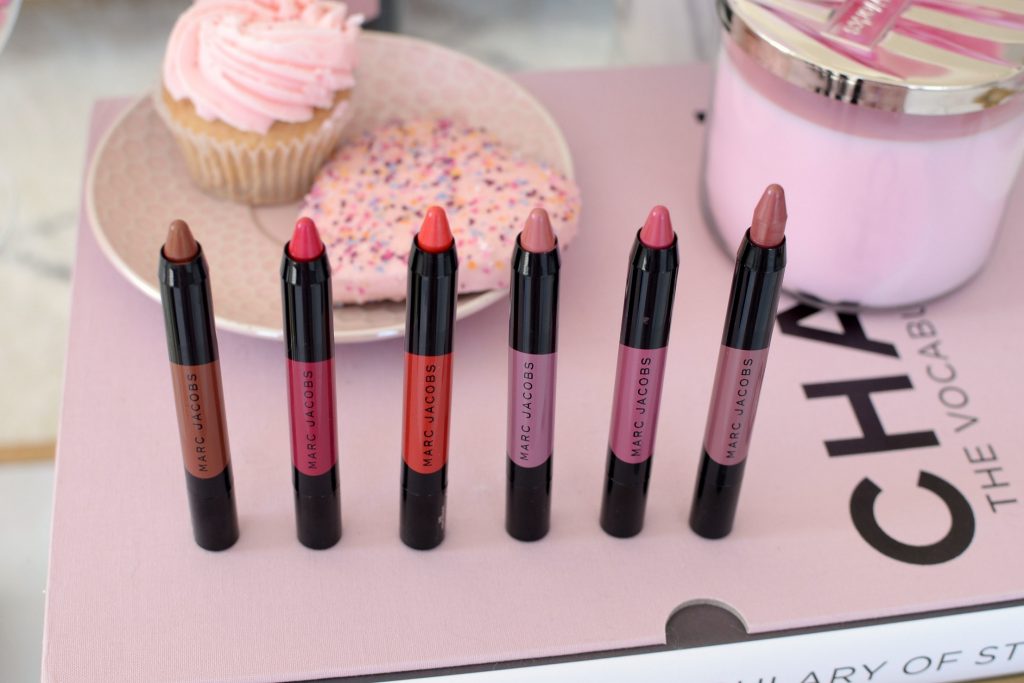 Marc Jacobs Le Marc Liquid Lip Crayon in Burn Notice, Fram-bois!, How Rouge!, Night Mauves, Pink Straight and Send Nudes.