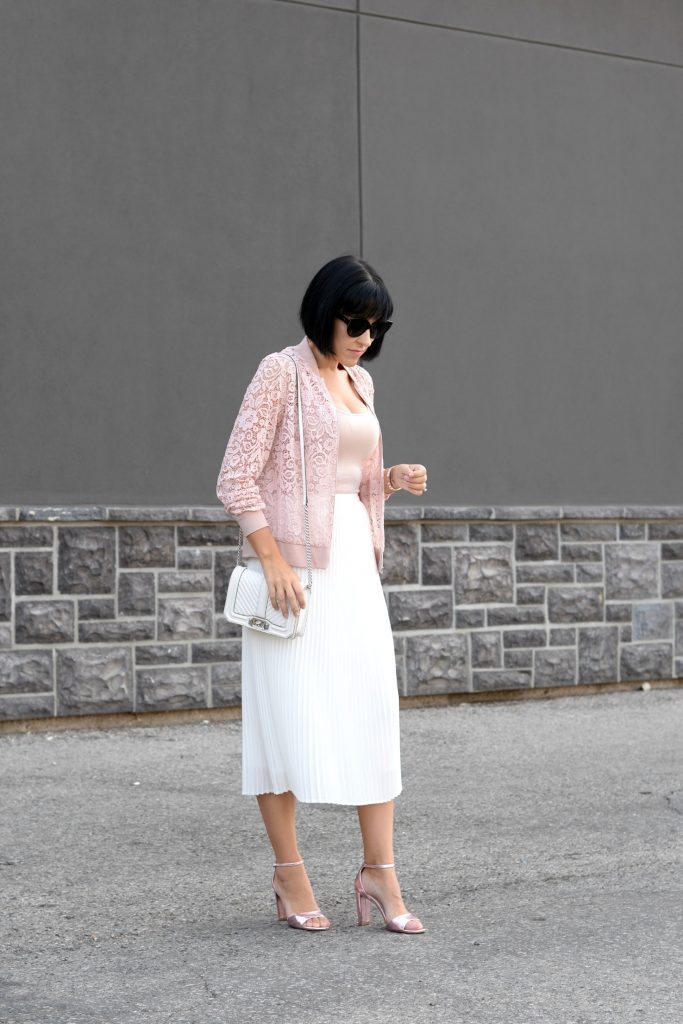 Aritzia Pleated White Skirt
I don't know about you, but as soon as fall rolls around, all I want to do is wear white. Maybe it's the fact that it's so dead and dreary out, or maybe I'm just looking to brighten and freshen up my look, either way, I don't follow the rule of "no white after Labour Day). White skirts are so versatile, both in the warmer and cooler months. Whether it's a crisp white or a more winter or ivory white, it's a sure way to turn heads this season.
Of course, the look is going to be on the brighter side of things, but you can easily transition it for cooler temperatures by pairing it with a chunky sweater, over-the-knee suede booties or even a furry jacket. The trick to wearing white in the fall is to pair it with heavier fabrics and richer textures. An oversize knit sweater or wool coat will add some warmth to the look.
As much as I love the contrast against neutrals such as grey, black, navy or even black, I still love it teamed up with soft, pastel shades. Again, don't be afraid to wear your lighter shades in fall, it instantly provides a more romantic and girly effect to any look. Pastels can give it a real feminine vibe, while still being fall appropriate. In today's look, I have on a embroidered bomber over it and open-toe shoes, as I was going out in the evening, but you can easily toss on a pair of chic booties and a teddy bear coat for chillier days.
What I Wore- Tank Top- Smart Set, Celine Sunglasses- c/o Smart Buy Glasses, Watch- c/o Bulova, Bomber- c/o Giant Tiger, Purse- Rebecca Minkoff, Skirt- Aritzia, Heels- Le Chateau