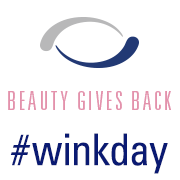 #WinkDay
Do something beautiful for all the women suffering from the cancer blues. On June 18 join thousands of women across Canada by putting on blue eyeshadow to show support for the women going through the cancer blues.
Simply make a video or take a selfie with your blue eyed makeup on and share it across social media (Facebook, Twitter, and Instagram) with the hashtag #WinkDay. You're now a part of the conversation and it lets everyone know you're doing this to support Beauty Gives Back and the fight against the cancer blues.
Also be sure to join the Wink Day Twitter Party tonight at 8pm.
Find out more info at Beauty Gives Back