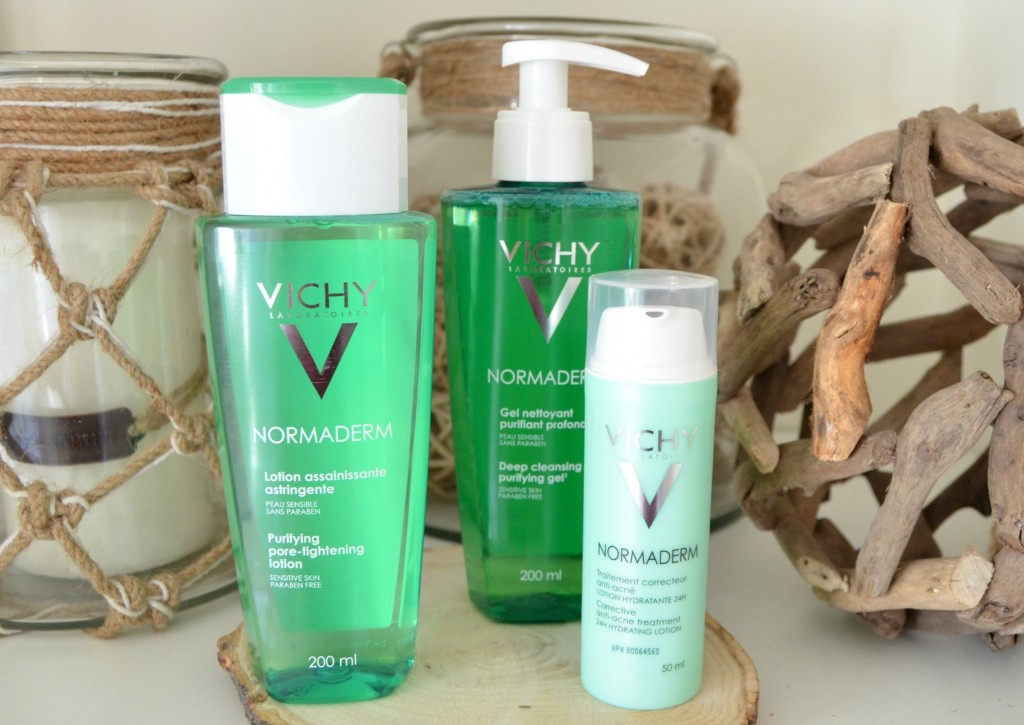 Vichy has released a new corrective anti-acne treatment that goes hand in hand with the rest of their Normaderm lineup. I've featured Vichy Normaderm Foaming Mousse and BB Cream on this fashion blog before and loved it, so it's only natural I'd be excited about this new treatment. It's designed and created with 50% more concentrated salicylic acid than before and clinically proven to reduce breakouts and pimples by up to 75%.  I've also been testing out the Deep Cleansing Purifying Gel and Purifying Pore-Tightening Lotion, making it quick and easy, on my way to clearer skin in as little as 3 steps.
Using a complete anti-acne regimen kinda scared me, I usually have to incorporate a moisturizing cleanser or intense hydration serum, cause my skin is extremely dry, but surprisingly these products actually keep my skin fairly hydrated. I sometimes think, less is more. I'm so used to using at least 5 to 6 products in my daily routine, I never thought 3 products would get my skin squeaky clean and moisturized, the way a handful of products would.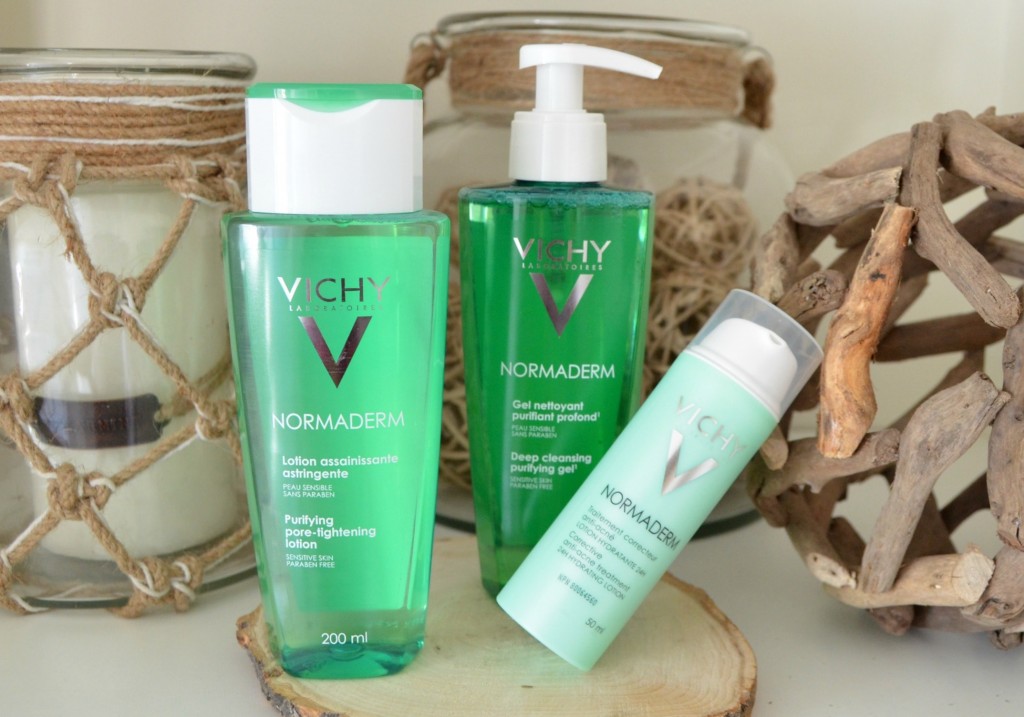 My first step is to cleanse with Vichy Normaderm Deep Cleansing Gel, a deep cleansing gel designed for those with acne-prone skin. It has translucent gel like consistency that comes to a decent lather to instantly purify the skin and unclog pores. It washes clean away without any greasy or sticky residue and without leaving the skin feeling tight, dry or irritated. It features salicylic acid, glycolic acid and micro-exfoliating LHA that all help to gently, yet thoroughly, exfoliate dead skin cells for a smoother, soft texture and feel. It removes all excess oil, makeup and impurities and leaves skin feeling refreshed, clean and ready to take on the day. If you're looking for a cleanser that gives that soft, velvety, ultra-clean surface, while preventing future breakouts, you'll love this one. It retails for $19.95 for 200ml.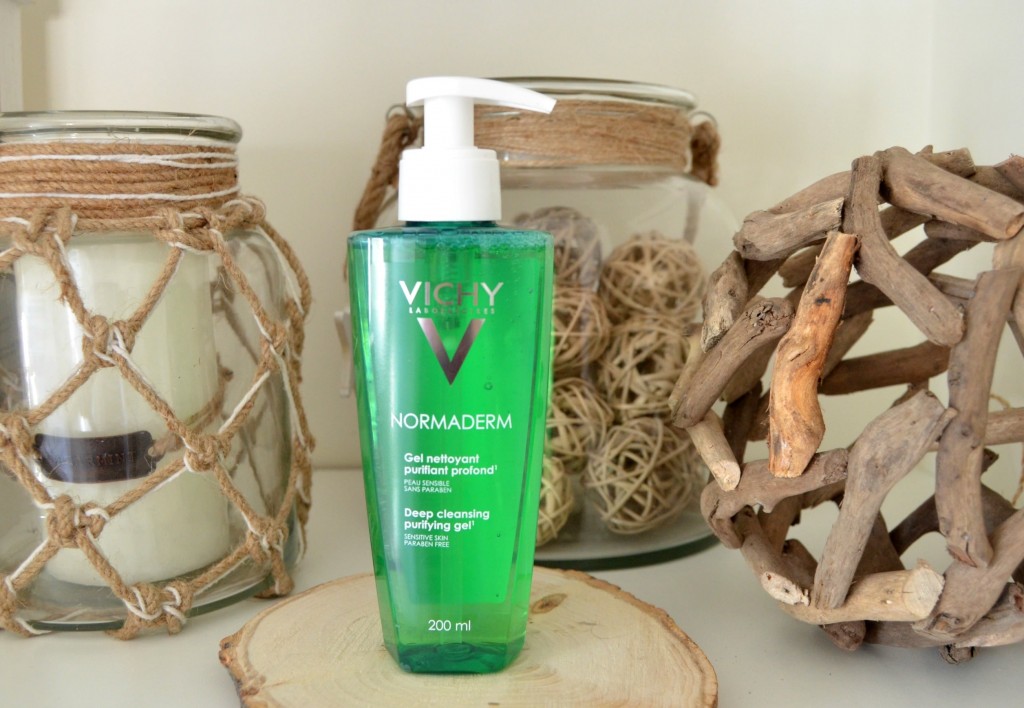 Next step is to tone with the Vichy Normaderm Pore-Tightening Lotion, a unique toner designed to leave skin matte, while helping to unclog and tighten pores. It has a liquidy consistency, with a mild fragrance, that features the same active glycolic and salicylic acid as the cleansing gel, to purify, tighten and unclog the pores, along with mineralizing water to help keep skin moisturized. Unlike other toners I've tried in the past, this one doesn't sting, burn or irritate the skin, yet it eliminates any impurities left on the skin that your daily cleanser may have missed. It leaves the skin feeling squeaky clean, smooth and refreshed. Since I suffer from dry skin, I can't really say if it keeps the skin mattified throughout the day, I can however tell you I've been experiencing less breakouts because of it. It also does a wonderful job at tightening pores, leaving them less visible and clogged. It retails for $19.95 for 200ml.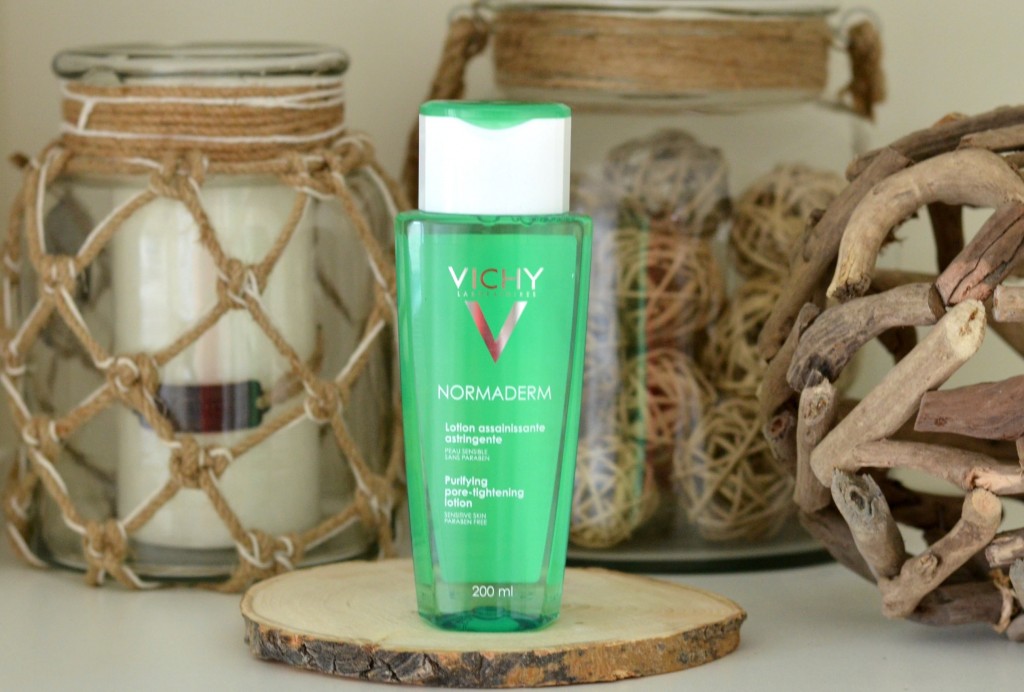 The final step and the star of the show, the new Vichy Normaderm Corrective Anti Acne Treatment. This is designed to help reduce pimples, pore visibility and acne marks thanks to its 1.5% Salicylic Acid, LHA, Phe Resorcinol and new Air Licium technology formula. These active ingredients combined help to not only treat, but prevent all signs of acne, shine and redness. Talk about working quickly, after only one short treatment, by breakouts had diminished by at least 50%. By the third day, it pretty much had dried out all active blemishes. Not only is it fast acting, it's effective and long-term. It seems to quickly and effectively unclog pores without irritating or drying out my skin, for a soft and smooth finish. It also keeps my skin hydrated throughout the entire day, never stiff or tight. I've actually been using it both day and night and it doesn't interfere with my foundation or leave my skin looking greasy or oily. It claims to help reduce acne marks, which I haven't seen quite yet, but I do think they are fading slightly? Skin is looking smoother, with less bumps, less irritation and less redness. A huge A+ in my books. It retails for $29.95 for 50ml.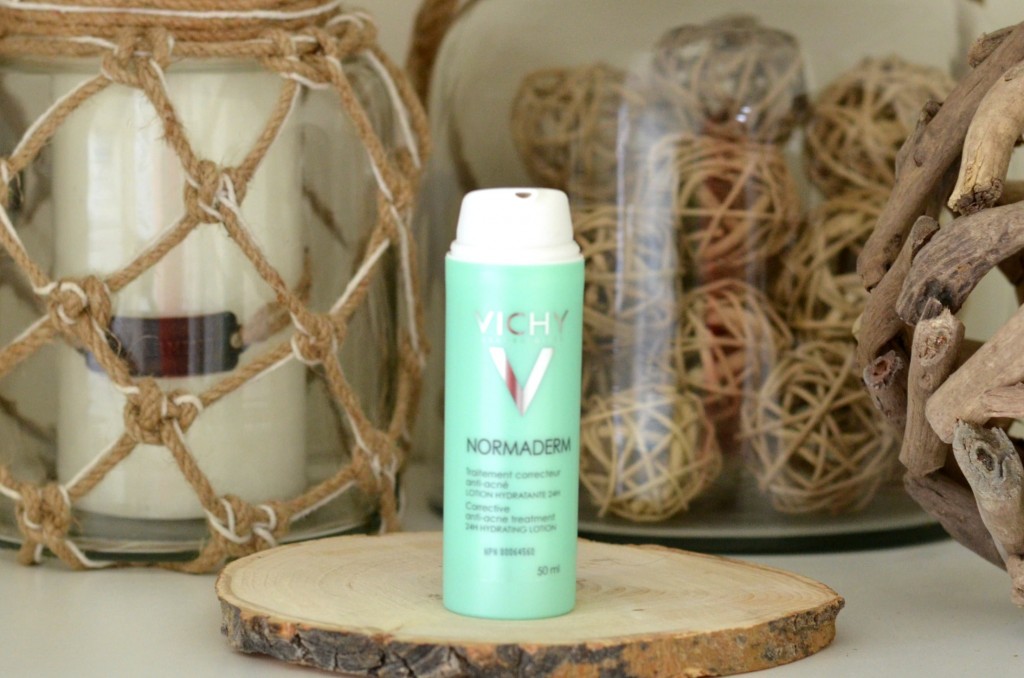 I've been using this Vichy Normaderm 3-step program for just over 5 weeks now and my skin has never looked better. Because of its anti- inflammatory and anti-bacterial properties, it not only helps to stop breakouts in their track, it helps to prevent bacterial from growing, causing the pimples and blemishes. My breakouts quickly dried up within a few short days and I saw less and less blemishes as the weeks continued. Now I don't think I'll ever be that person to have completely clear skin for weeks at a time, but I notice less of them. When a new blemish does "pop up" it seems to be less red and irritating.