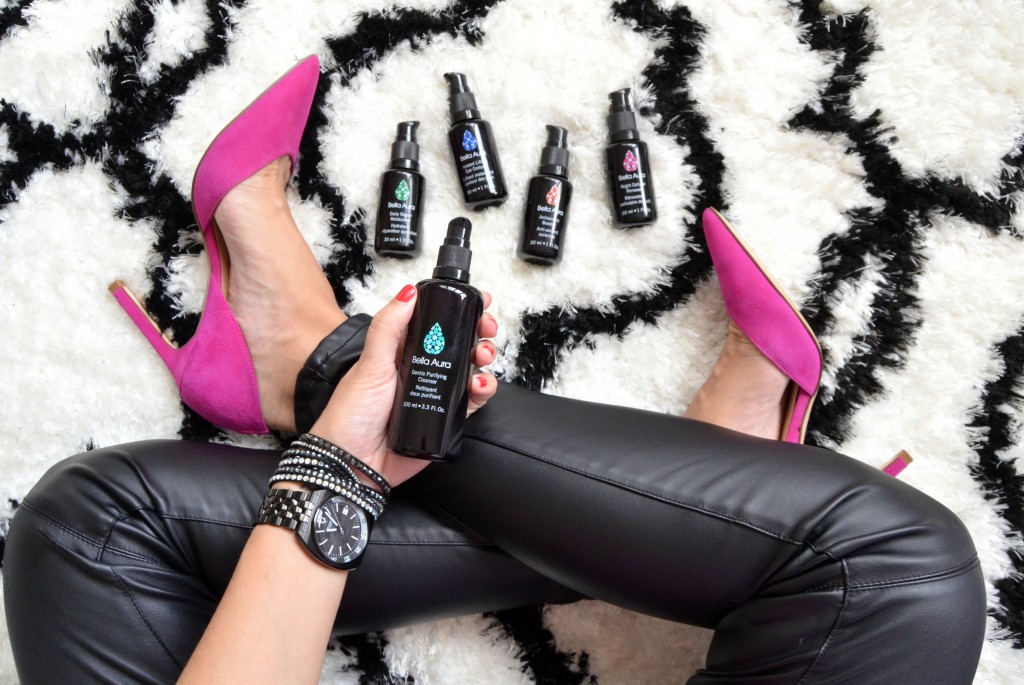 It's not that often you have an immediate connection with someone, but after a "not so quick" phone call (we talked for over an hour) with Yasmine Jones, owner and creator of Bella Aura, a new Canadian skincare company, I knew I had a friend for life. Yasmine, life myself, started her battle with breakouts after an extremely stressful time in her life. Her mother was diagnosed with Leukemia, and like any worrying daughter, she wasn't eating or sleeping properly, which only made her stress levels higher. Her skin worsened and left her with acne scars. No matter how much money she spent on "so-called" high-quality products, the results were the same, and the problems were never corrected. During a trip to Morocco, she discovered the "beauty secrets" of the ancient Berbers and realized just how beneficial oils really are and she set out to create her own skincare line. How inspiring is that? She instantly turned a negative into a positive and now is helping both men and women all over the world look and feel beautiful.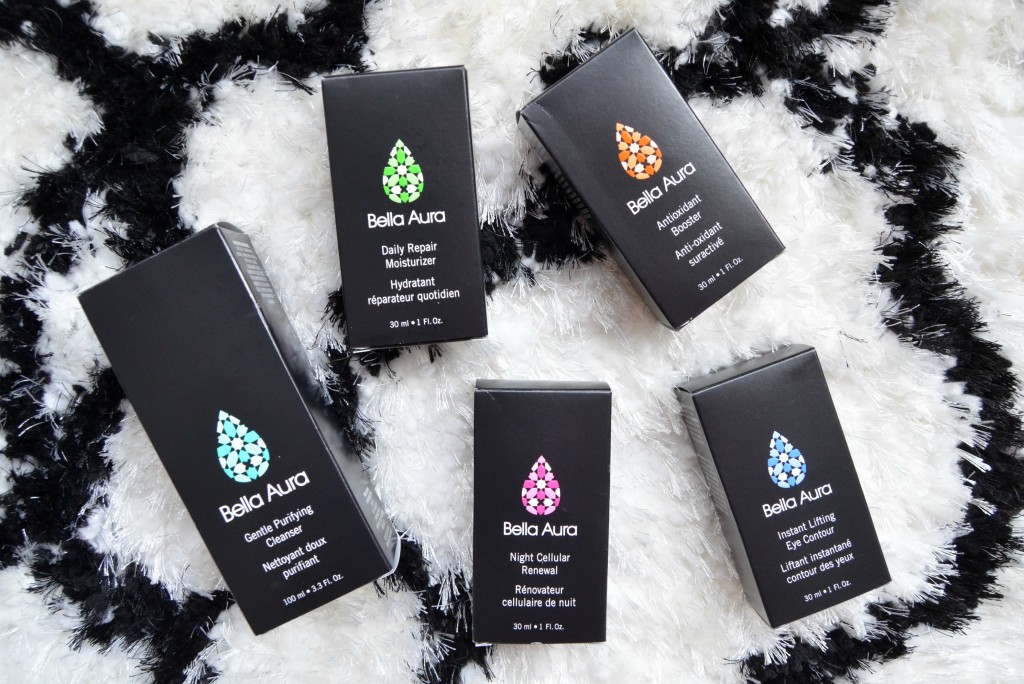 Bella Aura Skincare products are based around advanced active ingredients, combined with natural oils, which are simple, natural and work for all skin types. The core collection is based around 5 different products infused with natural oils including Argan, which is known for its superior nutritional value to the skin, Cactus, which offers the highest concentration of vitamin E of any botanical based oil that helps to create a barrier against negative energy, Neroli, known as a confidence booster, Nigella, that offers healing powers to protect against negative energy, along with Bella's own unique Kamilah blend that helps fight the signs of aging and boosts your natural beauty and confidence. Each product comes beautifully packaged in a lightweight, sleek black glass pump-style, air-proof bottle and features a different colour logo, representing each aura colours' characteristics within.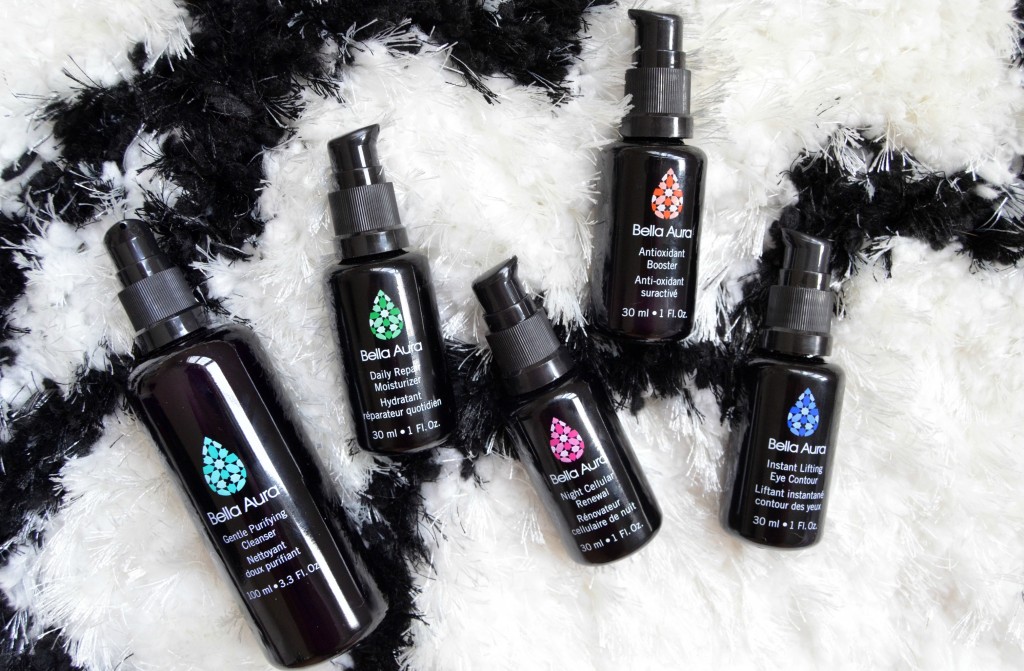 Bella Aura Gentle Purifying Cleanser features a blue logo that symbolizes calmness and projects tranquility and inner peace. It features an exclusive blend of exotic botanical oils, vitamins and minerals, to effectively cleanse the skin without stripping it of its natural moisture.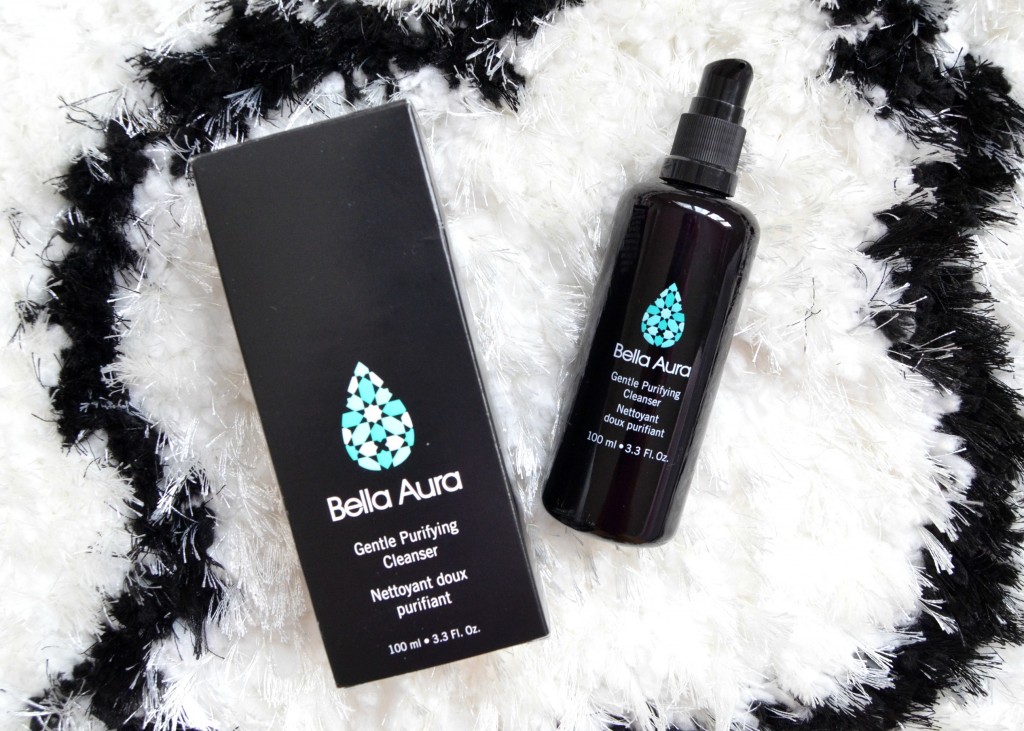 Bella Aura Gentle Purifying Cleanser has a somewhat creamy, almost oily texture and although it doesn't come to a rich and creamy lather as you'd expect from a cleanser, it does an amazing job at cleansing the skin of dirt, oil and makeup. I do tend to use my favourite cleansing oil to remove water-proof mascara or full coverage foundation beforehand, but in the morning, it's the perfect cleanser to help prep the skin for hydration. It instantly leaves my skin feeling refreshed, hydrated and incredibly smooth. Since it is so moisturizing, it's perfect for those with dry, itchy, irritate skin like myself. My skin has never felt so soft, supple and moisturized, even before my daily cream or serum. When I'm feeling extra fancy, I take an extra minute or two to really work the cleanser into my skin, in small circular motions, and watch as the vitamin B complex acts as a gentle exfoliator to help sloth off dead skin cells. It also helps to purify and detoxify the skin with each use. This is an excellent 2-in-1 cleanser/ exfoliator. It retails for $42 for 100ml.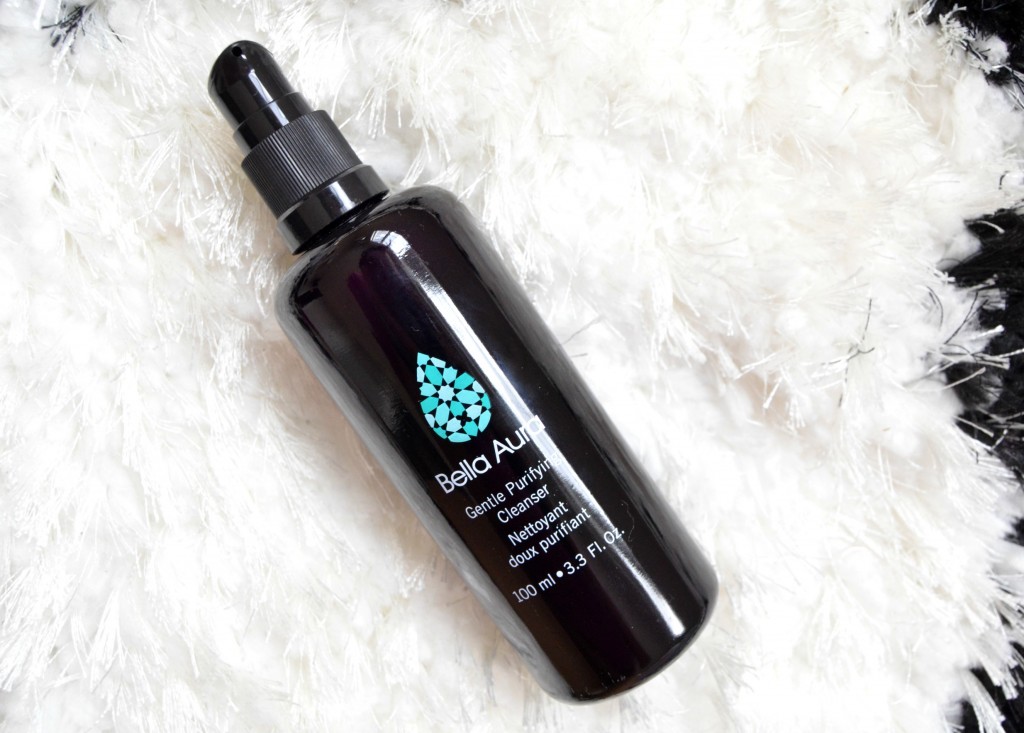 Bella Aura Antioxidant Booster features an orange logo that symbolizes a burst of energy and creativity and helps to project a radiant glow. It's infused with a unique vitamin C-E-A-K-D-F-B complex, minerals and omega 3-6-9 fatty acids, to help nourish, replenish, and rejuvenate your skin for a more luminous glow.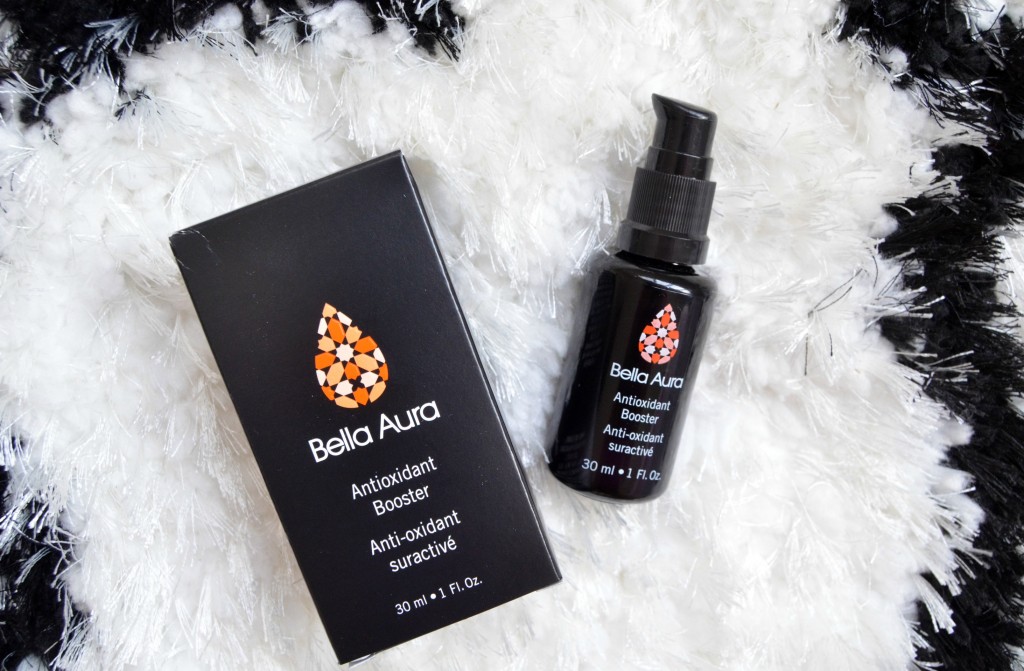 Bella Aura Antioxidant Booster has a fairly thick consistency that instantly penetrates deep down into the skin tissue to help restore your skin's natural moisture barrier and prevent the damaging effects of free radicals. Its lightweight texture absorbs within seconds, without feeling oily or greasy. Although it's suggested to apply before your moisturizer, I find that it works best when I actually mix it in with my daily cream. I just find it applies more smoothly and evenly this way. It gives an extra boost of hydration to replenish tight, dehydrated skin. Over time it will help reduce the appearance of dark spots, discolouration, blotchiness and even redness. It's a little too soon to see the full effects of these claims yet, but one thing I can tell you, it takes my daily moisturizer to an entirely different level. I would definitely recommend this if you're suffering from dry skin, but don't want to fuss with a heavy oil or serum. It retails for $148 for 30ml.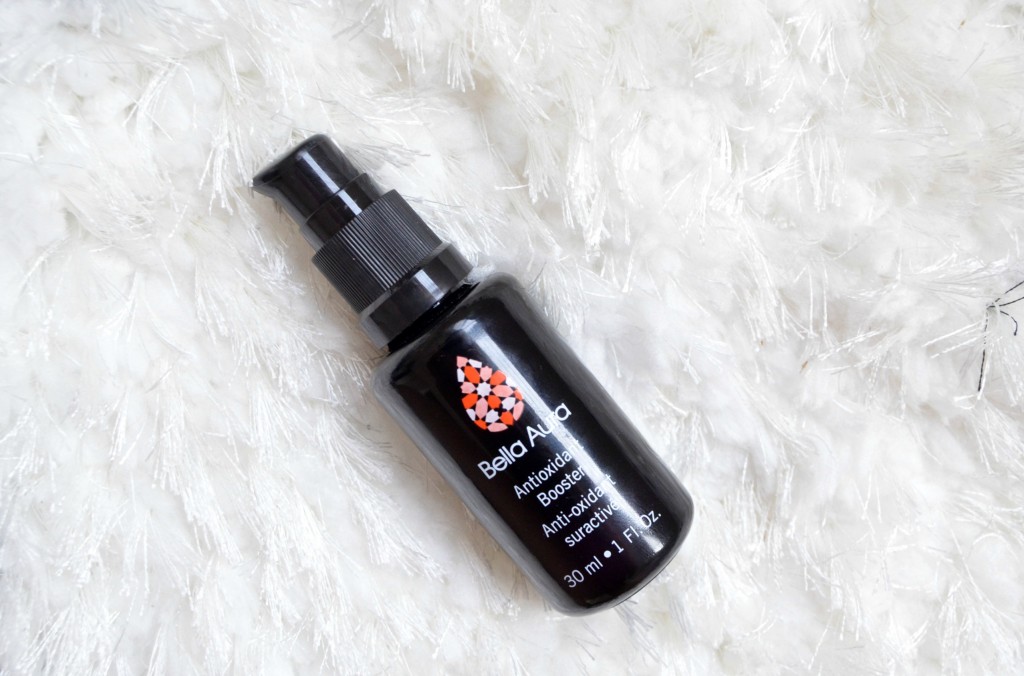 Bella Aura Daily Repair Moisturizer Emulsion features a green logo that communicates renewal and projects healing, rejuvenation and a sense of nature. It's designed to provide even better hydration properties than Glycerin or Hyaluronic Acid and features a unique blend of Kamilah, combined with the active ingredient Aquarich. It instantly helps to minimize the look of dullness and fine, dry lines for a younger, healthier, smoother skin.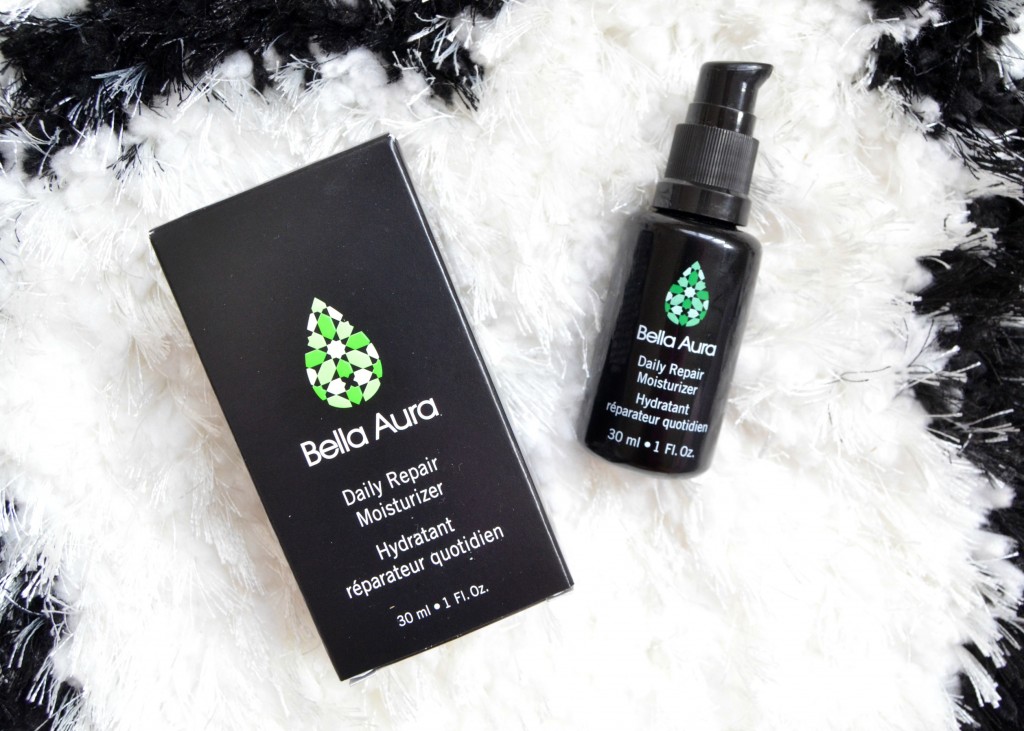 Bella Aura Daily Repair Moisturizer Emulsion has a slightly thinner texture than the Antioxidant Booster, which is why I love mixing the two together. It creates the perfect consistency that glides onto the skin like butter. It's silky, creamy texture feels incredibly hydrating and cooling at the same time. It immediately calms redness, eliminates any dry, flaky patches I may be experiencing and provides an instant glow to my otherwise dull complexion. It works extremely well under my foundation as it absorbs within seconds without feeling greasy. Not only did it help restore radiance to my skin, it actually banished all dryness after only a few short applications. This is one intense moisturizer, without feeling too heavy or clogging pores that cause breakouts. It retails for $128 for 30ml.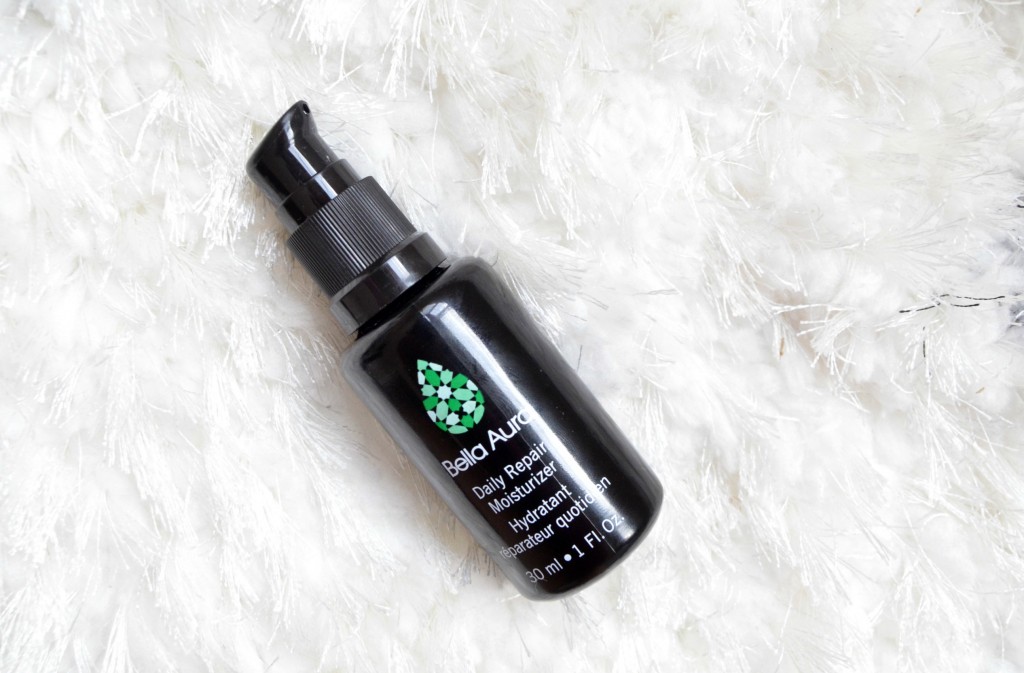 Bella Aura Night Cellular Renewal Emulsion features a pink logo that evokes compassion, beauty and love. It projects warmth and passion and helps to leave your skin looking more radiant and youthful in the morning. It contains a unique Vitamin E-C-A-B complex- K-F-D, omega 3-6-9 fatty acids, minerals and nutrients to help nourish, replenish, renew, rejuvenate and re-balance your skin.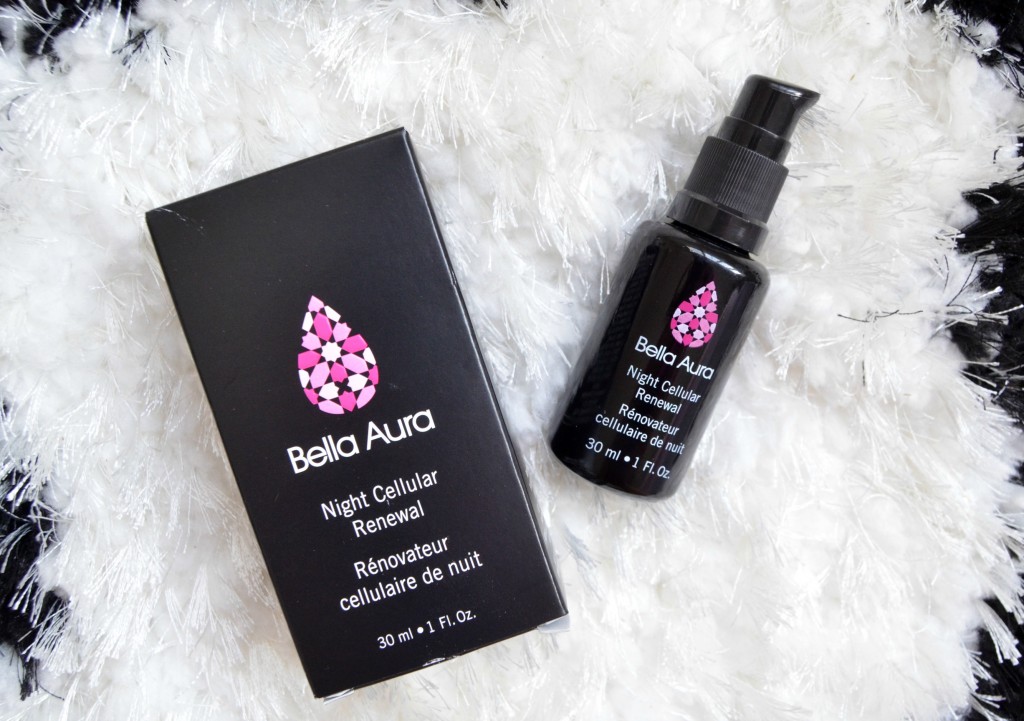 Bella Aura Night Cellular Renewal Emulsion has the exact same, slightly thinner consistency, as the Daily Repair Moisturizer Emulsion, but helps to improve firmness, elasticity and hydration while you sleep. It too applies evenly, absorbs within seconds and helps to brighten your complexion. On the nights when my skin is feeling extra dehydrated or thirsty for moisture, I apply a slightly thicker layer than normal, almost as a nighttime mask, and I wake up to radiant, supple and extremely moisturized skin. My complexion has never looked so youthful and healthier, and need I say, even more lifted? It retails for $148 for 30ml.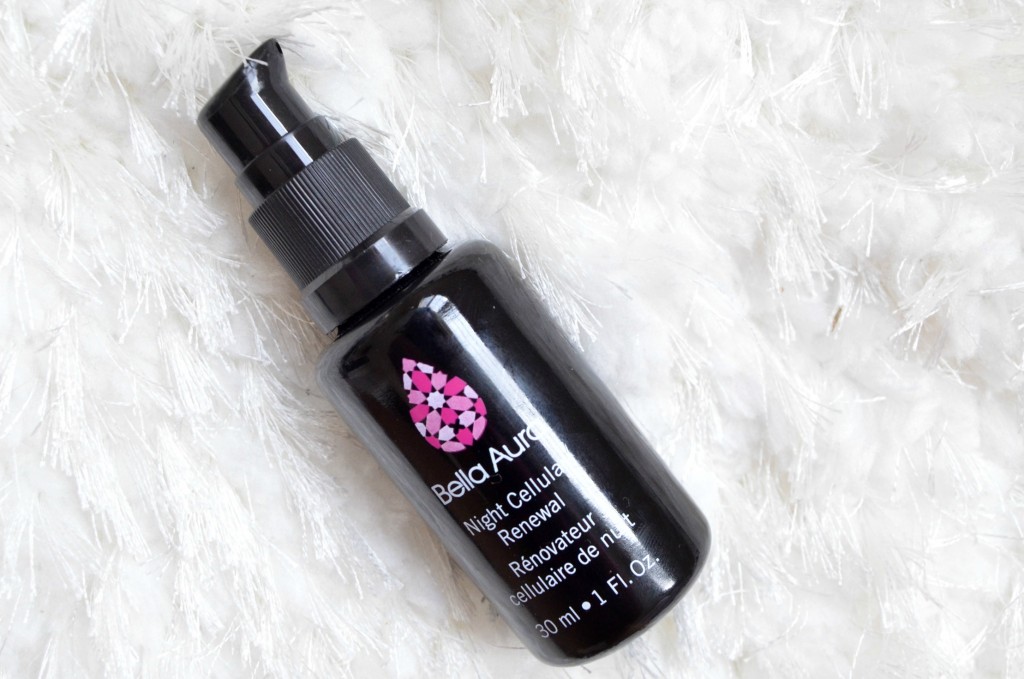 Bella Aura Instant Lifting Eye Contour features an indigo logo that represents spirituality and intuition, while projecting a heightened sense of awareness. It claims to help rejuvenate the eye area and to look up to 6 years younger in just 4 short weeks. It instantly helps to restore a more youthful, brighter eye area thanks to its vitamins K-C-E-A-F-D-B complex, minerals, omega3-6-9 fatty acids ingredients.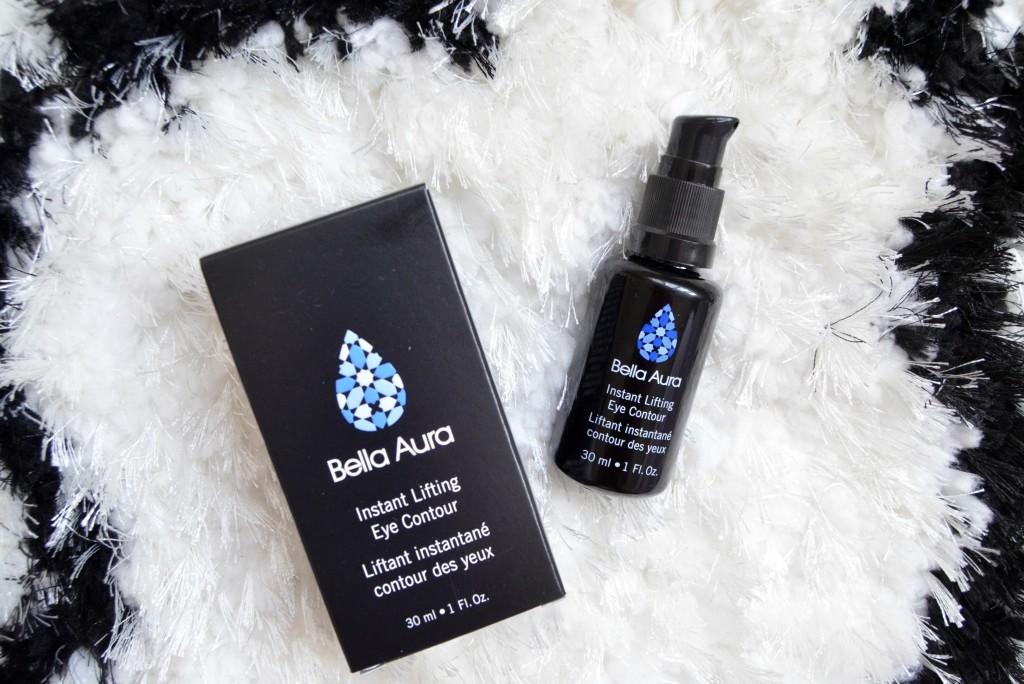 I've never been one to really use an eye cream, I always felt it was kinda gimmicky, but the Bella Aura Instant Lifting Eye Contour is a game-changer. It's incredibly lightweight, liquidy, oily texture instantly gives a boost of brightness to dull, uneven under eyes. It not only helps to hydrate that delicate area, it also gives a slightly cooling sensation that helps to awaken the senses and reduce the appearance of dark circles and puffiness. It helps to "fake" a well-rested complexion, even on the days when you tossed and turned or went to bed a little too late. It not only helps to moisturize, it helps to lift, smooth and brighten the skin. It acts as an excellent base to your under eye concealer. It retails for $128 for 30ml.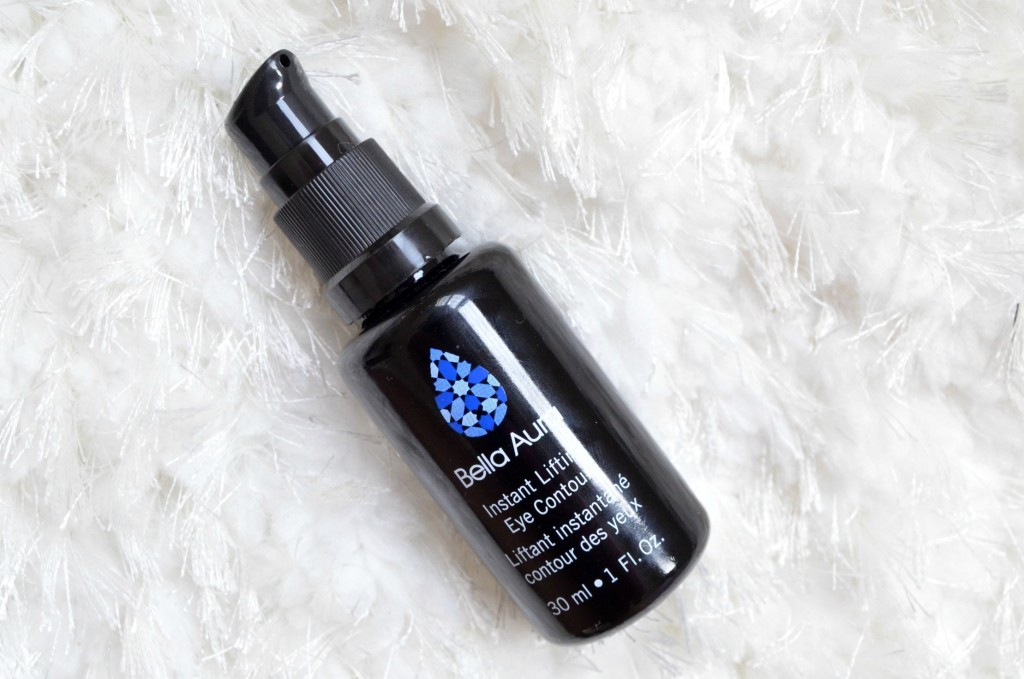 Another important thing to know about the Bella Aura lineup is that each product features an innovated emulsion formula that helps to maintain hydration levels and prevent moisture loss. It contains high levels of hyaluronic acid to help exfoliate dead skin cells and replenish new ones, collagen to improve elasticity and give the appearance of firmer skin texture, along with elastin boosters to help minimize the signs of aging, for a more youthful appearance.
Although each Bella Aura product is water based, it never felt or looked greasy on my skin. None of the products seems heavy or clogged my pores or caused any breakouts, in fact, it helped control my blemishes. Each product has a subtle, fresh, soothing and almost manly scent that's incredibly addicting. Even Derek got in on this action, he fell in love with it after his initial first sniff. I can see this entire collection appealing to both men and women, which is great for couples, cause you can now share the same skincare collection. I love that each product is pure and simple and the entire lineup only contains 5 products. I can't tell you how overwhelming it is, trying to decide which products you need out of a lineup of 30 and then in which order to apply all of them. Since the entire collection of Bella Aura only features 5 products, I can now officially get in and out of the bathroom in no time, with even better results than multiple products.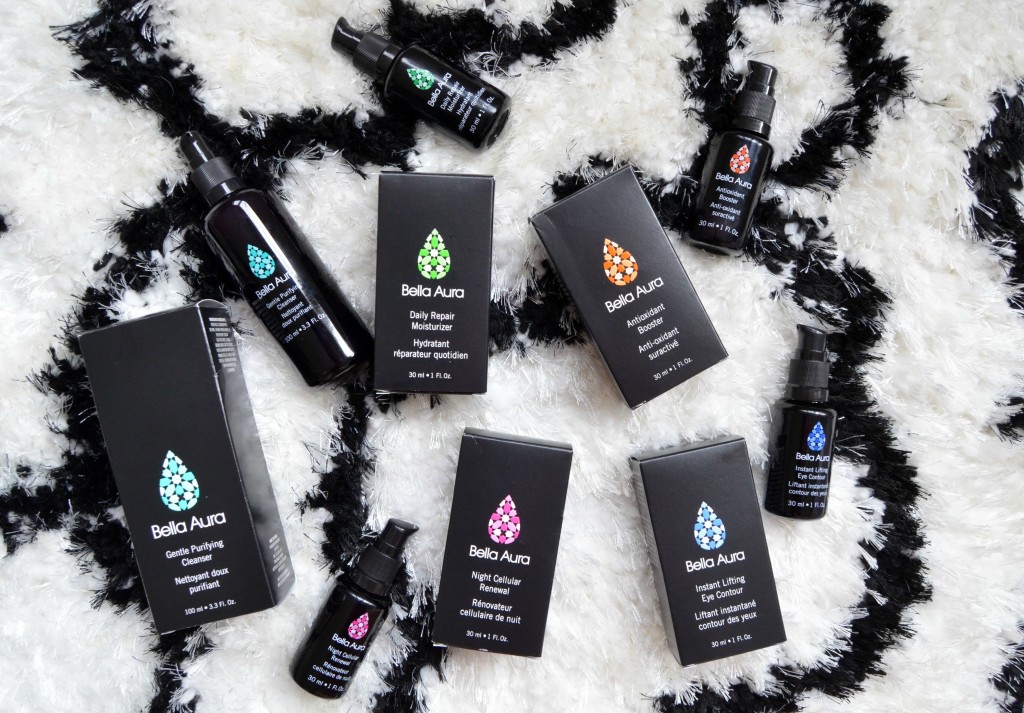 "Disclosure: This post was sponsored by Bella Aura, but all opinions on this blog are my own. I also want to thank you for supporting the brands that support my blog."