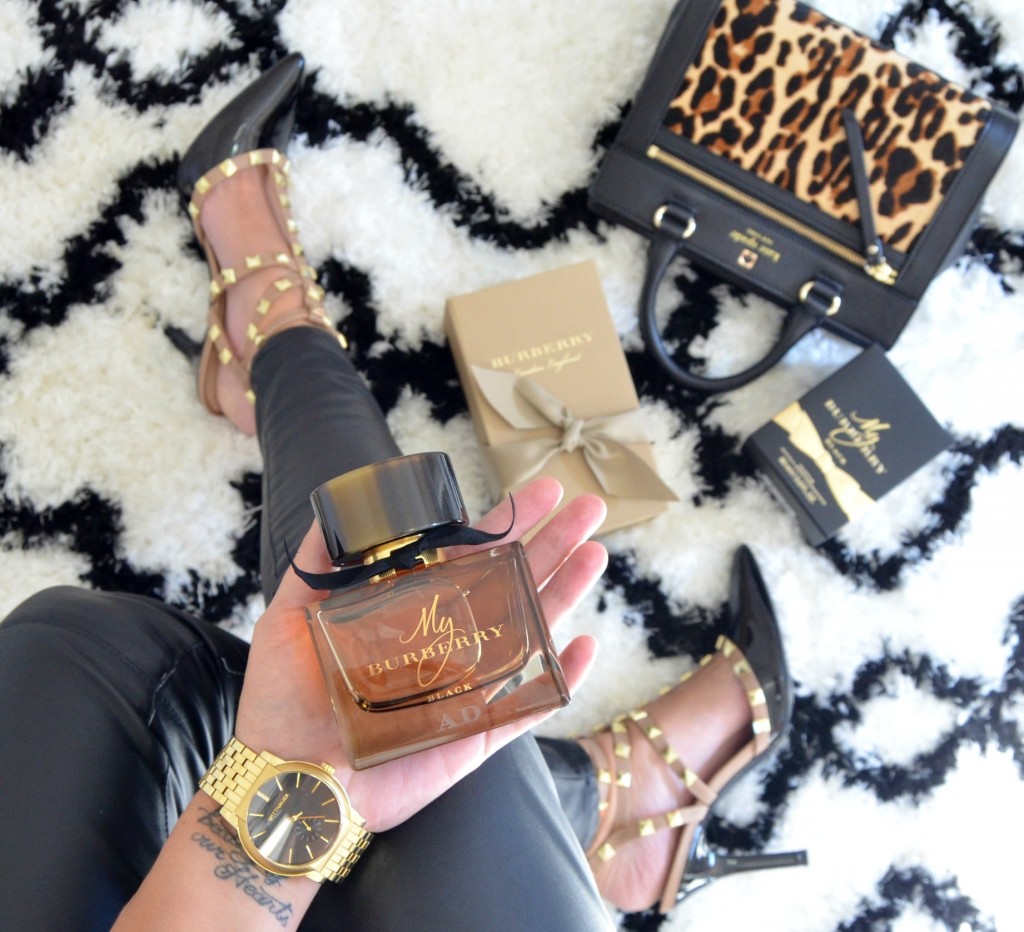 My Burberry Black is an intense and sensual interpretation of the iconic and oh-so popular My Burberry (which you've seen on this fashion blog here). It's inspired by the classic black Burberry Heritage trench coat and captures the essence of a London garden at dusk. It opens with sun-drenched jasmine flower, peach nectar and candied rose aromas and is quickly grounded with strong notes of amber and patchouli for an intense and memorable scent.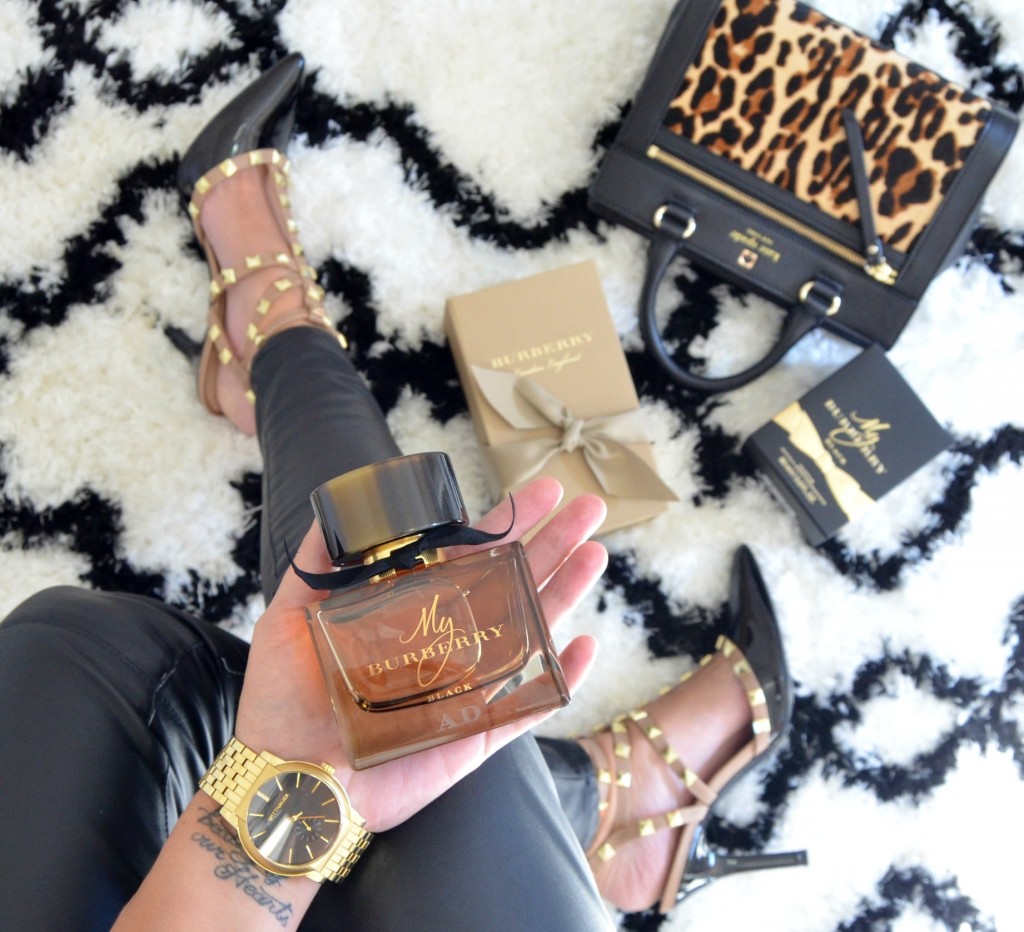 Before diving into the notes found within the fragrance, let's just take a minute to appreciate the bottle. This is not your standard perfume bottle, Burberry is taking your perfume experience to an entirely different level and allowing you to personalize it. You can get your initials (up to 3 letters) engraved right onto the front of the bottle using Burberry's monogramming services (available at select stores) allowing you to get creative and make your fragrance experience even more special and meaningful. It comes housed in a luxe, rich, amber-colour glass bottle that's design reflects the details of the trench coat. A dark horn-finished cap was inspired by the distinctive buttons and the hand-tied black English woven black gabardine knot.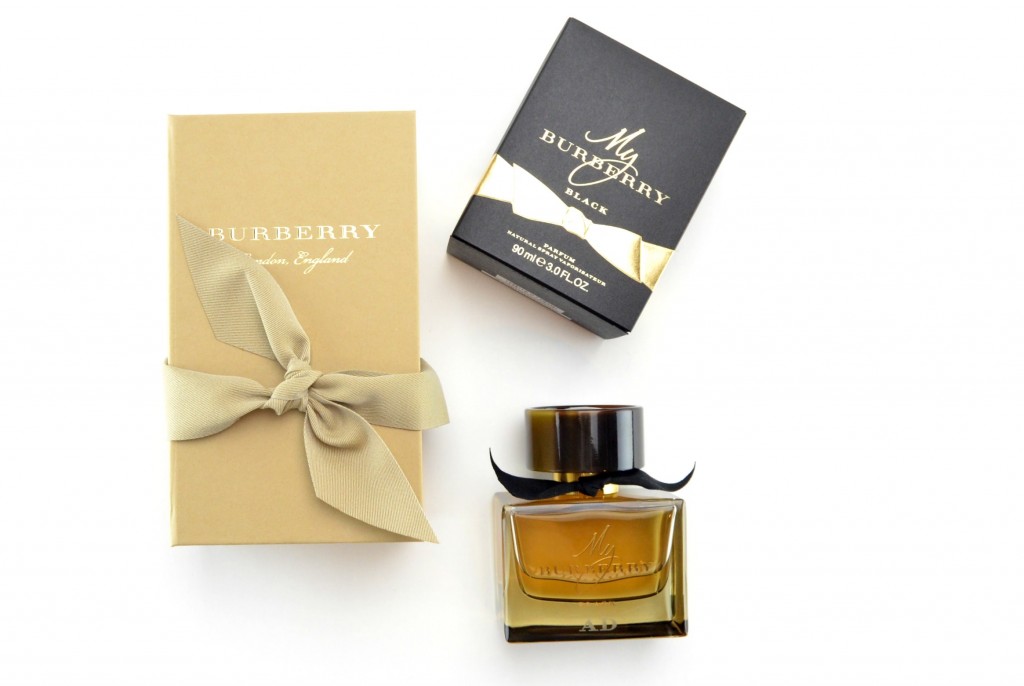 My Burberry Black features top notes of jasmine flower, heart notes of candied rose and peach nectar with base notes of amber and patchouli. After only a few short minutes you can mainly smell the amber and patchouli, giving it a quite masculine aroma. It has a lovely fresh and clean scent, almost the same way an English garden would smell after a storm. It's a lot deeper and darker than the original, yet it still classy, elegant and oh-so romantic. It's perfect for evening as it creates a quite sensual, yet flirty and playful aroma.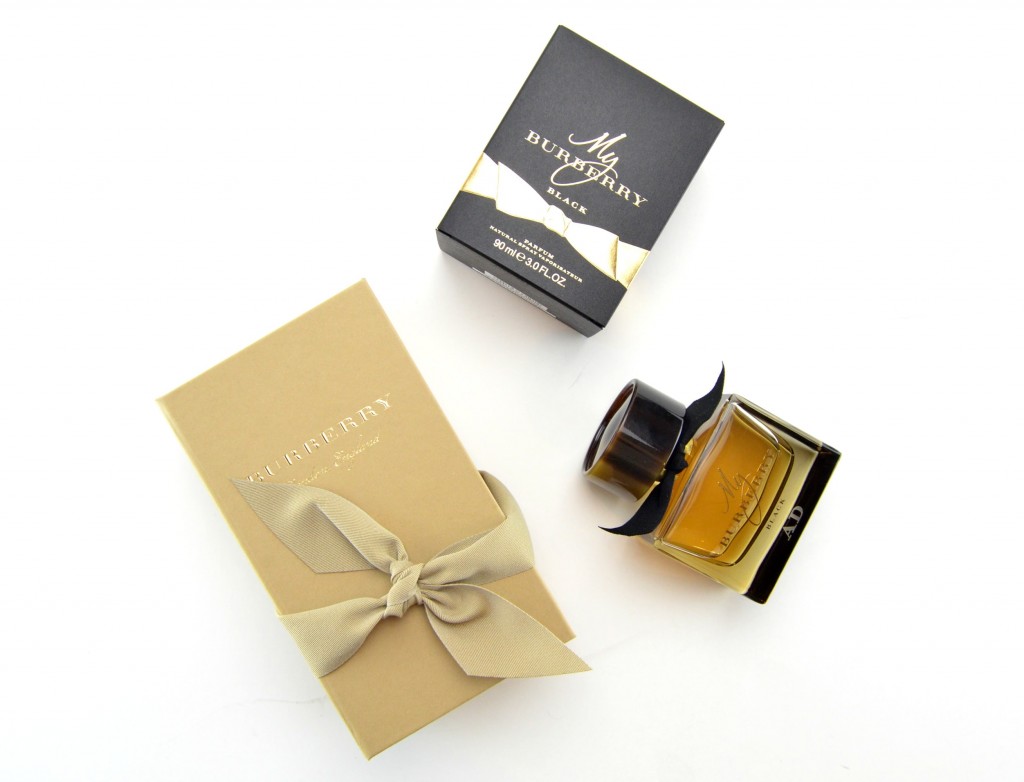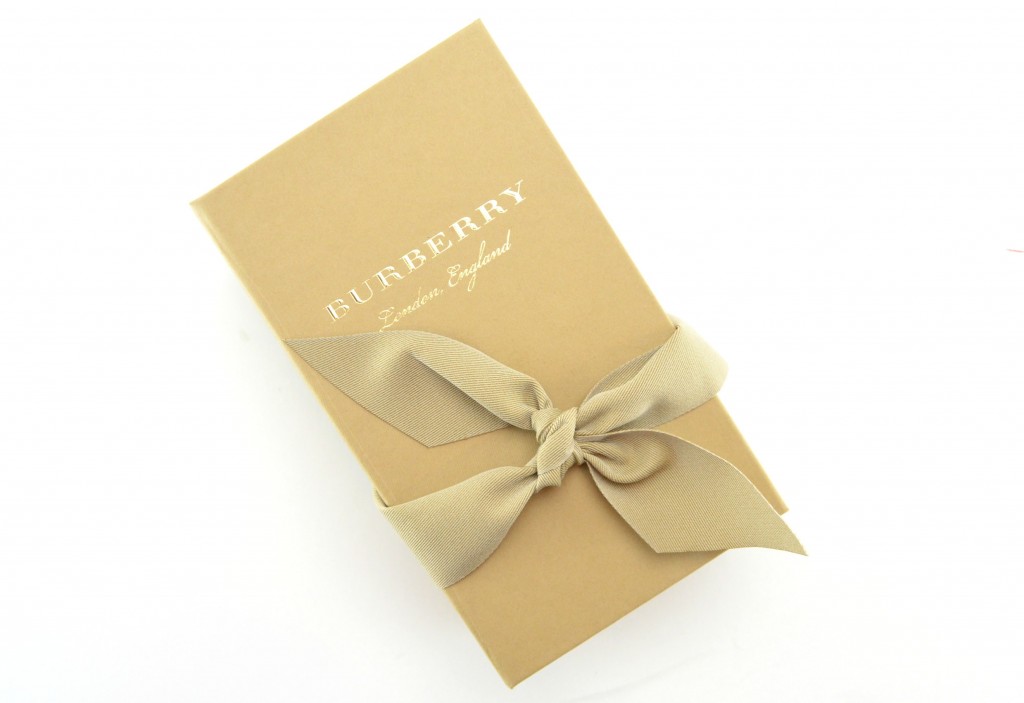 This is the scent I've been waiting for. Its incredibly masculine, which means I can stop stealing Derek's cologne and have my own manly scent. Yes, you read that correct, I wear men's cologne… all the time. I find it less sugary, sweet and florally than your traditional female perfume, which I love. The strongest note would have to be the signature rose scent, mixed in with the sweetness of candy to offer a chic floral and fruity twist. You then get hit with the warmth of the amber that instantly helps to deepen the scent, perfect for the up-coming winter months. In the middle you can find the peach nectar, this helps to give an otherwise quite manly scent a slight sweet and syrupy element. It's fresh and clean, yet cozy and calm at the same time. It's uplifting and bright, yet comforting and relaxing. It really is an interesting and unique scent that you have to smell for yourself.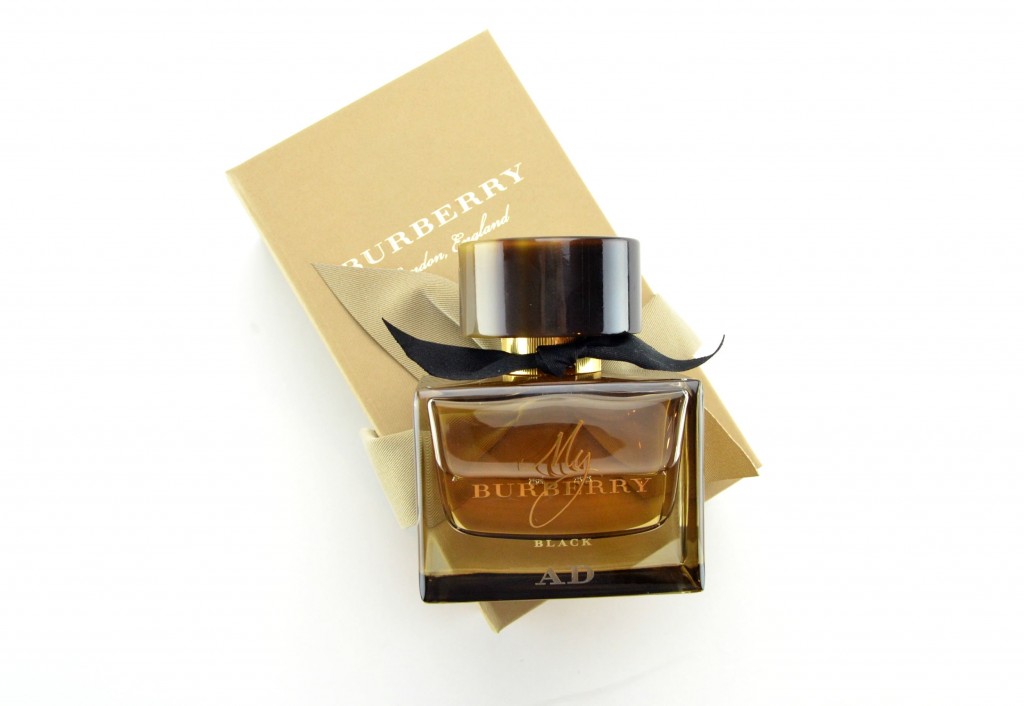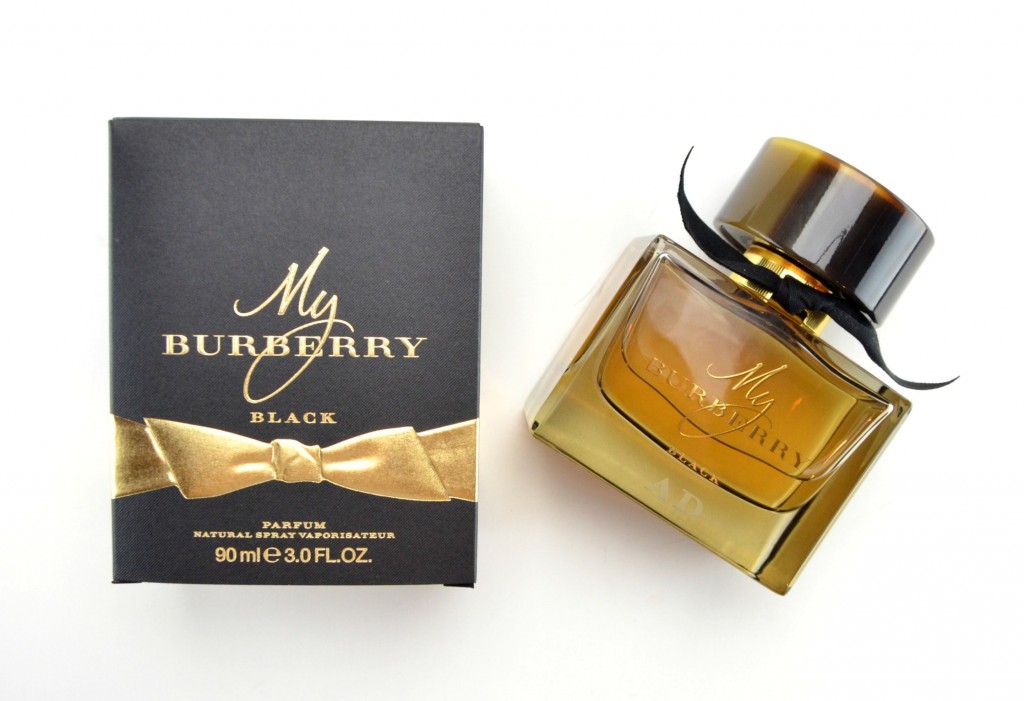 If you've been a reader of mine for a while, you know my signature scent is Elizabeth and James Nirvana Black, but the new My Burberry Black has quickly replaced it. If you thought the original Burberry had a manly scent, well this one is even more bold, powerful and masculine. My Burberry Black Eau de Parfume retails for $102 for 50ml and $138 for 90ml at your local Shoppers, Hudson's Bay, Sephora, Nordstrom, Murale and Sears.