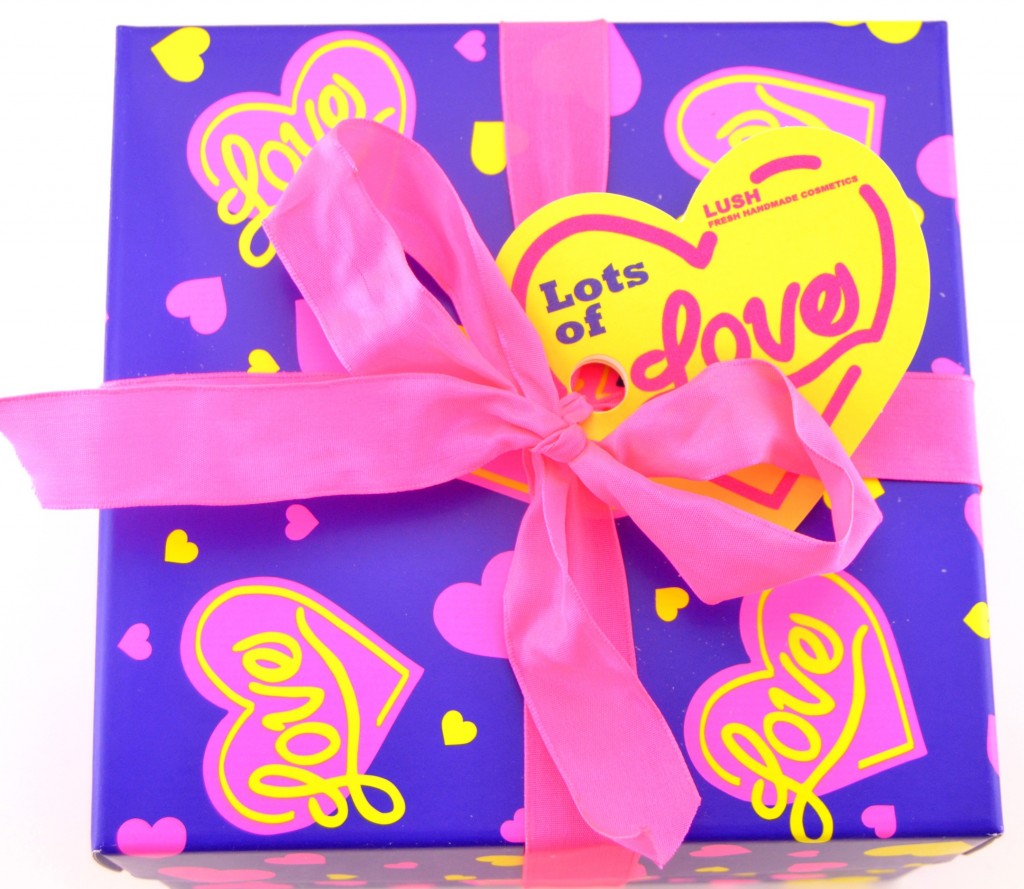 On day 7 of my Valentine's Day countdown, I wanted to share with you LUSH Lots of Love Gift Set has 7 luxury products all wrapped up in the most stunning reusable, heart-studded box, inspired by Neon Love Soap (which you'll find inside), perfect to spoil the one you love on Valentine's Day. The set includes 2 limited edition products, the sweet vanilla scented Close To You Message Bar and Prince Charming fresh pomegranate juice shower gel. It also contains 4 romantic, year-round treats, Sex Bomb Bath Bomb, Ro's Argan Body Conditioner, Chou Chou… I Love You Toothy Tab and Rose Jam. This gift set is large enough to share, making it the perfect romantic treat for you and your lover for only $52.95.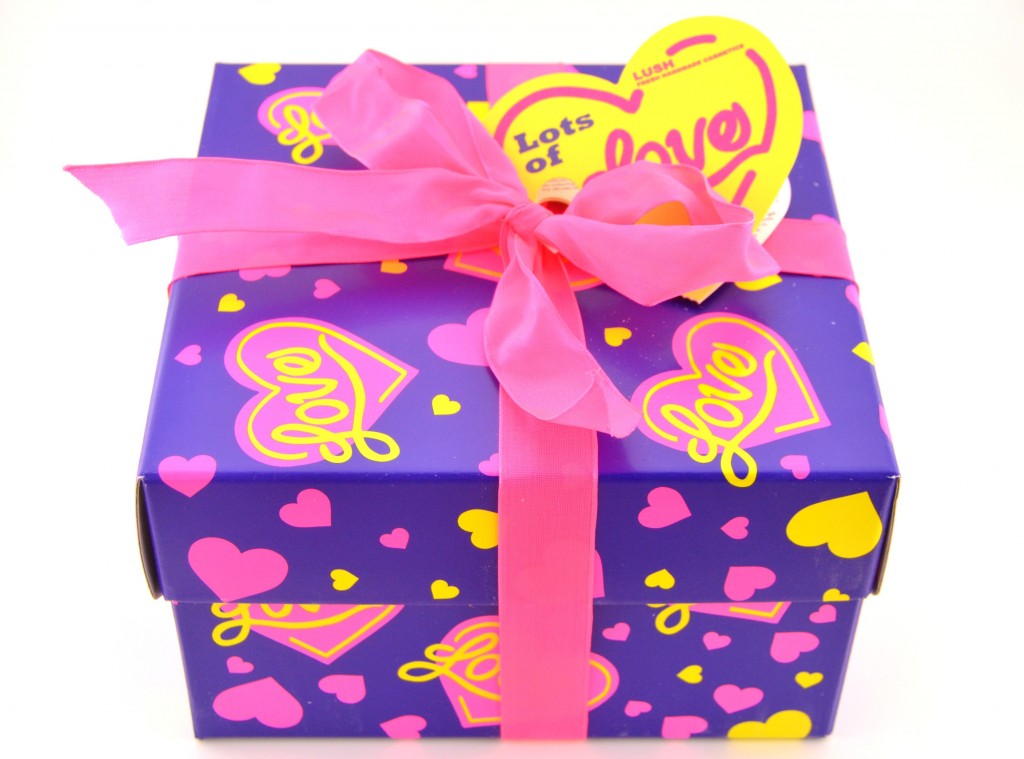 Limited Edition LUSH Neon Love Soap is pink and heart shaped with flecks of glitter throughout it. It's made with fresh passion fruit juice to help cleanse the skin and soya yogurt to nourish with fragrances of citrusy bergamot, rosewood and spicy cinnamon leaf oil, giving it its own unique romantic scent. It comes to an okay lather when in contact with water and adds a little moisture to the skin.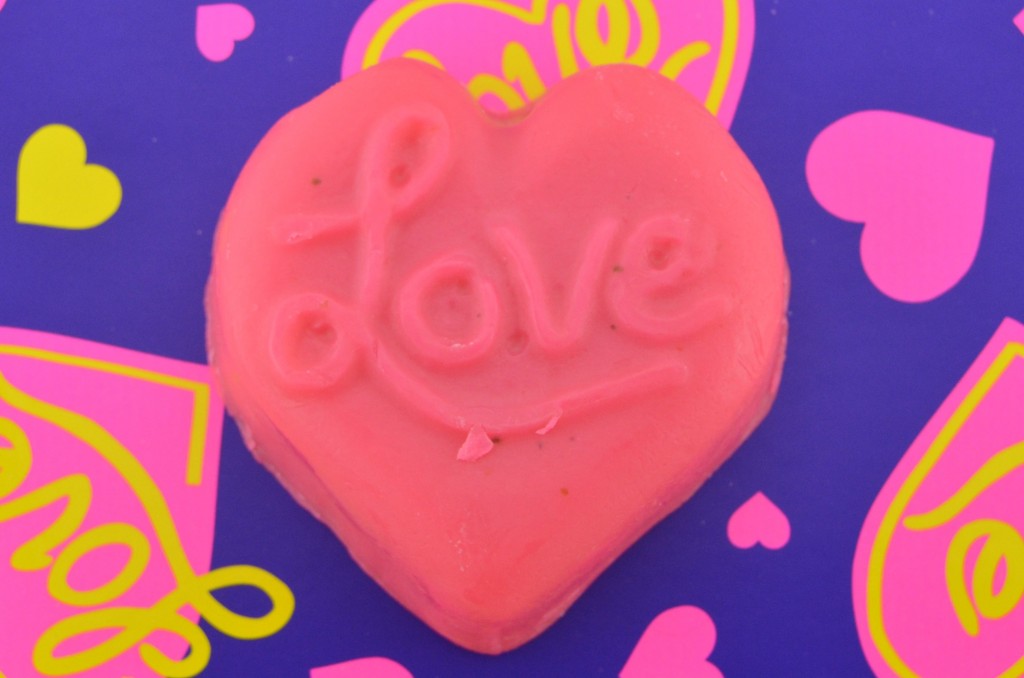 Limited Edition LUSH Close To You Massage Bar is round, light pink with a heart-shape on the top of the massage bar with a scrumptious white fondant center. It doubles as a massage oil bar and a luxurious moisturizer that's made from luscious cupuacu and shea butter, a dash of corn flour to leave skin silky smooth with a delicious vanilla scent. It's smooshable bar can be pressed between the palms of your hands after getting out of the shower and drying off, it melts on contact (or in my case, the box… I think my house is too hot and it melted) so it's perfect for rubbing all over your body for a silky, smooth, soft finish. This is guaranteed to bring someone special "closer to you!"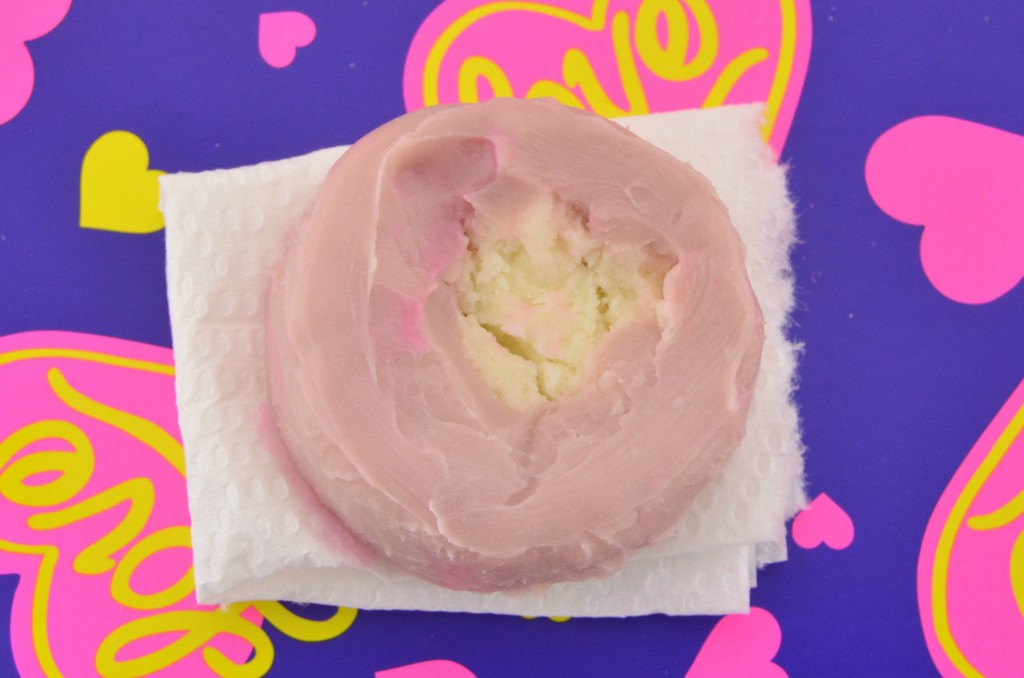 Limited Edition LUSH Prince Charming Shower Gel is bright pink and combines fresh pomegranate juice and grapefruit oil to help cleanse the skin and energize the skin first thing in the morning. It also features a blend of vanilla pod infusion, skin-softening marshmallow root and almond oil for softer, hydrated, moisturized skin. It has a rich and creamy texture that leaves skin feeling refreshed, hydrated with a yummy scent of vanilla, marshmallow and citrus, perfect for when your Prince Charming sweeps you off your feet this V-Day.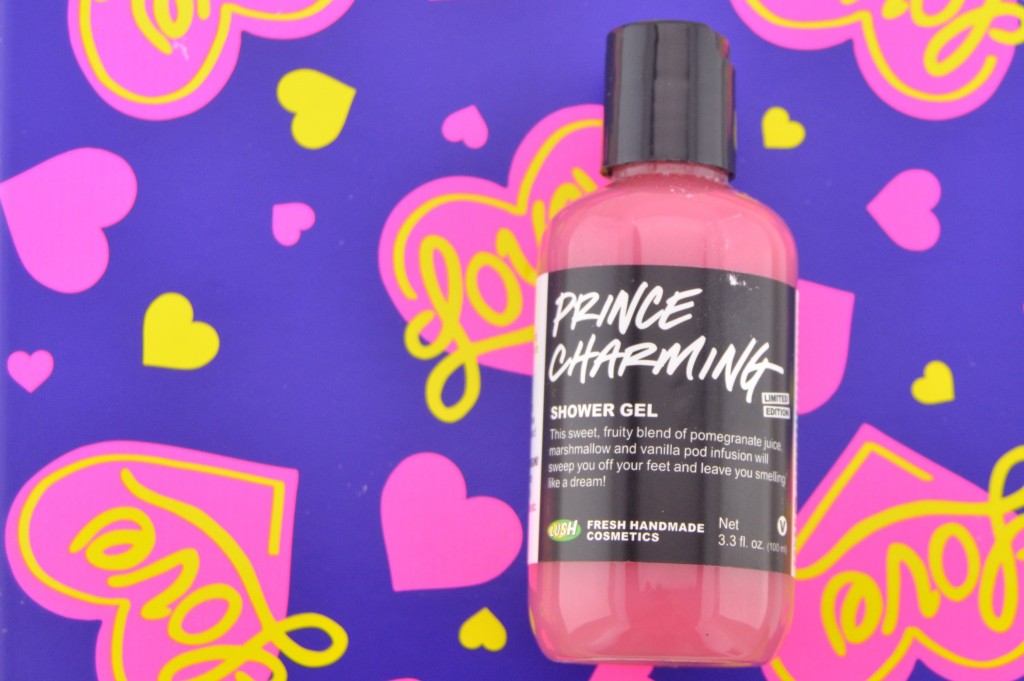 LUSH Sex Bomb Bath Bomb is pink and purple with a little rose in the center of the bomb that expands into a gelatin rose petal that floats around the bath water. It turns an ordinary bath into a romantic one with its sex appeal sphere that contains nature's most potent and seductive ingredients including jasmine, clary sage, and ylang ylang that are all aphrodisiacs known to relax you and get you into the mood for a good….. bath; with a pretty and feminine scent. It also contains soya milk so the water gets creamy, highly moisturizing and in a soft pink, softening your entire body as you enjoy a luxurious soak. The only thing wrong with this product is it will stain your tub, so be careful, maybe only using half of the bomb will help?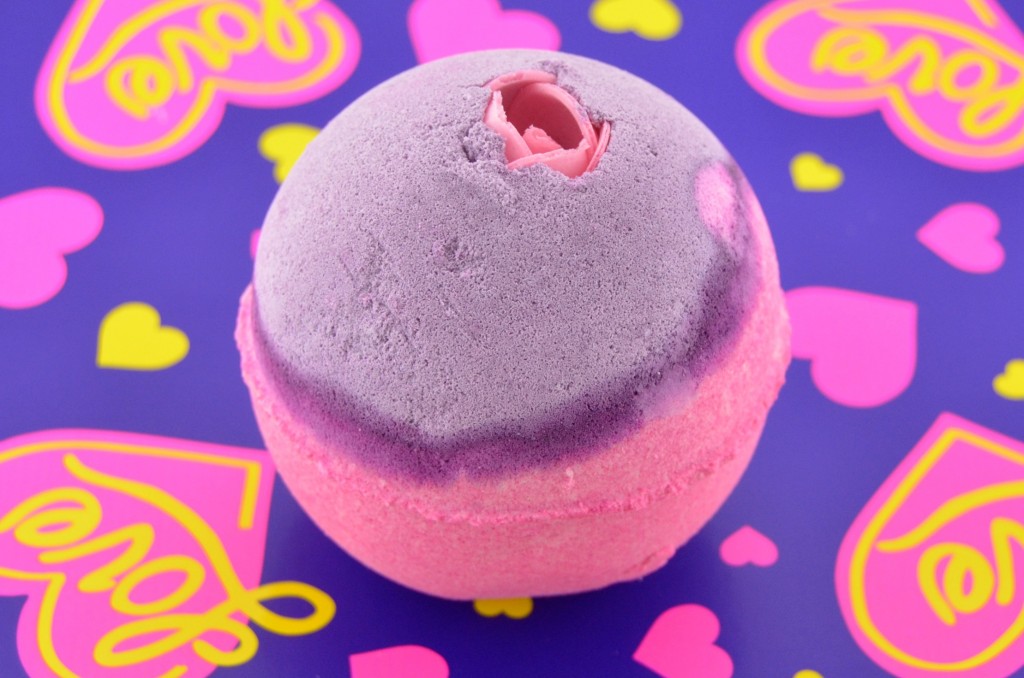 LUSH Ro's Argan Body Conditioner is a rose scented shower lotion that contains cocoa butter, cupuacu butter, almond oil and Argan oils and is used in the shower after washing. You slather this conditioner all over your body, wait about 30 seconds to a minute and then rinse off. It has a rich and creamy texture that blends into the skin easily, is absorbed almost instantly and the rest rinses clean away. It gives the body extra moisture that it craves right now in these dry, cold winter months and keeps your skin hydrated all day long with a beautiful fragrance.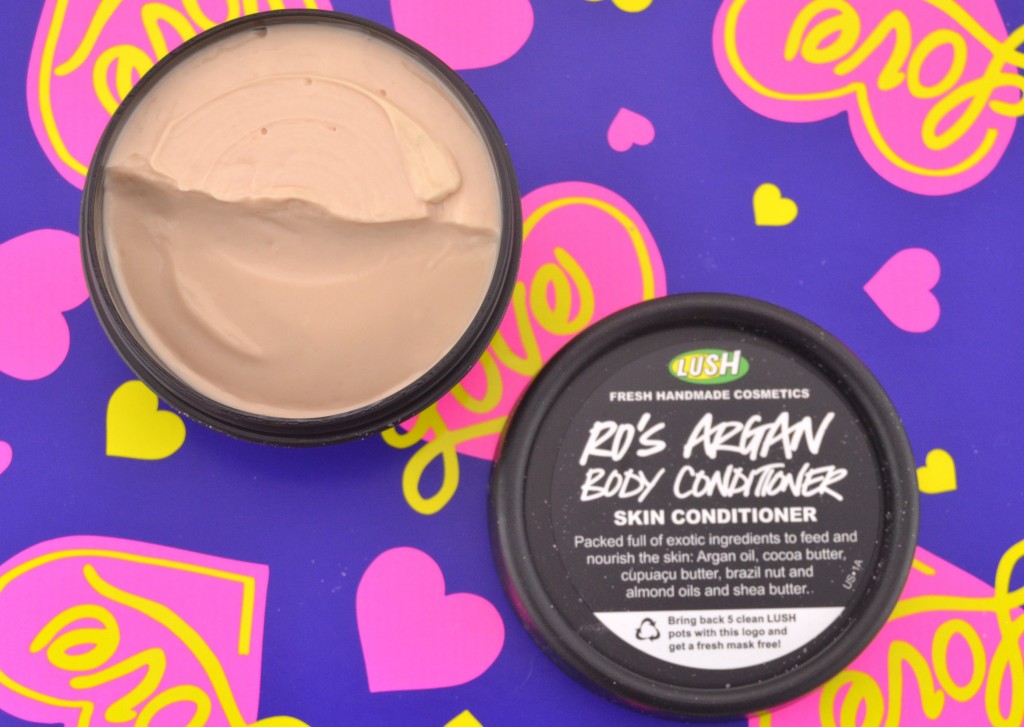 LUSH Chou Chou… I Love You Toothy Tabs are a unique and innovated way to brush your teeth. It acts like a toothpaste, but in a solid form. You crunch one tablet up between your teeth and then grab your wet toothbrush and brush as normal. The toothy tabs will foam like toothpaste and thanks to its blend of cleansing kaolin, baking soda and cream of tartar, your smile will be sparkling, clean and pearly white. Make your kiss even more romantic and memorable this Valentine's Day with the fresh scent of lemons and roses.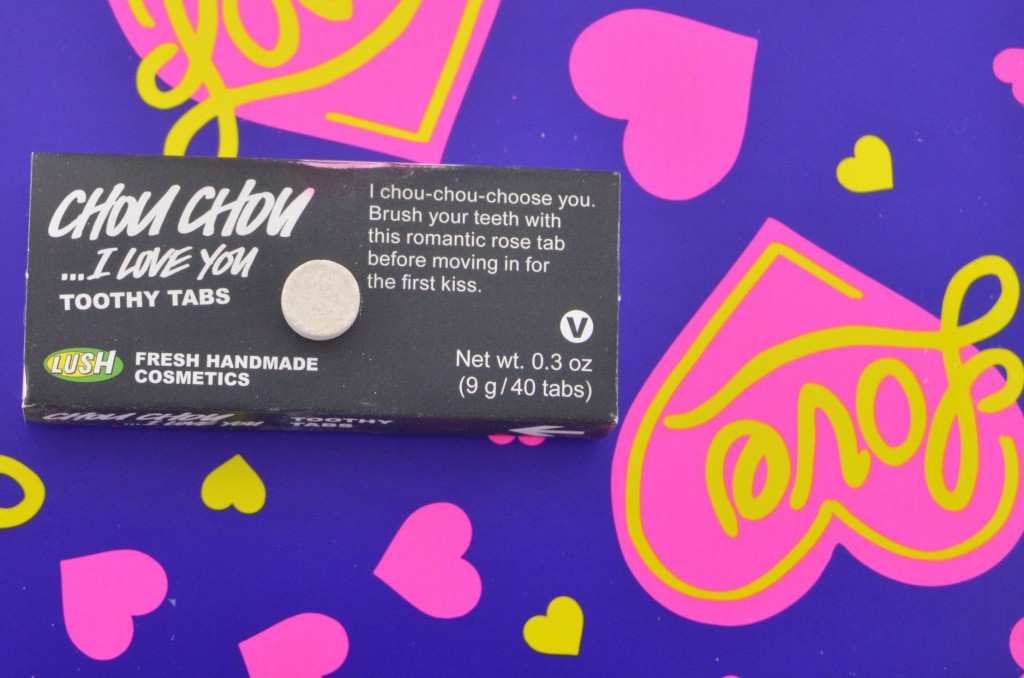 LUSH Rose Jam Bubbleroon is the newest form of Bubble Bar and it's shaped like a pink/ purple macaroon. The two halves are held together with coconut oil "icing", which is perfect for those that like to split their bubble bars in half, all you have to do is twist the 2 halves apart. It crumbles apart easily, turns your bath water a lovely shade of pink and provides a ton of bubbles with a beautiful rose scent. It features shea butter helping to not only leave your bath silky smooth, but it moisturized, conditions and softens the skin.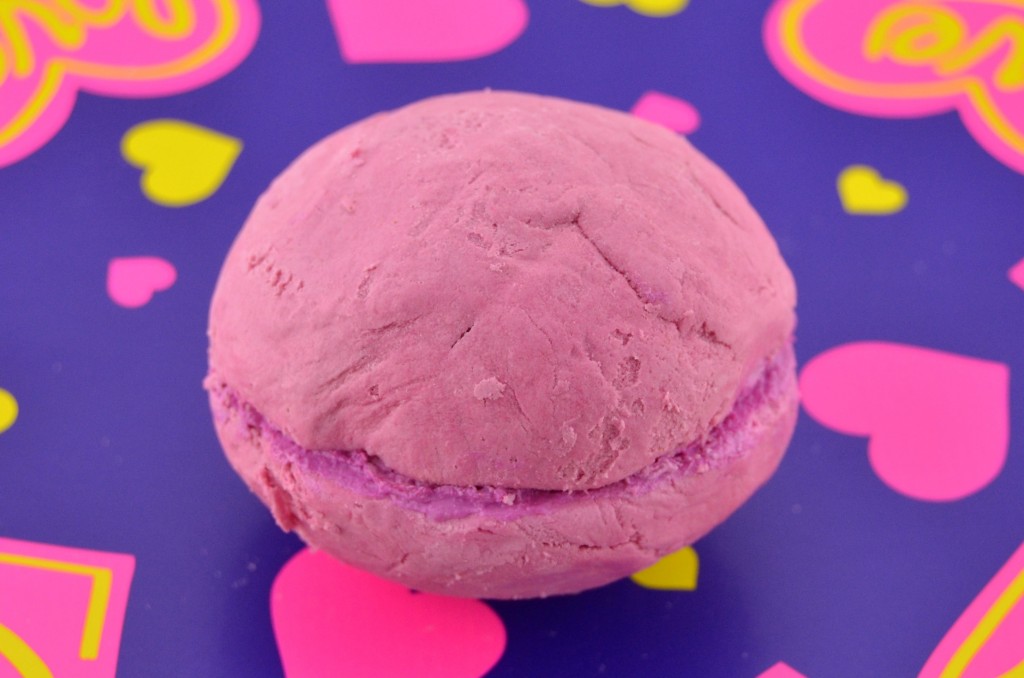 Day 1 of my Valentine's Day Gift guide found here
Day 2 found here
Day 3 found here
Day 4 found here
Day 5 found here
Day 6 found here