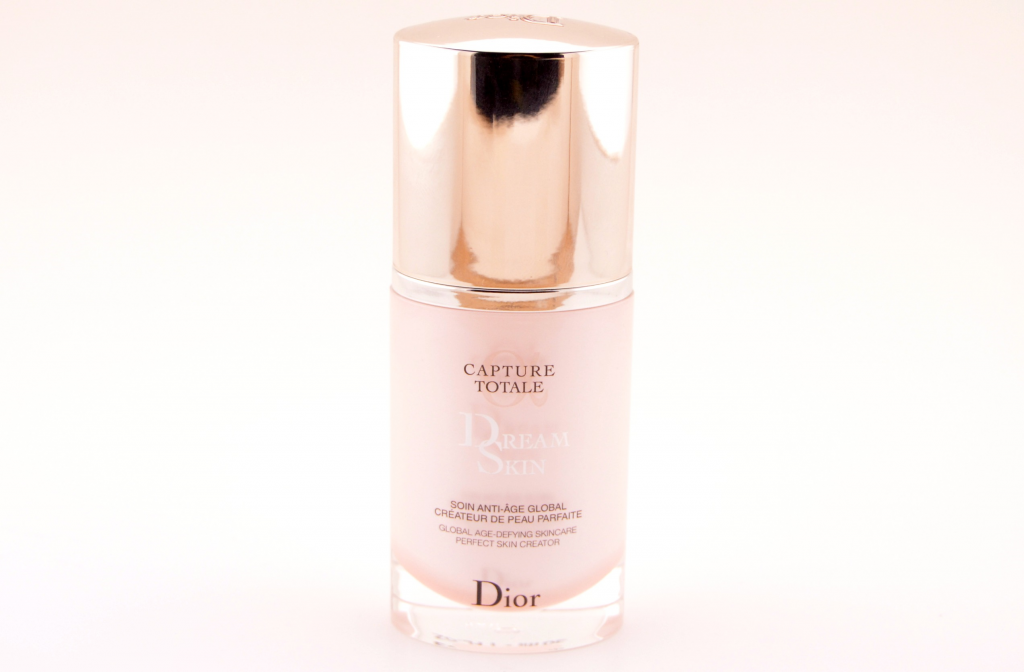 Give her the gift of beautiful skin this Valentine's Day. "Every woman dreams of being transformed into the most beautiful woman ever" says Dior and with the new Dior Capture Totale Dreamskin she won't have to dream anymore. This breakthrough and new skin innovation is a part of the first global anti-aging range, Capture Totale, which is designed to enhance the natural beauty in a woman giving them visibly perfect skin, even without makeup; which is why it's made my countdown to Valentine's Day gift giving list.
Dior Capture Totale Dreamskin is a hybrid skincare product/ skin perfecting that works on the surface of the skin as well as below, to fight the signs of aging, boost radiance, and correct dark spots, redness, enlarge pores as well as target wrinkles. It features 2 key components, optical perfecting properties and biological ingredients to make up this unique serum. A complex blend of biomimetic mineral powders such as mica platelets help diffuse light for a radiant glow and diffusing hollow silica microspheres give a blurring effect and help to even out texture and tone. Active biological ingredients from the Dior gardens such as longoza extract target stem cells, to help firm and plump skin, while opilia extract targets dark spots, pores, and redness.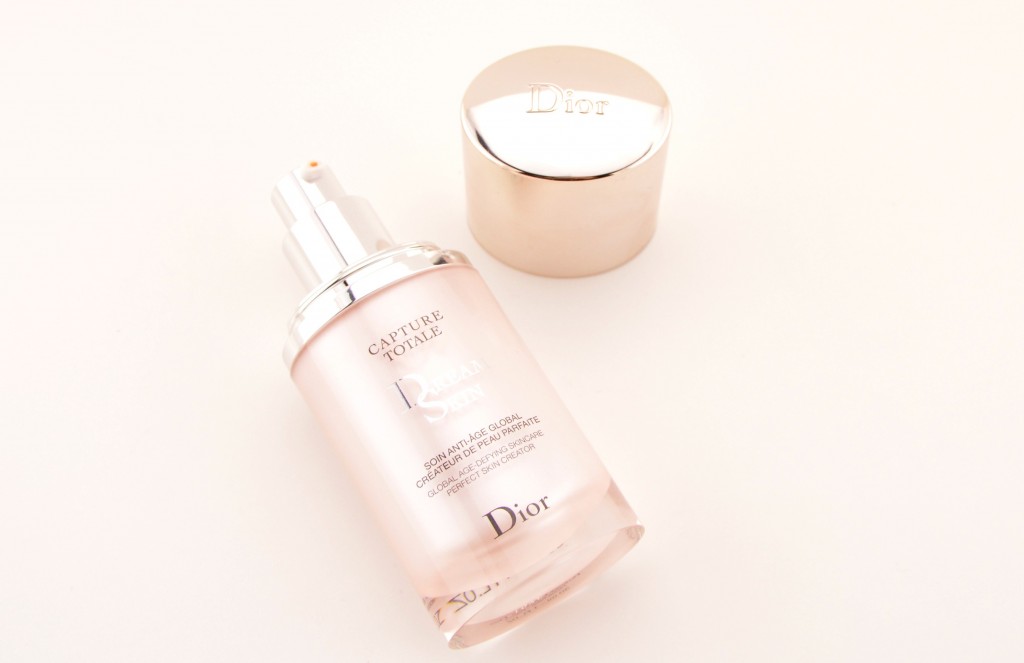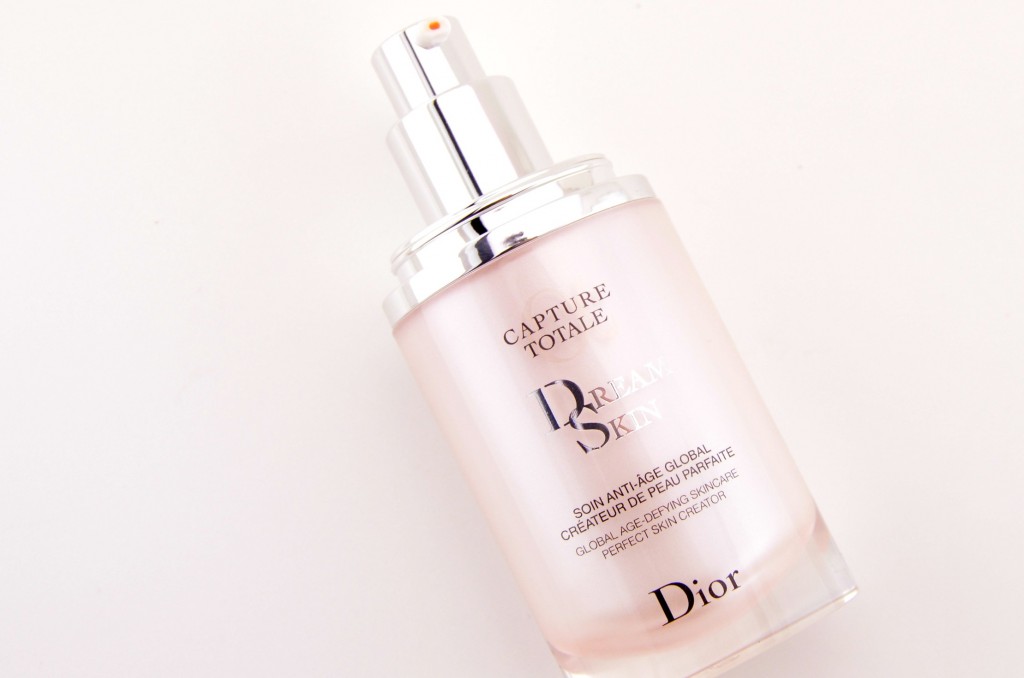 Dior Capture Totale Dreamskin comes in a sleek, oval, plastic bottle with pump style applicator and silver mirrored lid. It has a pale pink, silky, somewhat runny texture to it that's lightweight, applies effortlessly and absorbs into the skin almost instantly with a clear finish. It is to be applied after all other skin care treatments, like your moisturizer, in both the morning and evening using your fingers. Only 1 pump is needed to cover the entire face and it has a subtle rosy scent to it. It doesn't feel cakey, sticky or greasy and it doesn't clog the pores like other serums.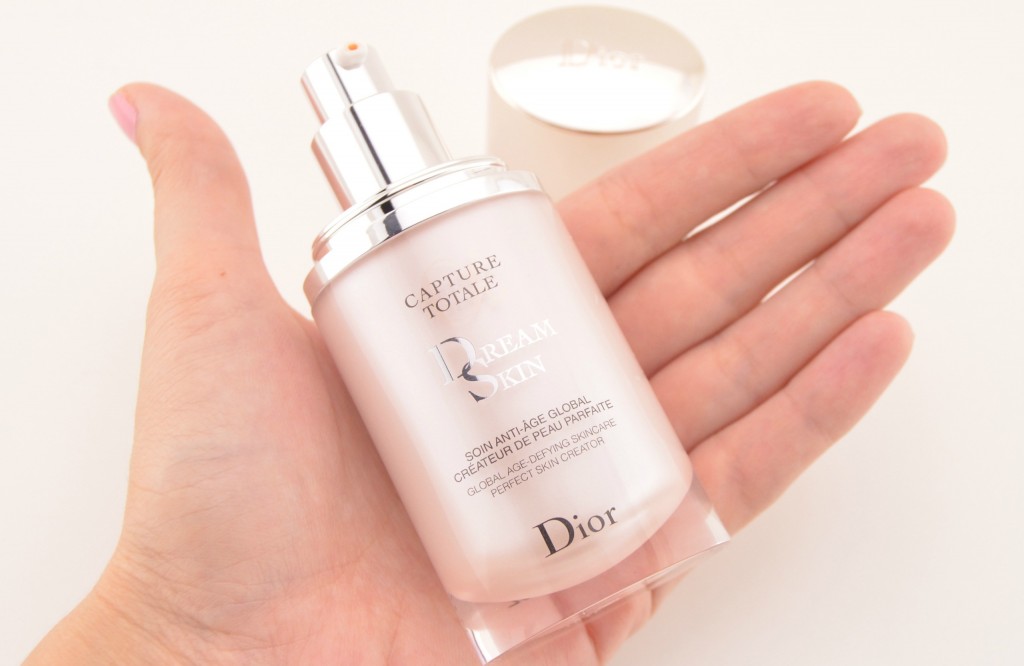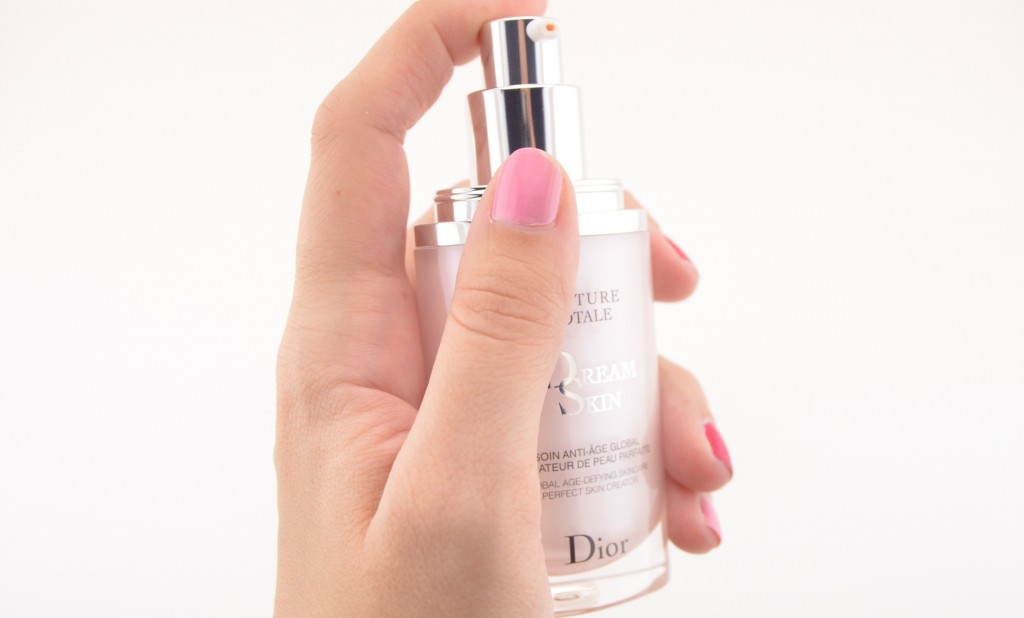 I'm still battling dry skin this season and although Dior Capture Totale Dreamskin doesn't claim to be a moisturizer, it has kept my skin hydrated and healthier looking with less dry patches these past few weeks. I've been applying one pump both morning and night after my daily moisturizer and it instantly gives my skin a radiant glow. It absorbs into the skin beautifully and leaves a velvety, luminous, shine-free, matte finish with a healthy glow with or without makeup. I do prefer to wear it with my foundation, as my skin needs a little extra coverage when going out, but when used on its own it creates a soft, halo effect that's pretty impressive. It also doesn't claim to be a primer, but I have noticed my foundation looks more HD, applies easier and lasts way longer. After only a few short weeks my skin texture is more even, my pores seem somewhat less noticeable and it gives a silky smooth, flawless complexion to the skin. It's done an excellent job at plumping and firmer the skin, which reduces the look of my wrinkles. Holy Grail of skin perfecting… I think so. It does come with a hefty Dior price tag at $115 for 30ml, but since it targets so many concerns, it's the only product you'll need to address these problems so I think it is well worth it?
Day 1 of my Valentine's Day Gift guide found here
Day 2 found here
Day 3 found here
Day 4 found here
Day 5 found here
Day 6 found here
Day 7 found here