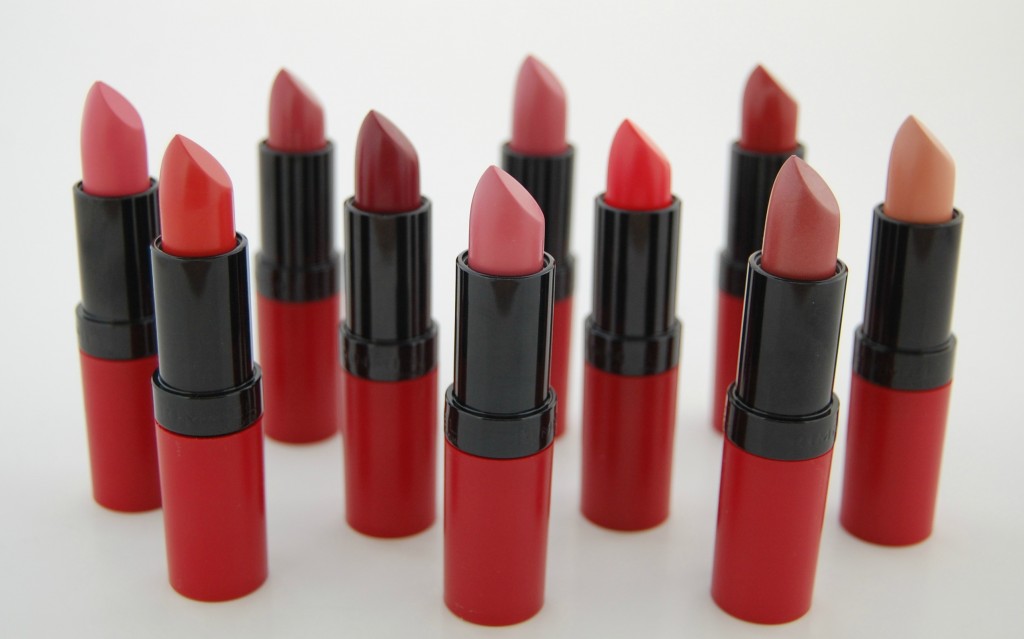 10 Must Have Lipsticks for 2013
Rimmel London has teamed with supermodel Kate Moss to create the new collection of lipsticks called…go figure…. Rimmel London Lasting Finish Matte Lipstick Kate Moss Collection! I'm a celebrity junkie, I figure if it's good enough for them, its good enough for me, talk about smart marketing! (see more on Instagram here),

This new spring collection Rimmel London Lasting Finish Matte Lipstick By Kate Moss comes in 10 beautiful shades ranging from your pretty pinks, to bold reds to your everyday neutrals. The sizing of the product is quite generous, you're getting 4g of product for only $7.99, most other drugstore lipsticks I have are 3.5g. It has a nice fruity scent that's not too over powering when you apply it to your lips, I find it quite yummy!

I know the packaging might look pretty standard at first glance, but I have to say I love it. It comes in a very sleek red tube, very Kate! I like the added touch of her signature with a little heart underneath on the lid with the Rimmel London logo on the top of the lid; it's the little details that count. Also love that it has a matte finish to the tube to match the matte finish of the lipstick. The first thing I noticed was that, unfortunately, the lipsticks do not have any clever names, which makes it harder for me to remember the colour, but the sticker on the bottom of each tube where the number is, does come in different shades to give you an idea of the lipstick colour on the inside, which I do find handy.

These lipsticks have a matte finish like I talked about above, they have a nice creamy texture to them that glides across your lips with ease; you'll be convinced you accidentally applied a glossy lipstick instead of a matte lipstick… I promise. Although I do tend to stay away from Matte lipstick, especially in the winter due to the fact I have dry lips (like most Canadians), but I didn't find these as drying as the few matte lipsticks I own, to tell you the truth these are now one of my favourites. I don't know how Rimmel London did it, but these are not nearly as drying as other brands.  You could always add a lip butter or lip chap before applying these lipsticks for a little extra hydration!

For a drugstore lipstick Rimmel didn't skimp on the pigmentation, it's a one swipe colour; there is absolutely no need to go back and forth over the lips for additional colour. Most of these shades wear for about 5 hours, obviously the darker shades lasted longer than the lighter shades, but that goes for most brands. Some of the shades left almost a stain like finish behind so while I did see a slight ring of colour around the outer corners of my lips at times, it wasn't as noticeable because of the extra colour still left on my lips.

I'm quite happy with the full collection, from the gorgeous colour selection to the staying power to the extra-large packaging to the price. They feel beautifully light on the lips and for a matte lipstick, not as drying. I was in love with the first collection by Kate, but this one takes the cake, hoping they come out with more shades/ and or another collection for Fall.

101- neutral pink, almost like your lips but better


102- little bit brighter pink


103- rosy pink


104- deeper rose


105- medium neutral 

107- darkest out of all the colours, a deep berry red


109- coral/orange


110- bright orange/red


111- classic British red


113- perfect nude with a hint of pink