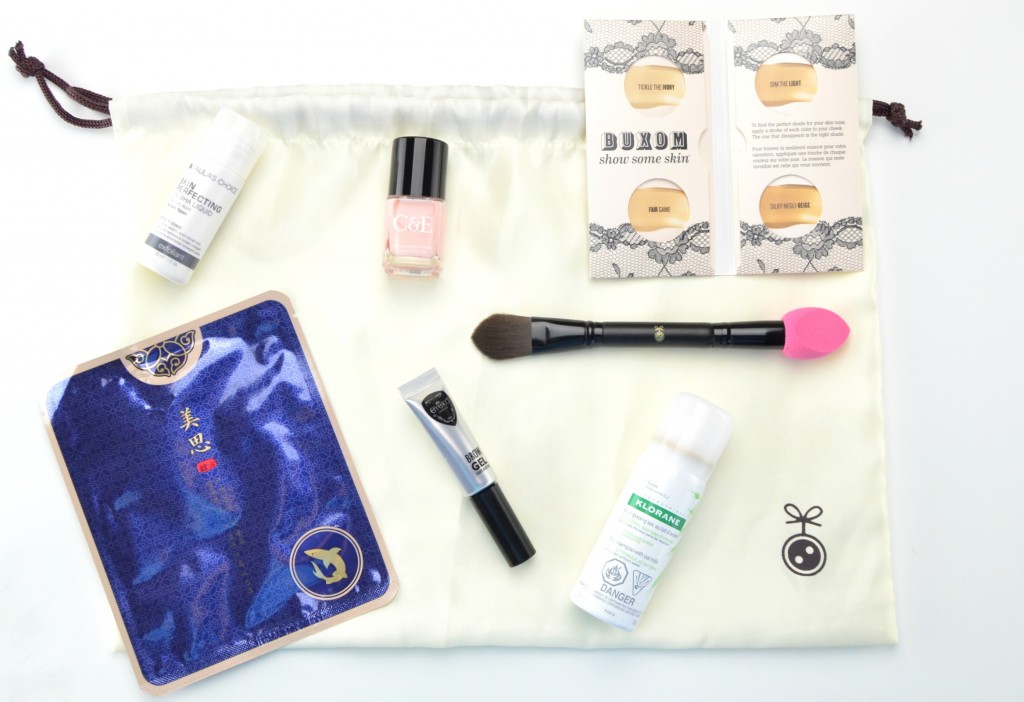 Canadian Beauty Box
There's no denying I love a good subscription box service, it's like your Birthday and Christmas all rolled into one. One of my favourite would have to be Luxe Box, not only is it Canadian, but it is quarterly, so more dedication and detail is put into every box. Every three months you'll receive 7 to 8 custom beauty products that are designed for that season and your own personal wants and needs. These are deluxe size samples that give you the opportunity to test out and try new products before purchasing the full-size.
Unlike other services, the shipping is always free/ included, and it comes in three different payment plans. You can pay quarterly at $26 a box, semi-annual at $50, or yearly at $96. This spring you can enjoy top brands like Vita Liberata, Eyeko, Bumox, Soap & Glory, Too Faced and so much more.
Each season Loose Button gives you the option to upgrade to a limited edition box, sometimes with a small fee of $6 to $8, sometimes free. For the month of April, you can upgrade to a Bene-Boutique free of charge. This is perfect for those who would like to experiment with the Benefit brand, before committing to the full-size products. These limited edition boxes have a higher value than the originals, usually with a minimum of $70.
It's been awhile since I received a box, so I was pretty excited about the Spring 2015 Luxe Box. I'm not sure if mine was missing or if Loose Button stopped doing this, but I didn't receive my instruction card explaining each product and the full price value of each product. I actually kinda miss this. I enjoyed knowing how much each product was actually worth and how much each full size product was going to cost me if I wanted to repurchase.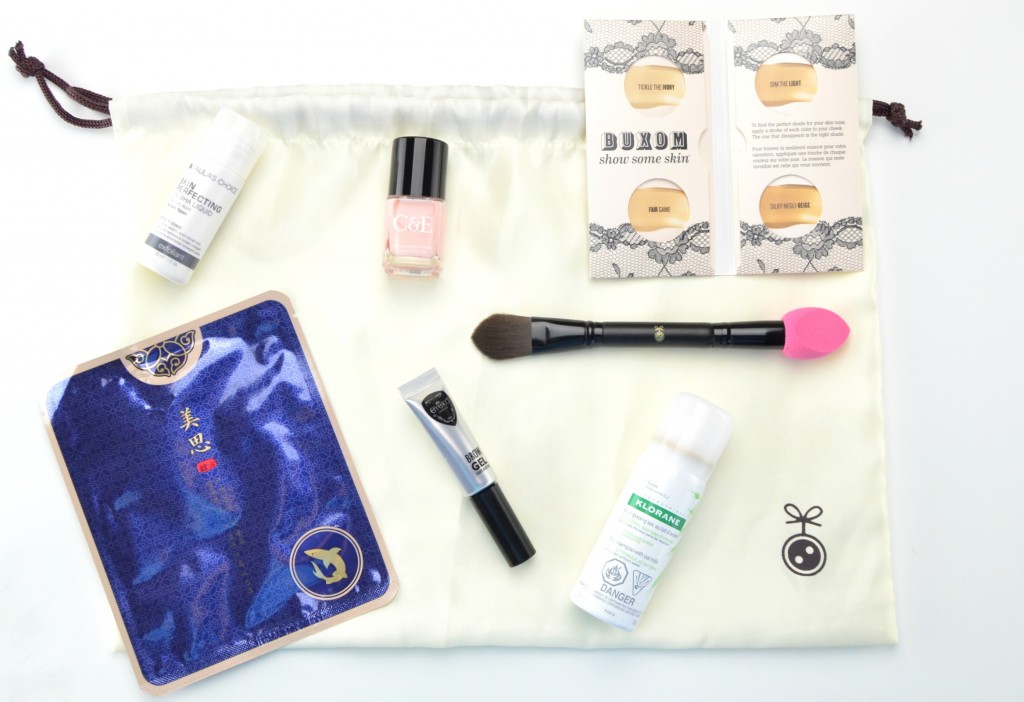 The first product I was pretty excited about was this beautiful, pale, pastel baby pink Crabtree and Evelyn Nail Polish. This was my first time applying this brand, and it surprisingly applied fairly well. It dried fairly quickly, didn't leave streaks and it lasted a solid few days before chipping. It retails for $6.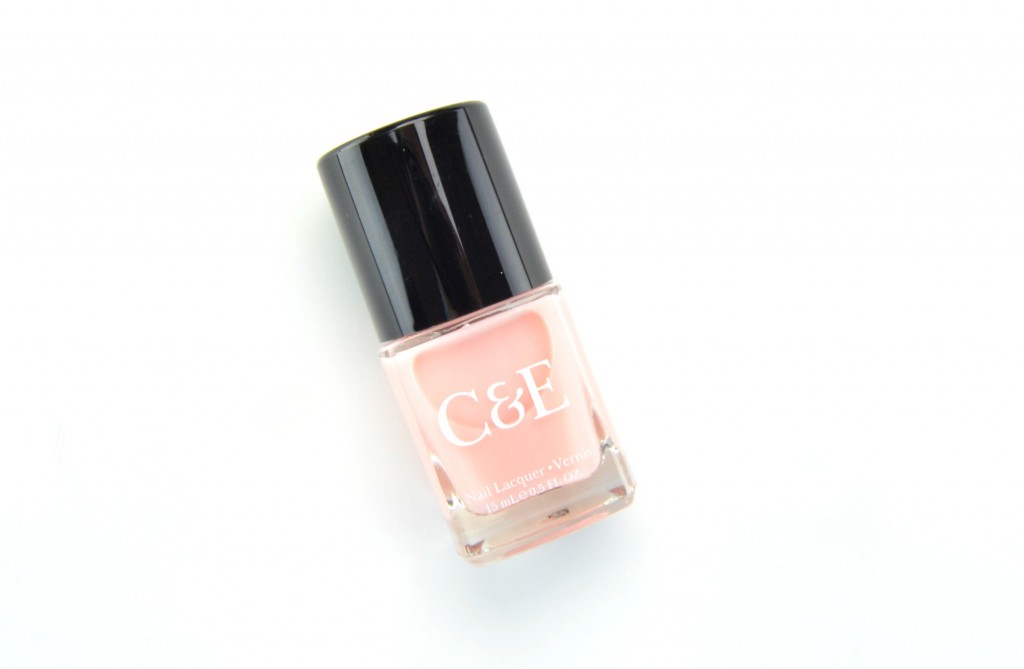 Second product, Eyeko Brow Gel which is supposed to effortlessly define and thicken the appearance of your brows. Although it claims to have a natural finish, it's actually quite shimmery, almost shiny, and so it looks very un-natural and fake to me. I'm not sure why anyone would want glossy brows, so sadly to use, this got tossed fairly quickly. It also comes with a crazy expensive price tag at $24 for 8ml, sample size value is $12.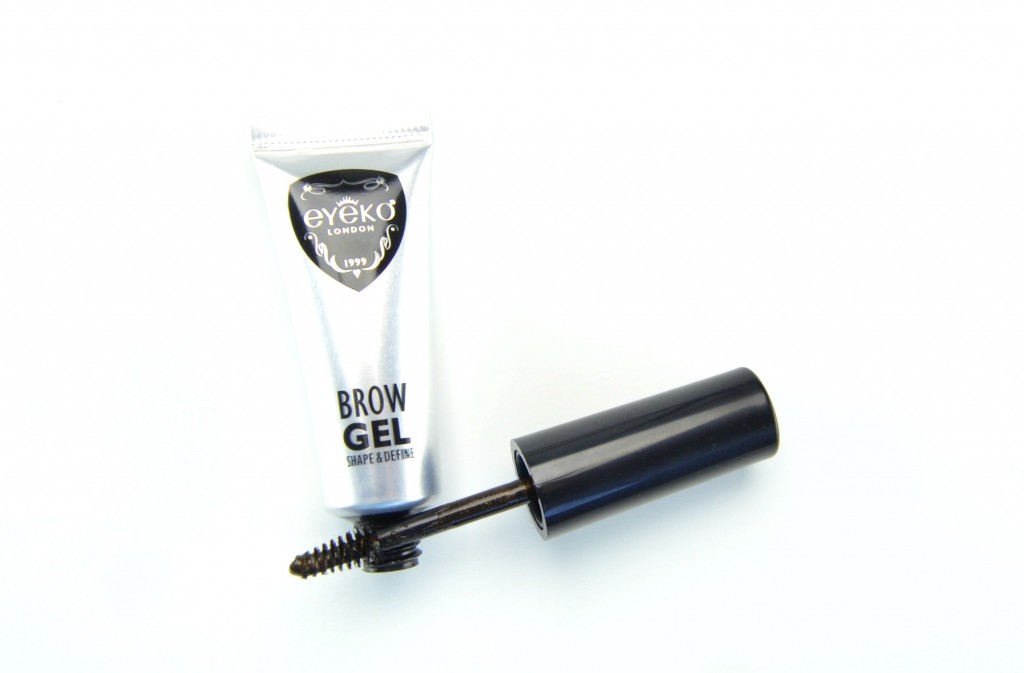 Ooh the third product is Klorane Dry Shampoo, yes please. I just did a full blog post raving about this product, so I was excited to have a mini version of it. Full size retails for $15.50, sample size value is $5.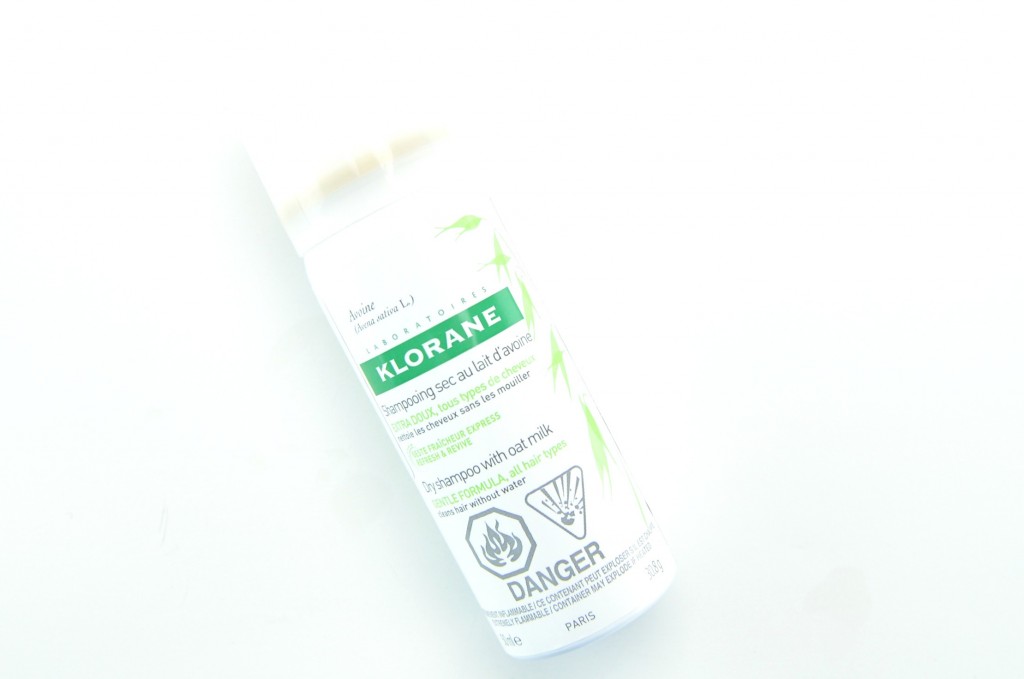 Forth product is another one I'm pretty excited about. I've always wanted to try something from Paula's Choice and this Skin Perfecting 2% BHA Liquid Salicylic Acid is right up my alley. This is a leave-on exfoliant that helps to remove old skin cells both on the skin's surface and inside the pores. It helps to reduce breakouts, enlarged pores, redness, rosacea and wrinkles for a radiant, glowing and even skin. I have yet to test this out, but I have high hopes for it. It retails for $26 for 4oz, sample size value is $6.5.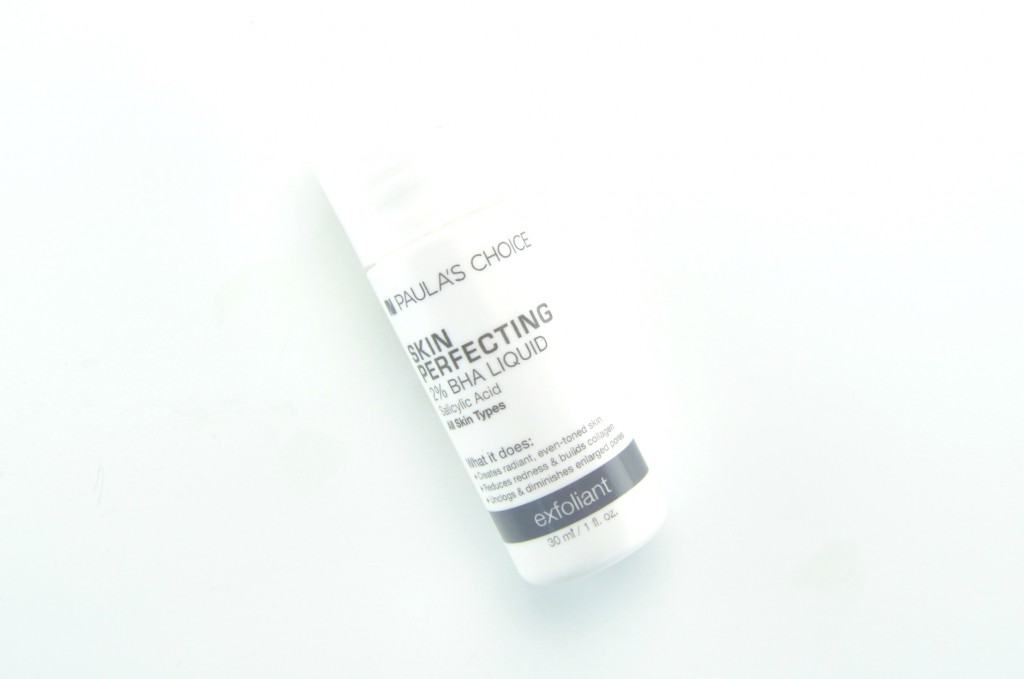 The fifth item I have never heard about, which was kinda exciting. The Geum Sul 24K Gold Collagen Caviar Cotton Sheet Mask, from what I can see online, helps to increase blood circulation and purify the skin. It's formulated with omega-3 which helps to moisturize and hydrate dry skin. It's left on for 20 to 30 minutes, before gently rubbing in the excess residue into the skin. It helps to tighten, firm and increase elasticity. It retails for $2.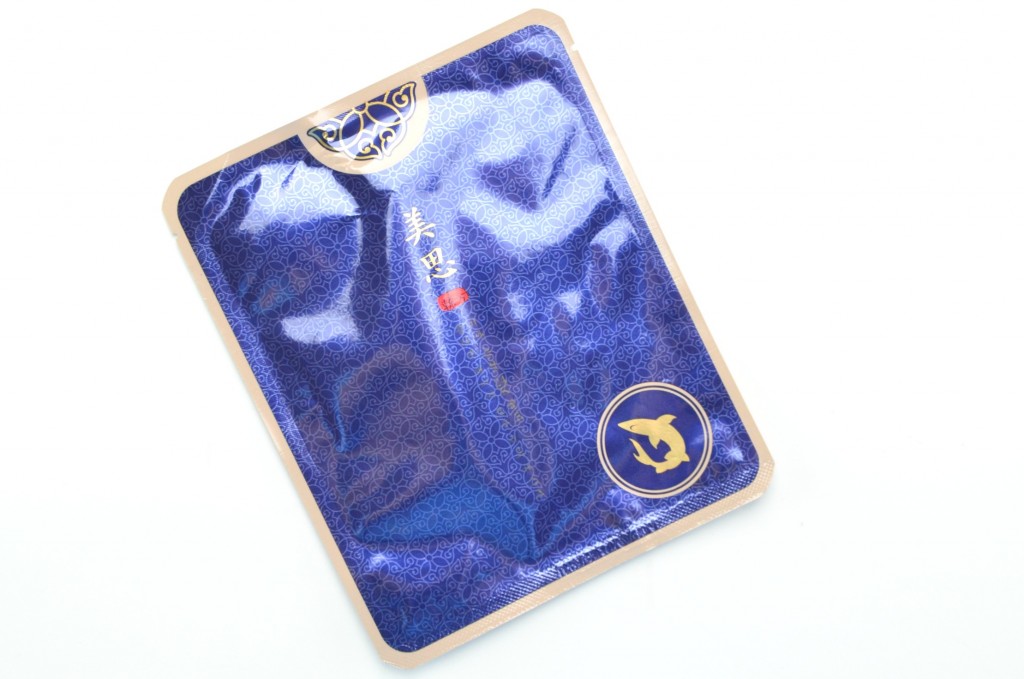 Buxom Show Some Skin Weightless Foundation is a weightless foundation with light to medium coverage and is the sixth item in the box. I love that the sample size comes with 4 different shades, so while although it may not be a perfect match, you can get the general idea if you're going to like the formula, texture and coverage. It's actually a fairly hydrating and moisturizing foundation. It gives an overall brightening effect to the skin with a soft and smooth finish. It's formulated with vitamin C, tamarind seed, and marine algae extracts that are very nourishing to the skin. Its unique technology actually wanted me to pick up a full size bottle of it to give it a try. It retails for $34, however, I wouldn't put a value on this sample, as it's something you can easily pick up for free.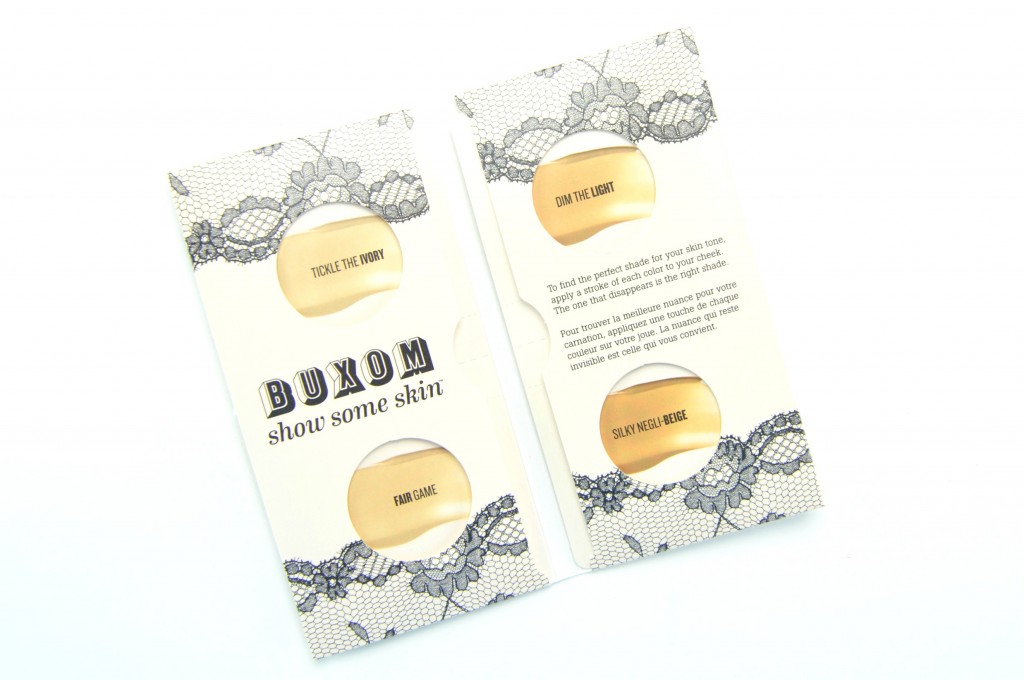 Last, but not least, the Loose Button Double Ended Blending Brush. Apply foundation to the face, starting from the centre out, using the foundation brush. Use the blending sponge to blend the foundation in for an even, streak-free finish. It retails for $15.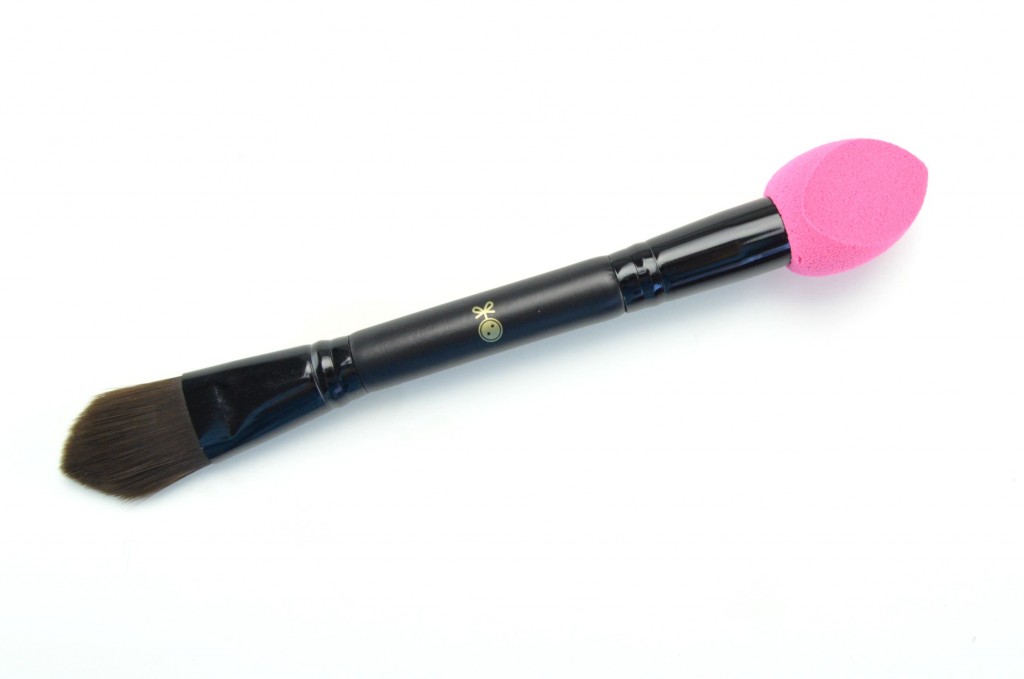 Total box value $46.50.