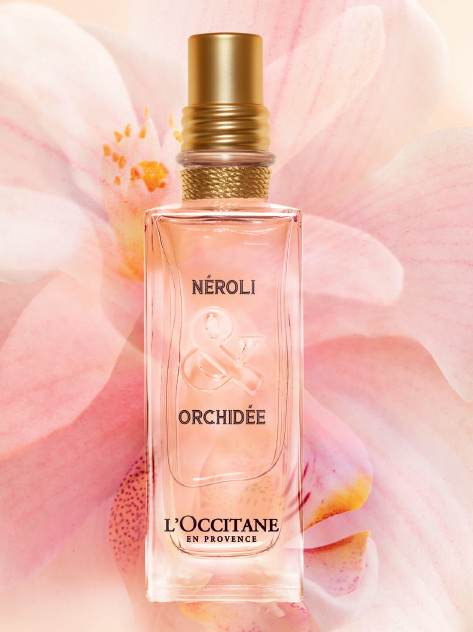 Sometimes a girl doesn't want a strong perfume in the dead of summer, and sometimes we don't want to wear a perfume at all. New invention, and a first for me, fragrance beautifying cream. It's designed to enhance the fragrance in the collection, while leaving skin moisturized and silky soft. L'Occitane Néroli And Orchidée is the newest fragrance in the La Collection de Grasse Collection. It blends two precious white flowers, néroli all the way from the Mediterranean, and white orchid from Madagascar, to create a perfect floraly harmony. Neroli is the essence of unions and purity, yet its scent is far from innocent. Its encounter with the orchid, a flower from the other side of the world, is in no way a coincidence. While both essences seem so different, both white flowers are symbolic of femininity. It also features a fruity burst of orange and peach to complete this sensuous scent.
L'Occitane Néroli And Orchidée Fragrance Beautifying Cream takes the feminine, floral and fruity scent of the perfume, into a luxurious and rich body cream. It first starts off smelling a little sweet like oranges and mandarins, but after about 10 minutes, it's followed by néroli, peach and pig milk and dries to rich notes of orchid, musk and iris. Even though it smells quite sweet to start, it has a slight underlying of musk that keeps it sophisticated and perfect for day and night. It does an excellent job at keeping my skin hydrated and moisturized throughout the day without feeling heavy or greasy. It's the perfect cream for those days that you don't want to apply perfume, but still want a sweet and refreshing scent. It retails for $36 for 125g.

Also in the collection is the eau de toilette for $75 for 75ml, shower gel for $20 for 175ml, body milk for $24 for 175ml, solid soap for $10 for 125g and scented candle for $34 for 190g.